The 2023 Bethpage Air Show returns to Jones Beach
NASSAU COUNTY - The Bethpage Air Show is back with its annual show at Jones Beach this weekend.
Friday was the preview. Thousands flocked to Jones Beach to see the Jets in action.
It was a thrill, from high-flying stunts to vertical takeoffs and landings. "That's absolutely gorgeous," said Long Islander, Patty DiGiovanni.
For 19 years the Bethpage Airshow has put on one amazing show after another.
DiGiovanni was out here early with her long lens capturing every moment. 
The event is not just the unofficial kick-off of summer but a time to honor our military and our veterans. All 5 branches of the military are represented in this show.
The U.S. Air Force Thunderbirds returning for their 9th headliner performance, representing nearly 700,000 active-duty members in the Air Force.
They are celebrating their 70th year anniversary since 1953, this legendary team has served as America's premier air demonstration squadron.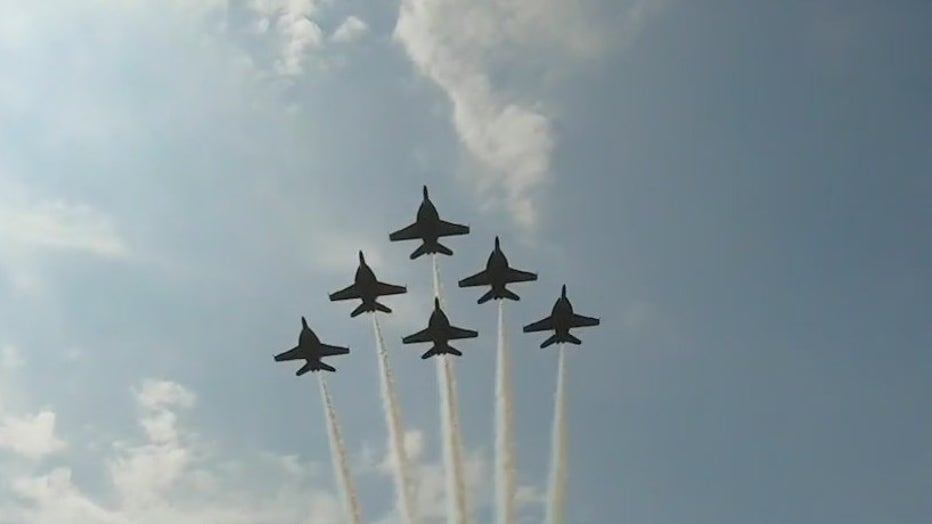 The U.S. Navy Blue Angels (Dept. of Defense)
Their red, white, and blue jets and their team of 135 airmen won't disappoint. "We are America's team," said Captain Kaity Toner.
Joining them will be the United States Army Golden Knights Parachute team, the United States Marines F-35B demonstration team, the United States Navy F-18 Growler Legacy team, and the United States Coast Guard Air Station Cape Cod.
For the last two years, they've had to cancel the show due to the bad weather.
MORE: NYC weather forecast: Plan your perfect Memorial Day weekend
In 2019 over 366,000 people attended the airshow.
"I just love the sound, it's fabulous and the way they fly it's great, it's just great," said spectator Mary Shanley. 
The Air Show is free to the public, however, there is a $10 parking fee. 
The show kicks off Saturday and Sunday at 10 A.M.- 3 P.M.