Subway chokehold death: Kid Rock a top donor to Daniel Penny's defense
Kid Rock is one of the top donors to Marine veteran Daniel Penny's legal defense fund after the 24-year-old was charged in the New York City subway chokehold death of a homeless man.
The GiveSendGo fundraiser has surpassed $2 million in donations with the help of the musician, who gave $5,000 and had a pointed message for Manhattan District Attorney Alvin Bragg.
"Mr. Penny is a hero. Alvin Bragg is a POS. Kid Rock," the message reads.
A representative for the "American Bad A--" crooner confirmed he was behind the donation.
Donations have poured in from all over the country since Penny was charged with second-degree manslaughter Friday for fatally choking Jordan Neely, 30, on a New York City train.
Prosecutors said Neely, who suffered from mental illness, had been "making threats and scaring passengers" on May 1 when Penny dragged him to the floor and wrapped his arm around his neck to restrain him.
Kid Rock, 52, whose given name is Robert Ritchie, wasn't the only big-name donor.
Republican presidential candidate and entrepreneur Vivek Ramaswamy, 37, donated $10,000.
RELATED: Jordan Neely death: NYC Mayor Adams pledges more mental health support
The Ohio resident said Neely should have been behind bars or in a mental institution, "not free to terrorize his fellow citizens."
"You have an abandonment of the rule of law," he told Fox News Digital. "Then someone who tries to assist and protect people, based on the current facts we have ... is now being prosecuted. That represents a perversion of how the system is supposed to work."
As of Monday morning, more than 42,000 people had donated to the campaign on the Christian crowdfunding site.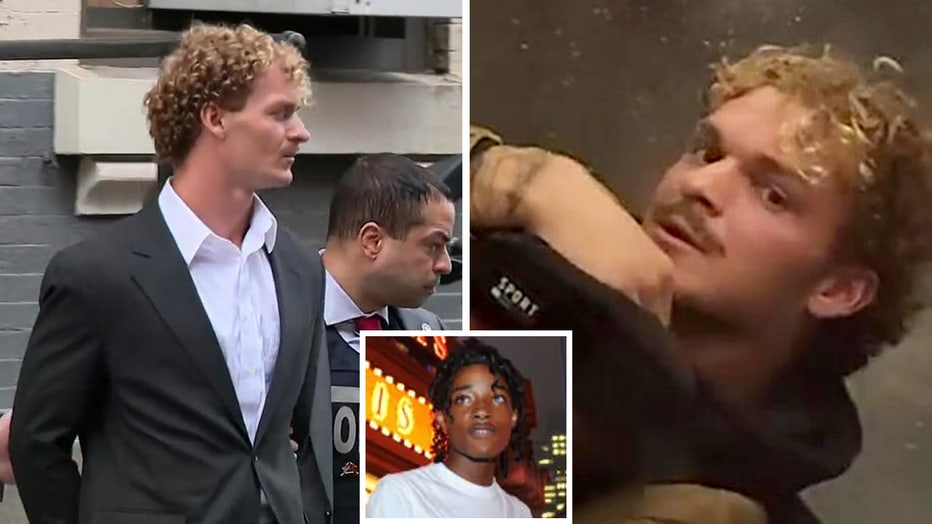 Marine veteran Daniel Penny, left and right, and Jordan Neely, inset.
Penny's lawyers, Thomas Kenniff and Steven Raiser, launched the fund on Tuesday to raise money to defend their client against criminal charges and potential civil lawsuits.
The attorneys said any leftover contributions would be donated to a mental health advocacy program in New York City.
The fundraiser was boosted Saturday by Florida Gov. Ron DeSantis on Twitter.
"We stand with Good Samaritans like Daniel Penny. Let's show this Marine... America's got his back," he wrote.
Chicago native and political commentator Tim Pool contributed $20,000 Monday morning – the largest single donation yet.
"Penny is the subway Good Samaritan, and we are lucky to have brave souls like him who are willing to do the right thing," Pool tweeted after announcing the contribution.
Jacob Wells, co-founder of GiveSendGo, told Fox News Digital that Penny's campaign is the No. 2 top performer since the site launched in 2015. At one point, donations were coming in at $1,000 a minute, Wells said.
"It definitely has sparked an emotional response with many people," he added.
The Canadian trucker campaign "Freedom Convoy 2022" holds the top spot of all time.
A GoFundMe campaign set up for Neely's family has raised more than $125,000.
Neely's tragic death has divided the city, with many New Yorkers condemning Penny as a murderer while others are calling him a hero.
The slain man had been arrested more than 40 times and had a history of violent attacks in the Manhattan subway.
Outreach workers were so familiar with Neely that he was on the city's "Top 50" list of homeless people most in need of help – an internal roster kept by the Department of Homeless Services, the New York Post reported.
In 2021, Neely punched a 67-year-old woman in the face, breaking her nose and orbital bone; four months earlier, he hit another woman in the face, according to court records obtained by Fox News Digital.
In 2019, he sucker-punched two men in the face at different subway stations one month apart, breaking one victim's nose, according to the documents.
Penny, who was released Friday on a $100,000 bond, is due back in court July 17.