Starbucks can help you order a drink based on your zodiac sign
SEATTLE - To usher in the astrological new year, Starbucks has teamed up with astrology app Sanctuary to match customers with their perfect Starbucks drink and spring horoscope.
According to the global coffee chain, customers can receive a personalized horoscope reading offered by Sanctuary. Based on their star sign, and whether they prefer a coffee break in the morning or afternoon, customers will receive a personalized Star Signs Chart that includes their power words, spring color, flower and Starbucks drink recommendation.
Now through April 20, astrology lovers can find their personalized horoscope and drink here.
Customers can also enter for a chance to win a free Sanctuary astrology reading by sharing their personalized Star Signs horoscope.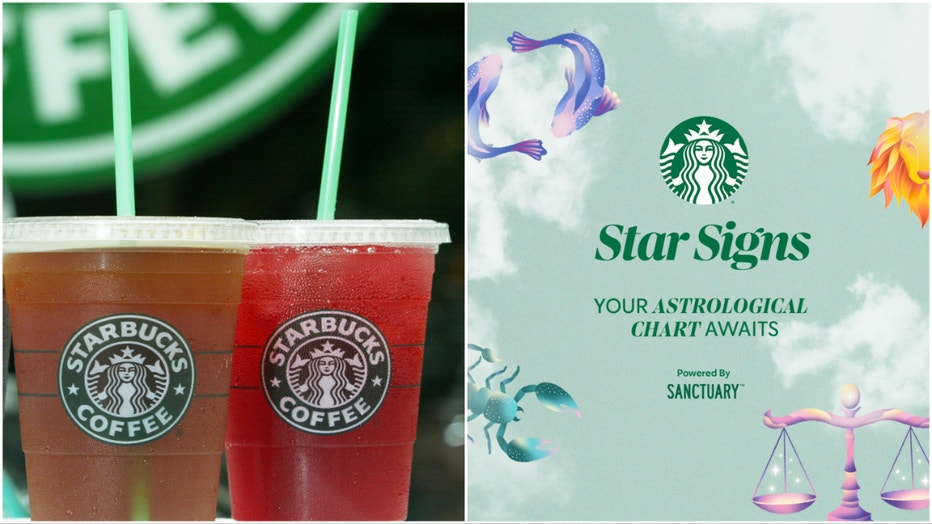 Customers can receive a personalized horoscope reading offered by Sanctuary. (Credit: Starbucks)
"Whatever you're drinking, your stars will be your guide. And for Gemini, that means they've already hit send," reads the caption on Sanctuary's official Instagram post announcing the partnership.
In astrology, Aries season kicks off the astrological new year due to Aries' place as the first zodiac sign, according to experts. 
The start of Aries season begins on the same day as the Spring Equinox and aligns with the beginning of the spring season. 
RELATED: Starbucks to offer nationwide DoorDash delivery by March
"When developing the star sign and drink pairings, we looked at the core personality traits of each sign to identify a beverage that acts as an expression of your planetary ruler," Sanctuary astrologer Lauren Ash, who helped develop the chart with Starbucks, shared. "March is the start of Aries season, and Aries are known to be bold and confident. These readings are designed to empower anyone, regardless of star sign, to lean into that energy with the fresh start of spring."
RELATED: Coffee meets olive oil: Starbucks' newest drinks are a taste of Italy
This story was reported from Los Angeles.