Starbucks to offer nationwide DoorDash delivery by March
SEATTLE - As Starbucks continues to eye new growth opportunities in an era of customer convenience, the coffee giant has partnered with DoorDash to offer caffeine delivery nationwide.
The companies on Tuesday announced in a joint statement that the new delivery service launched this week in Northern California, Texas, Georgia, Florida, and "other select markets." It will add more regions over the coming months and anticipates being in all 50 states by March.
DoorDash previously ran a pilot delivery program for Starbucks last year in Atlanta, Houston, Sacramento, Seattle, Portland, and New York City.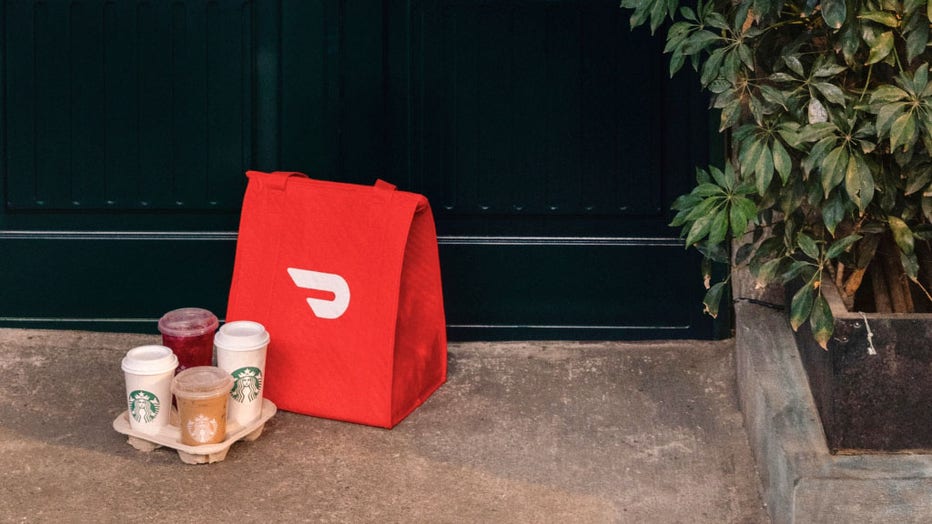 Starbucks and DoorDash said the companies anticipate offering delivery in all 50 U.S. states by March. (Credit: Provided image)
Brooke O'Berry, Starbucks' senior vice president of digital experiences, said delivery represents a "significant growth opportunity" for the coffee giant.
"As customer behaviors evolve, we continue to innovate the Starbucks Experience to connect with them through meaningful and valuable digital experiences," O'Berry said in a statement. "Our partnership with DoorDash allows us to provide our customers with another convenient way to enjoy Starbucks wherever they are."
RELATED: As Starbucks unionizing slows, some strike, others skeptical
Starbucks already partners with Uber Eats, a service first launched prior to the COVID-19 pandemic — when delivery orders exploded. The new DoorDash partnership only expands its reach. As TechCrunch noted, the expanded delivery options for Starbucks could also help the coffee chain increase orders as more people shift to remote work, resulting in fewer in-person customers during the commute. 
For its part, DoorDash has also expanded its delivery service offerings in recent years to include package pickup, groceries, beauty products, homeware products and gifts, and even COVID-19 test kits. 
To order Starbucks delivery via DoorDash, customers must use the DoorDash app or DoorDash.com, rather than the Starbucks app. Standard delivery and service fees apply to all orders, except for those who subscribe to DoorDash's monthly membership program. The program offers customers ordering from Starbucks on DoorDash $0 delivery fees and the "lowest service fees available" on each order of $12 or more.
Orders placed through the DoorDash platform are sent to available DoorDash drivers, called "Dashers." Customers can track their orders from start to finish on DoorDash. 
Starbucks said it has developed "packaging solutions" to help ensure the quality of hot and cold menu items, like stickers for beverages to avoid spilling, tamper-evident packaging, and delivery-specific cup holders.
The coffee chain will also offer approximately 95% of its core menu items on DoorDash, and customers can customize their orders within the DoorDash app, including the ability to choose the amount of syrup, type of milk, and espresso.
For loyal Starbucks fans, the company also recently announced changes to its rewards program involving the number of "stars" that Starbucks customers in the U.S. and Canada will need to get certain food and drinks for free.
When members of Starbucks' rewards program spend money with the coffee chain on the Starbucks app or Starbucks.com, they can earn stars, including two for every $1 with a Starbucks card and one for every $1 with a credit or debit card. In turn, they can use those stars toward redeeming rewards like free drinks and merchandise, depending on how many they have.
The update to the Starbucks Rewards program, detailed on the company's website, involves increasing the number of "stars" needed to redeem things for three tiers. Starbucks is also changing what tiers certain food, drinks, and other products can get redeemed through.
The changes become effective on Feb. 13.
RELATED: Starbucks adds new Pistachio Cream Cold Brew to its 2023 winter menu
This story was reported from Cincinnati.