'Tis the season: Starbucks' holiday menu and red cups return Thursday
SEATTLE - For many, signs of the holiday season beginning is the return of Starbucks' holiday drinks, food, and those red cups. 
The coffee giant announced that its holiday menu and festive cups return to stores on Thursday, Nov. 2 in the United States.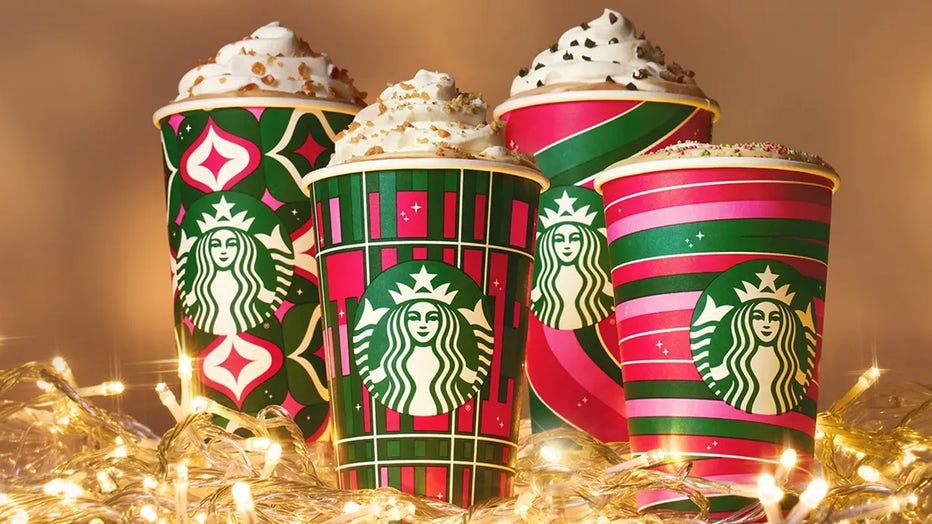 Starbucks said its holiday menu and festive cups return to stores on Thursday, Nov. 2, 2023, in the United States. (Credit: Starbucks)
The Starbucks holiday drink lineup includes the new Iced Gingerbread Oatmilk Chai, and returning seasonal beverages like Peppermint Mocha, Caramel Brulée Latte, Chestnut Praline Latte and Iced Sugar Cookie Almondmilk Latte, the company said. 
All are available hot or iced, and most as a Frappuccino blended beverage. 
Starbucks said stores that serve its Oleato beverages – or coffee infused with extra virgin olive oil – will also offer the new Oleato Gingerbread Oatmilk Latte during the holiday season.
Holiday treats are also back, such as the Cranberry Bliss Bar, Gingerbread Loaf, Peppermint Brownie Cake Pop, Snowman Cookie and Sugar Plum Cheese Danish, the company said.
Starbucks' Cranberry Bliss Bar
Earlier this week, Starbucks shared a glimpse of its annual holiday red cup collection. Each year, the coffee chain reveals a new design, with this year's "clad in holiday red and Starbucks greens and a mood-boosting magenta."
2023 Starbucks Holiday Cup: Peppermint Swirl: Bauble Wrap (Starbucks)
"When we were looking at trends when designing this year's holiday, we kept seeing bright, bold, uplifting colors,'" Kristy Cameron, creative director at Starbucks, said in a statement. "We found that magenta alongside the holiday reds and greens lifts the traditional holiday colors and makes the red look even brighter." 
"This year's holiday theme is 'Share the Joy,'" Cameron added. "It's our shared human experience and togetherness that makes the season special." 
RELATED: Starbucks celebrates 20 years of the pumpkin spice latte: Story behind the famous drink
This story was reported from Cincinnati.