Some Dr. Seuss books to be pulled for racist imagery
NEW YORK - The organization that preserves author Dr. Seuss's legacy says it will stop publishing six titles because they contain racist imagery. 
In a statement on its website, Dr. Seuss Enterprises said that the books "portray people in ways that are hurtful and wrong." It released the news on Dr. Seuss's birthday, which is Reading Across America day in many public schools.
Dr. Seuss is the pen name for Theodor Geisel who is best known for The Cat in the Hat and How The Grinch Stole Christmas. 
The titles being pulled are And to Think That I Saw It on Mulberry Street, If I Ran the Zoo, McElligot's Pool, On Beyond Zebra!, Scrambled Eggs Super!, and The Cat's Quizzer.  
As more conversations are taking place about inclusivity and equality, Tomeka Robinson, who specializes in intercultural communication at Hofstra University, said she believes now is the right time to stop the sales.
RELATED: DR. SEUSS MUSEUM IN MASSACHUSETTS
"People have said for decades that these are harmful stereotypes that we're teaching children and now the empire is listening to what's being said," Robinson said. "In The Cat's Quizzer the Japanese character is referred to as a 'Japanese' and he has a yellow face and a lot of the Asian characters have comical hats. And then when you go into If I Ran A Zoo, the text actually says the helpers wear their eyes at a slant."
While the news is just being released, Dr. Seuss Enterprises said the decision to stop production of the six books was made last year after months of discussion with a panel of experts, including educators.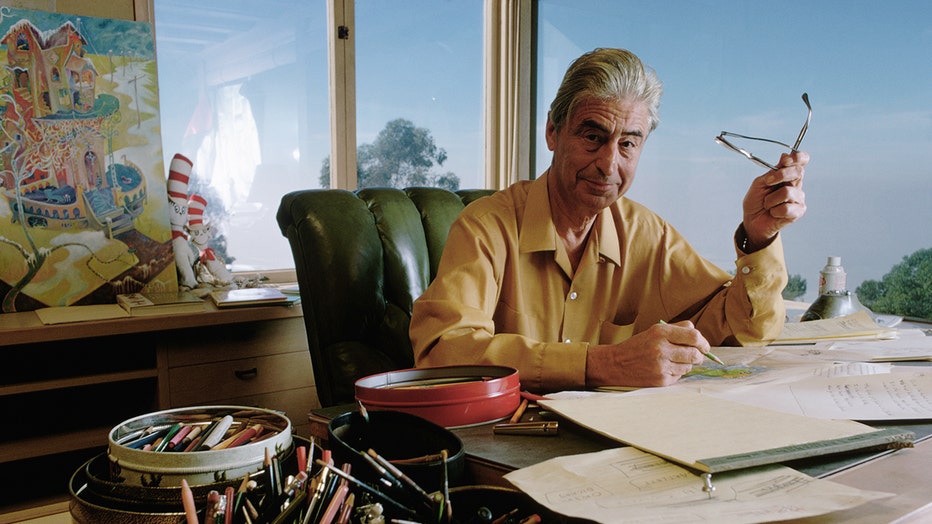 Dr. Seuss Drawing at His Desk (Photo by James L. Amos/Corbis via Getty Images)
"Ceasing sales of these books is only part of our commitment and our broader plan to ensure Dr. Seuss Enterprises's catalog represents and supports all communities and families," the company said in its statement. 
Geisel created a series of Dr. Seuss children's books that children in hundreds of countries have read for generations. 
As adored as Dr. Seuss is by millions around the world for the positive values in many of his works, including environmentalism and tolerance, there has been increasing criticism in recent years over the way Blacks, Asians, and others are drawn in some of his most beloved children's books, as well as in his earlier advertising and propaganda illustrations.
The National Education Association, which founded Read Across America Day in 1998 and deliberately aligned it with Geisel's birthday, has for several years deemphasized Seuss and encouraged a more diverse reading list for children.
In World War II, Geisel also created controversial propaganda work, which has been criticized for being racist with stereotypical portrayals of Japanese people.
RELATED: MELANIA TRUMP FIRES BACK AT LIBRARIAN WHO REJECTED 'RACIST' DR. SEUSS BOOKS
In 2017, Melania Trump tried to donate books by Dr. Seuss to an elementary school in  Massachusetts but the librarian rejected them saying their illustrations were examples of racist propaganda.
The Associated Press contributed to this report.