Soccer ball unveiled for Euro 2024 promises more accurate offside decisions
A high-tech soccer ball that helps with more accurate offside decisions will make its European Championship debut next year in Germany after being used at the 2022 World Cup.
European soocer governing body UEFA and manufacturer Adidas unveiled the ball for Euro 2024 in Berlin on Wednesday. It is named "Fussballliebe," the German word for "love of soccer," and will be used at next year's 51-game tournament from June 14-July 14.
A chip fixed on a gyroscope inside the ball sends data 500 times per second to record the point at which it is kicked. The "kick point" helps match officials make offside decisions using multiple camera angles to create 3D visualizations that illustrate player movement.
UEFA said the "connected ball technology (gives) unprecedented insight into every element of the movement of the ball and contributing to UEFA's video assistant refereeing decision-making process."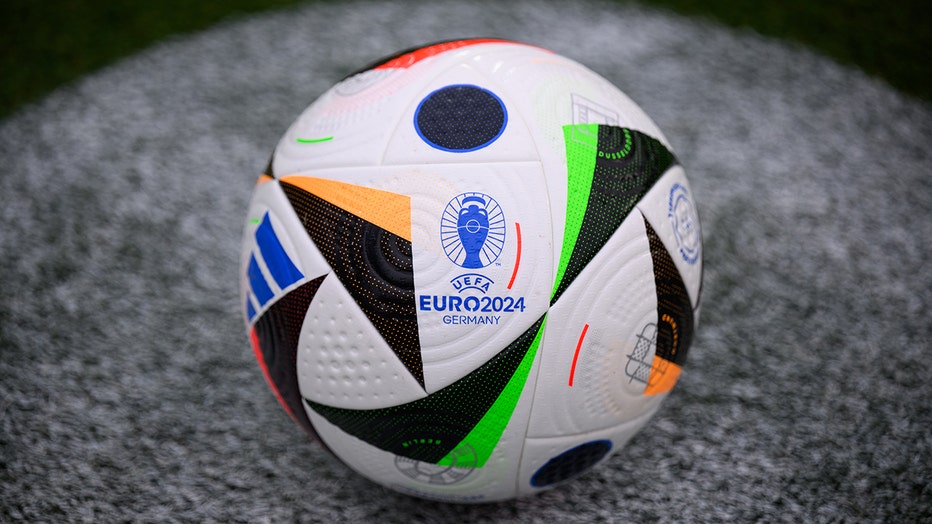 The new soccer is on the pitch at the Olympic Stadium during the presentation of the UEFA EURO 2024 match ball. (Credit: Bernd von Jutrczenka/picture alliance via Getty Images)
Adidas also supplies balls to FIFA for the men's and women's World Cups.
UEFA highlighted the sustainable qualities of the "Fussballliebe," using recycled polyester and water-based ink, plus materials including corn fibers, sugar cane and wood pulp.
EARLIER: Lionel Messi wins World Cup, Argentina beats France on penalties
Adidas has pledged 1% of net sales of the ball to the Common Goal soccer charity created by former Spain midfielder Juan Mata.