WINTER STORM: New York City area snowfall ends; cold remains
JERSEY CITY, N.J. - A fast-moving and intense low-pressure system brought moderate to heavy snow to most of New Jersey, New York City, Long Island, the Lower Hudson Valley, and Connecticut through late Friday morning. The cold temperatures are expected to cause freezing on the roads and prevent the snow from melting anytime soon.
The National Weather Service expected the morning commute to be hazardous, which is why the New York City Emergency Management Department issued a travel advisory.
"New Yorkers are advised to limit travel and stay inside during periods of severe weather," the Emergency Management Department said in the advisory. "If you must travel, exercise caution. Roads and surfaces may be slippery. Use mass transit if possible."
The snowfall amounts ranged from a dusting in New York's Dutchess County to around 9 inches on parts of Long Island.
Download the FREE Fox 5 NY weather app and always stay updated on storms.
Apple App Store: https://apple.co/2GrlPnz Google Play Store: http://bit.ly/2IPSlTd
The New York City Department of Health and Mental Hygiene also announced that the city's COVID vaccine and testing sites would open at noon on Friday due to the weather.
The New York City Department of Sanitation issued a Snow Alert until 7 p.m. Friday. New York City suspended Alternate Side Parking rules for Friday, Jan. 7, and Saturday, Jan. 8., to facilitate snow operations. But you will still have to pay for metered parking.
The lows on Friday night into Saturday will drop into the upper teens to low 20s. This will bring on very icy conditions.
Weather Resources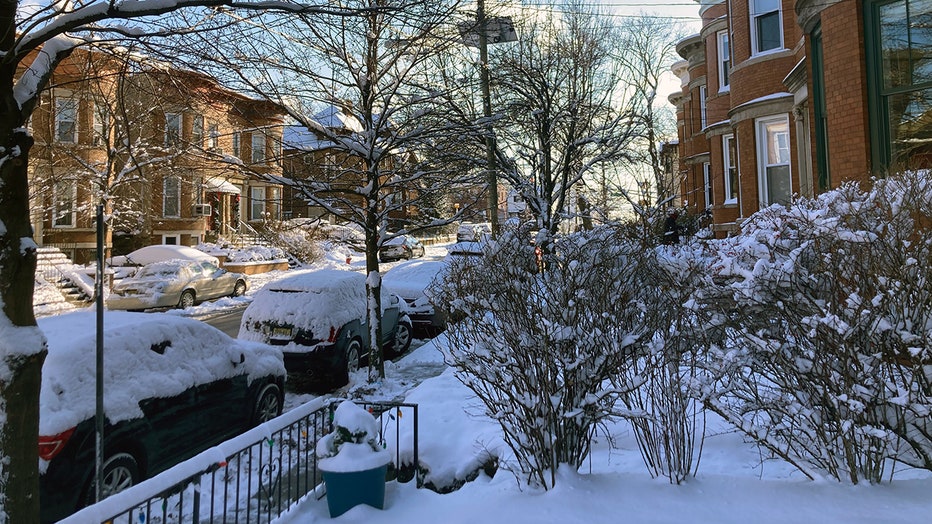 A snowy street in Jersey City, N.J., Friday, Jan. 7, 2022. (FOX 5 NY Photo)
Follow the FOX 5 Weather Team on Twitter