Drone spots sharks swimming close to shore at Rockaway Beach
LONG ISLAND - The summer of sharks continues.
Exclusive video obtained by FOX 5 NY, shows at least five sharks less than 150 feet offshore at Rockaway Beach on Wednesday.
The sighting was near 59th Street, the same area where a 65-year-old woman was bitten by a shark while swimming. When first responders arrived on the scene, she was found unconscious.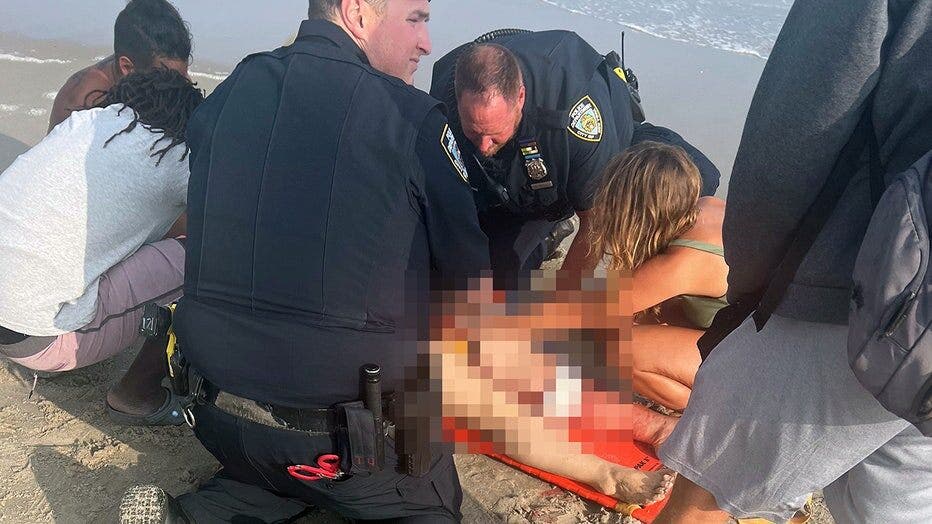 This image, blurred by FOX 5 NY, shows emergency responders helping the victim.
The woman was taken to a hospital and went from critical to stable condition.
The NYPD and the FDNY have been closely surveying activity by air and sea near 59th Street since then.
FDNY First Deputy Commissioner Joseph Pfeifer said officials would survey the beach every morning for shark activity before opening. 
It is still unclear if Rockaway Beach will be open today. 
More updates from the FDNY are expected later on this morning.
Previous incidents across New York
There have been multiple shark related incidents in New York this summer. 
Last month, there were three shark attacks in just two days on Long Island, with a total of five people bitten in the first week of July.
A 10-foot shark was also found in the water at Robert Moses State Park. 
Long Island Beach delayed its opening after a drone spotted a group of 50 sand sharks off the coast.
How do you stay safe from sharks?
Experts say there are several ways to help stay safe from sharks:
Avoid areas with lots of fish.
Never go out swimming at dusk or dawn.
Only swim when there's a lifeguard on duty.
Editor's note: The previous story said that the drone video was taken by the NYPD--it was taken by an independent drone operator.