Officials determine whether to open Rockaway Beach after woman was bitten by shark
QUEENS - Several New York beaches remain closed this morning, after a woman was bit by a shark on Monday.
Red flags remain on the sand and drones are still flying above the water, signaling caution. According to beach officials, people are allowed on the sand, but they are not to be anywhere near the water.
PREVIOUSLY: Rockaway Beach in Queens closed after swimmer bitten by shark
Rockaway Beach in Queens is closed to swimming and surfing as officials are expected to announce a plan for the beach Wednesday morning.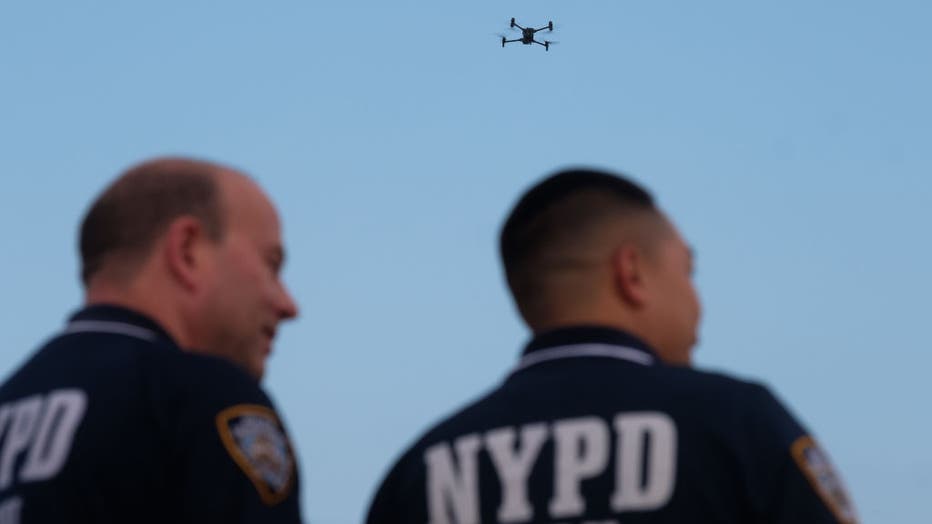 UNITED STATES -August 7: Police deploy a drone to search the water at Rockaway Beach at Beach 59th Street in Queens, New York City after a swimmer was attacked by a shark on Monday, August 7, 2023. (Photo by Gardiner Anderson for NY Daily News via Ge
The NYPD and the FDNY have been closely surveying activity by air and sea, near 59th Street where the attack happened.
Fox 5 NY's Robert Moses asked FDNY First Deputy Commissioner, Joseph Pfeifer, what happens next, and he said: "The plan is this: Every morning before the beaches open, we will fly drones, and we'll have…our fireboats and police boats scanning the water."
The 65-year-old woman who was bitten remains hospitalized at Jamaica Hospital in Queens.
For now, Jones Beach remains open as long as there are no causes for concern. 
More updates from the FDNY are expected later on this morning.
This story is ongoing. Check back for updates.
How do you stay safe from sharks?
Experts say there are several ways to help stay safe from sharks:
Avoid areas with lots of fish.
Never go out swimming at dusk or dawn.
Only swim when there's a lifeguard on duty.