Rockaway Beach residents find flood solutions as city's green infrastructure project takes shape
QUEENS - Last week's heavy rain in Rockaway Beach caused major flooding on the streets making way into businesses and homes. 
Michael Kololyan lives in Arverne where he spent last Friday trying to get water out of his house. 
RELATED: Heavy showers, 30 mph winds, cold front passes through tri-state area
RELATED: NYC officials issue warnings ahead of this weekend's storm
"This thing saved my life," Kololyan said while pointing to a wet-dry shop vacuum.  
His street gets so flooded on a regular basis that he was once able to ride his surfboard down it while being pulled by a car. 
Last weekend, Kololyan and his neighbors spent six hours trying to pump water out of their houses and raked debris away from the sewer, but this weekend he's prepared for the worst. 
He created a flood response area in his backyard. A utility shelf holds all the tools he needs like a 100-foot hose and sump pumps, but the pumps were too small for the task he was faced with. 
"It's like trying to vacuum the ocean," Kololyan explained. "It's moving too fast and there's so much water. You just can't handle the velocity."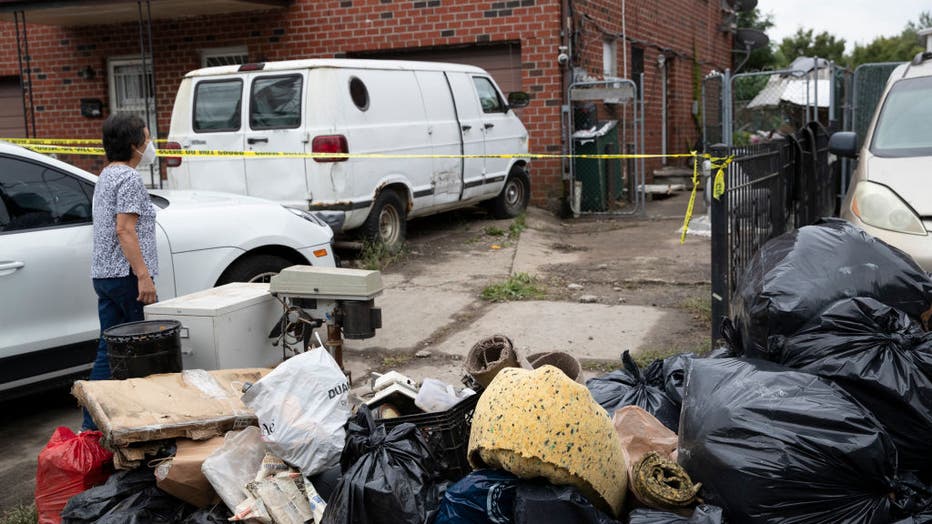 NEW YORK, NY - SEPTEMBER 05: A resident walks by a damaged house at Queens after heavy rains and winds from remnants of Hurricane Ida on September 5, 2021 in New York City. (Photo by Liao Pan/China News Service via Getty Images)
 That's where his new gas-powered water pump comes into play. He says it can remove 1,000 gallons of water a minute. 
"You shove this two-inch hose into the water and have it displace, hopefully, far away from your house," Kololyan added. 
As far as what the city is doing to prepare for future storms, there's tremendous work that needs to be done, but right now the first network of bioswales being built in New York City is happening in the Rockaways. 
The green infrastructure collects stormwater and irrigates wetlands. 
Near Beach 56th Street, only one side of the road was submerged on Saturday because that side doesn't have the natural infrastructure yet. 
"That's the tale of two curbs," said Walter Rodriguez Meyer, principal urban designer at Local Office Landscape & Urban Design. 
"You've got one 20th century infrastructure flooded and now, a new backup plan with green infrastructure where nature is our partner in the city."
Until the project is completed, which will take years, Kololyan and his neighbors will rely on each other and their equipment to stay above water. 
"If you live in Rockaway or a low-lying area, make sure you definitely have pumps on hand," he said. "You never know when you're going to want to use them. It'll save you." 
In the meantime, he'll still be able to ride some unwanted waves on his street.