Flooding in Queens: Residents demand answers on lack of proper infrastructure
QUEENS - Some parts of the region got hit worse than others. In Queens, one family spent today cleaning up what they say is hundreds of thousands of dollars in damage to their home. 
But as FOX 5's Ashlie Rodriguez reports, they say nature is not the only factor behind the flooding.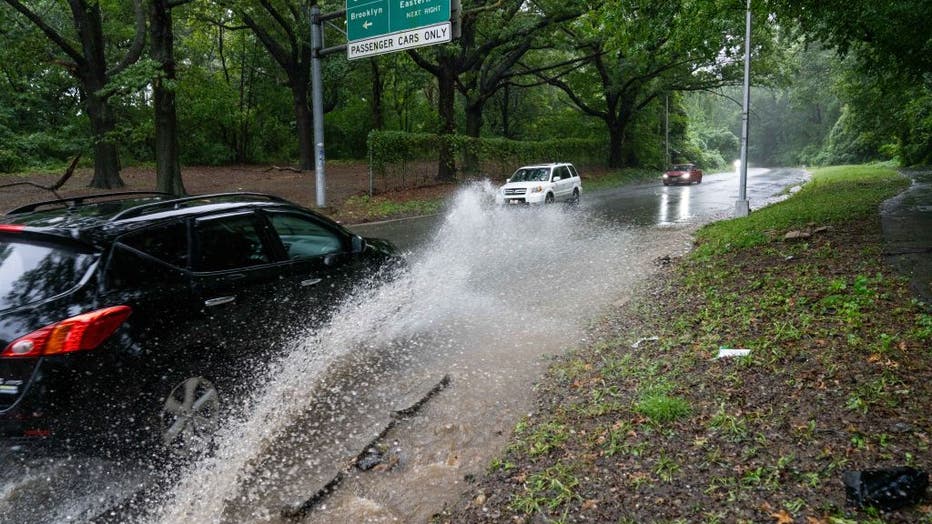 September 29: (Flood waters flow down Forest Parkway and forms pools at the entrance to the Jackie Robinson Parkway in Queens) Weather Shots and Weather related incidents on Friday September 29, 2023. 0748. (Photo by Theodore Parisienne for NY Daily
The home on the corner of Laurel Hill and 64th street in Queens is in ruins after Friday's torrential rain. The backyard John Sledge landscaped by hand is wrecked and the basement he and his wife spent more than $200,000 renovating after Hurricane Ida flooding is a total loss.  
"This second section of the fence was all blown in we had to fix it last night," Sledge said.  
The Sledges say when the downpour began, more and more water started accumulating-- rushing down from the highway and the hill, straight into their basement, the same basement that was flooded so quickly during Hurricane Ida, a family of three was killed.  
"The drains, the drains," Sledge said. "They got to be doing something about the drains. This can't be going on." 
The drain can only handle less than two inches of water, but the sledges say Friday they got feet of water, and they want to know how the city is improving the infrastructure of the drainage system, so when severe storms hit, this doesn't keep happening. It's an ongoing issue that affects the transit system and led to flooding in all five boroughs Friday.  
"New York sewer systems can handle only a certain amount of rain in the system, 1.75 inches of rain pure hour," said Gov. Kathy Hochul said. "We hit three inches of rain an hour in many places so it's always going to flood." 
Hochul spoke Saturday about the recovery efforts across the city, and said after Hurricane Ida improvements have been made, but didn't she didn't specify where. For Sledge and his wife, those improvements weren't made in time.  
"And thank god no one was living in the basement. Thank God," Sledge said.  
FOX 5 reached out the Department of Environmental Protection to get a response to the Sledge's accusations. The department acknowledged our request but did not to get back to us in time for this report. We will keep trying.