Rare Titanic first-class menu from ill-fated voyage heads to auction
A first-class menu from the ill-fated Titanic cruise ship is up for auction this week. 
The menu is for the first dinner after Titanic left Queenstown before heading to New York City. 
Henry Aldrige & Son Ltd, the auction house, estimates the rare find could be sold for up to 70,000 GBP or $86,070.60.
The menu bears the embossed red White Star Line burgee. It does show signs of water immersion, which partially erased the lettering.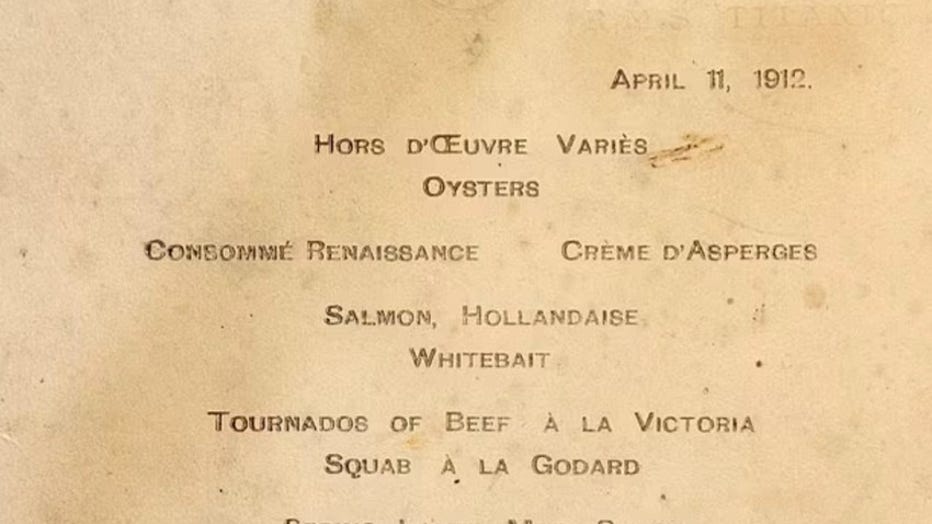 Water-stained menu from Titanic. (Credit: Henry Aldridge & Son Ltd)
Several dishes were offered on the menu including spring lamb with mint sauce, "squab à la godard" and "apricots bordaloue."
RELATED: Krispy Kreme giving away free donuts on World Kindness Day
According to the auction house, the menu was discovered in a 1960s photo album after the death of historian Len Stephenson. His daughter and son-in-law discovered the menu. 
Titanic was the iconic ocean liner that was sunk by an iceberg in 1912. All but about 700 of the roughly 2,200 passengers and crew died. 
This story was reported from Los Angeles.