LIRR service delays after train derailment in Queens injured 13
QUEENS - Investigators are now looking into what might have caused a train to derail Thursday morning east of the Jamaica station.
Overnight, MTA personnel worked to rerail the train and make repairs. "There is some significant infrastructure damage in terms of the rail," one official said.
Speed has been ruled out as a cause for the derailment however, officials said it's still too early to determine whether there was a malfunction on the tracks.
The derailment injured 13 passengers and continues to cause delays for commuters this Friday morning,
The MTA confirmed to Fox 5 NY's Robert Moses, that six of the eight derailed cars have been rerailed. Work continues on the remaining two cars, but there's no timeline for when that work will be completed.
Commuters can expect delays and track changes to Port Jefferson, Ronkonkoma, Oyster Bay, and Hempstead branches according to a warning from the MTA.
Train 722, the 10:43 a.m. departure from Grand Central Madison was due to arrive in Hempstead at 11:37 a.m. Thursday morning--it never made it.
All eight cars derailed traveling at 54 miles per hour, which is below the maximum allowable speed in the area. 
The train derailed in an area called 'hall interlocking', which is a network of signals and tracks that allows trains to change direction.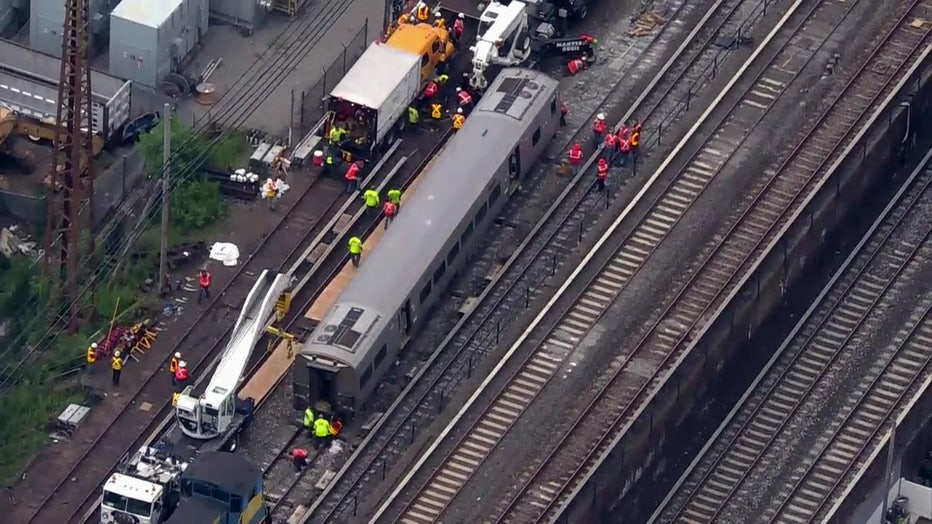 Work was underway to re-rail the trains Friday.
According to Fire commissioner Laura Kavanagh, 13 passengers were injured, none had broken bones, and all of them are in stable condition at this time.
Chief Executive Officer of the Metropolitan Transportation Authority, Janno Lieber, said he boarded the derailed train before passengers were removed, and said despite the inconvenience, everyone was in good spirits. 
As of Friday morning, eastbound trains are bypassing Hillside along with Hollis and Queens Village on the Hempstead Branch as a result to the derailment.
The MTA will be cross honoring the Q2, Q3, Q8, and Q110 buses for service between Jamaica and Queens Village.
For more information the MTA says to check the TrainTime app.