Prosecutors say ex-campaign treasurer for Rep. George Santos will plead guilty to unspecified charge
NEW YORK - The ex-campaign treasurer for U.S. Rep. George Santos is scheduled to enter a guilty plea to an unspecified felony in connection with the sprawling federal investigation of financial irregularities surrounding the indicted New York Republican, prosecutors say.
Nancy Marks is a veteran Long Island political operative. Marks served as the campaign treasurer and close aide to Santos during his two congressional bids. Marks resigned amid growing questions about Santos' campaign finances and revelations Santos had fabricated much of his life story.
Her attorney, Raymond Perini says she's a good person who got caught up with a manipulator. 
Marks who built a business as a treasurer and consultant to dozens of local, state and federal candidates over the past decade resigned as campaign treasurer back in January. In court she admitted to filing a list of false donors including at least ten family members without permission to use their names and made numerous false reports to inflate fundraising numbers in order to get help from the GOP party.
Marks' plea is scheduled to take place in a Central Islip courtroom on Thursday afternoon. It comes as Santos faces a 13-count federal indictment centered on charges of money laundering and lying to Congress in an earlier financial disclosure.
The investigation of the first-term congressman has also engulfed Marks, a key behind-the-scenes figure in Long Island Republican politics who built a business as a treasurer and consultant to dozens of local, state and federal candidates.
Marks has faced questions about the congressman's unusual campaign filings, including a series of $199.99 expenses, just below the legal limit for disclosure. Santos, in turn, has sought to pin the blame for his unexplained finances on Marks, who he claims "went rogue" without his knowledge.
"He claimed he was lending the campaign $500k," Perini said. 
Santos who was indicted earlier this year pleaded not guilty to charges including money laundering and theft of public funds after he allegedly embezzled money from his campaign, ripped off political donors and lied in his financial disclosure forms. 
Santos' attorney Joe Murray who was in court for the guilty plea left without stopping to talk. 
Saurav Ghosh who is the director of federal finance at Campaign Legal Center says Marks' move to plead guilty helps the government's case to hold Santos accountable. 
"Santos has been indicted," he said. "That means the Justice Department had enough evidence to proceed with the indictment. In that situation with the walls closing in, I think it's a rational decision."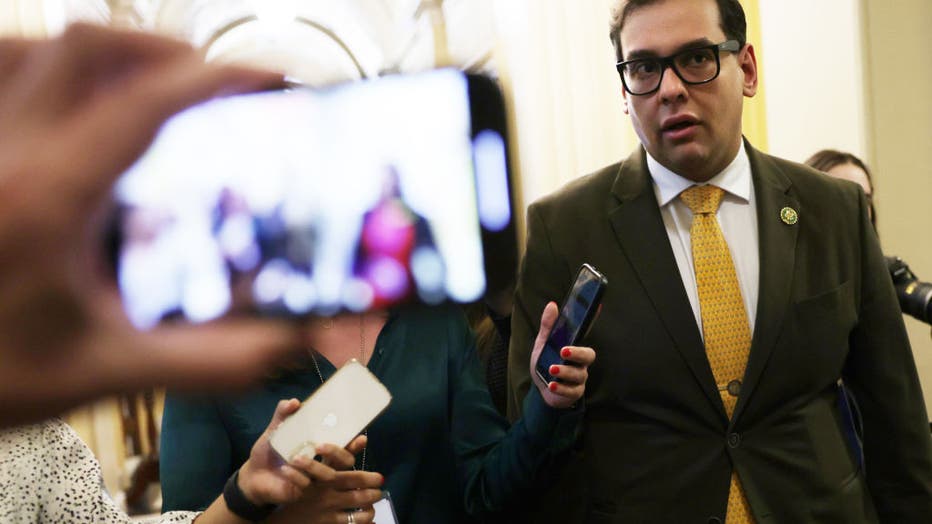 WASHINGTON, DC - MAY 11: Followed by members of the media, U.S. Rep. George Santos (R-NY) leaves the U.S. Capitol after votes on May 11, 2023 in Washington, DC. Federal prosecutors in the Eastern District of New York have charged Santos in a 13-count
Any deal with prosecutors that requires Marks to testify in the case against Santos could be a severe blow to the Republican, who faces charges that he embezzled money from his campaign, lied in financial disclosures submitted to Congress and received unemployment funds when he wasn't eligible.
While Santos has admitted fabricating key parts about his purported background as a wealthy, well-educated businessman, questions remain about what he did for work, as well as the true source of more than $700,000 he initially claimed to have loaned his campaign from his own personal fortune.
A formal complaint filed by the Campaign Legal Center with the Federal Election Committee alleges that unknown groups may have illegally funneled money into the Santos campaign. The complaint, filed last January, named Marks along with Santos.
Marks' attorney says they'll do the right thing if she is subpoenaed. Santos in court is due back in court this month for his case. Fox 5 reached out to him and he has no comment. Marks who faces up to 5 years in prison was released on $100k bond. She's scheduled to be sentenced on April 12. 
The Associated Press contributed to this report.