Fire that killed 2 Newark firefighters on cargo ship is out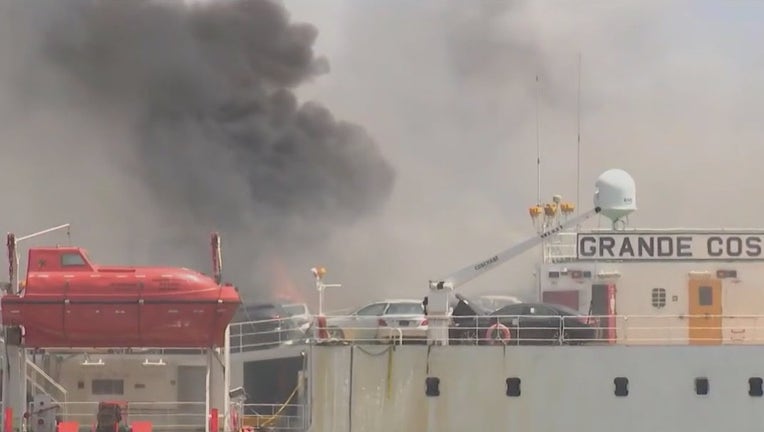 article
NEWARK, NJ - Crews extinguished the intensely burning fire aboard a cargo ship docked in New Jersey after nearly a week, and are now beginning their investigation into the blaze that killed two firefighters, officials said.
"We can officially declare the fire is out," Coast Guard Capt. Zeita Merchant, the captain of the Port of New York and New Jersey, said during a news conference in Port Newark.
It could be a while before officials know the cause of the blaze that started late Wednesday and left two Newark firefighters dead and five others injured.
Authorities are now also beginning a salvage operation for the Grande Costa d'Avorio, which could take up to two months, Merchant said.
Manifests showed there were no lithium-ion battery vehicles onboard when the ship reached Newark, according to Bethann Rooney, the port director of the Port Authority of New York and New Jersey.
However, it did have electric vehicles onboard when it reached Baltimore, where they were offloaded, she said. The ship had taken on used vehicles in Newark and was destined to do the same in Providence, Rhode Island, before heading to West Africa, Rooney said.
The National Transportation Safety Board has warned about the possible dangers of electric vehicle battery fires, a hazard that stems from thermal runaway, a chemical reaction that causes uncontrolled battery temperature and pressure increases.
She described the hold of the ship as "essentially a parking garage" with ramps and different levels. The cars on board had "but a spit" of gasoline in their tanks, she said, adding it was car components and other parts that were burning.
Newark firefighters Augusto "Augie" Acabou and Wayne "Bear" Brooks Jr. were killed in the blaze. Officials praised both for their bravery. Funeral services were set for later this week.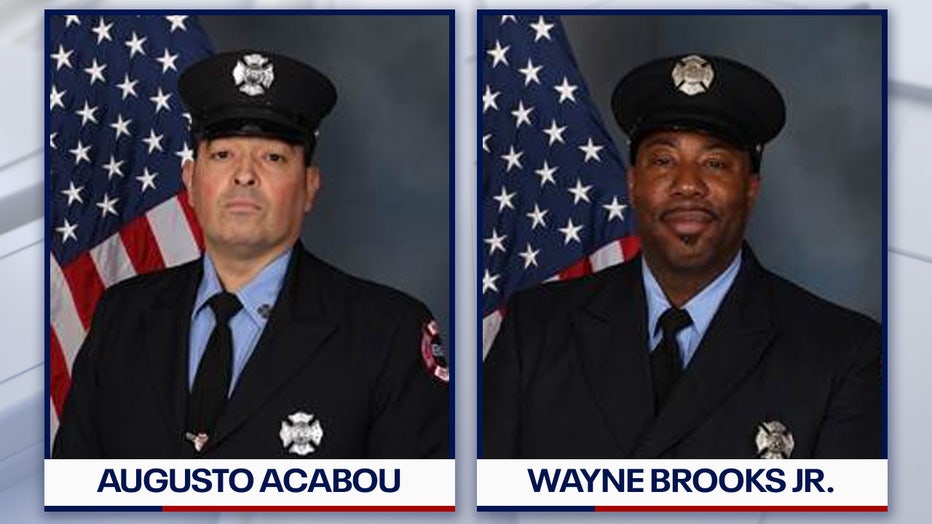 Photos via City of Newark
Timeline of events
The fire broke out Wednesday around 9:30 p.m.
About an hour later, there was a mayday call when two firefighters became trapped inside the ship. Acabou was rescued from the ship before midnight. 
He was taken to a hospital, where he died Thursday morning. Brooks died early Thursday morning after he was recovered.
Part of the investigation will examine whether the Newark Fire Department knew there were no lives at risk when firefighters initially responded, Merchant said.
Officials have acknowledged the fire department hadn't recently done training on a ship like the Grande Costa d'Avorio, and that they'd be discussing training going forward.
Grimaldi Deep Sea said in a statement last week the crew immediately activated onboard fire suppression procedures and the local firefighting service was alerted, triggering a prompt response that was crucial to containing and controlling the blaze. 
It also said that no electric cars nor hazardous cargo were on board, no fuel spills had been detected and the stability of the ship was not compromised.
The Grimaldi Group statement said the cause of the fire isn't known, but it will investigate in cooperation with authorities.
AP wire services helped contribute to this report.