2 Newark firefighters killed while battling cargo ship fire
NEWARK - Two firefighters with the Newark Fire Department were killed and five others injured battling a blaze that began deep inside a docked cargo ship carrying more than a thousand vehicles, officials said Thursday.
Responding firefighters found five to seven vehicles already on fire when they reached the 10th floor of the cargo ship at Port Newark around 9:30 p.m. Wednesday night. The blaze quickly extended to the 11th and 12th floors, and as firefighters were pushed back by the intense heat, two of them were lost, Newark Fire Chief Rufus Jackson said at a news conference at the port, where the fire was still burning early Thursday,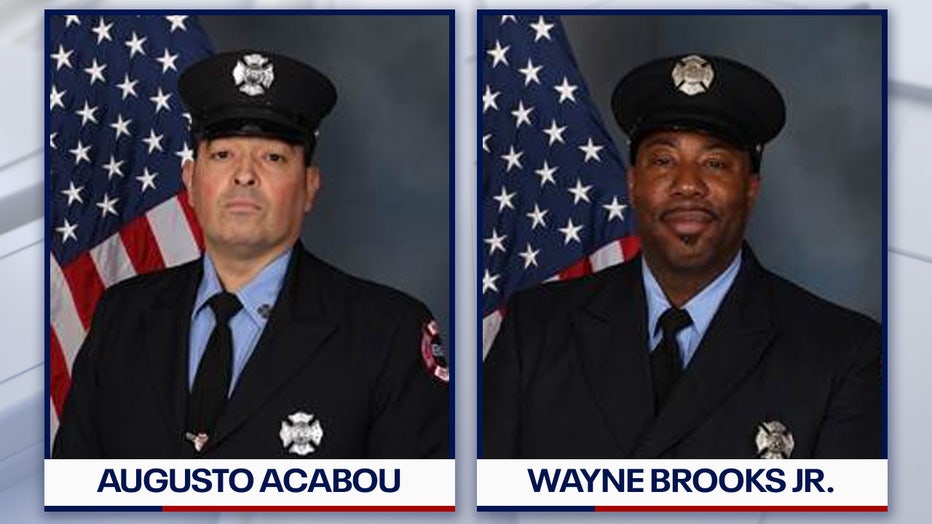 Photos via City of Newark
Firefighters weren't initially able to find their colleagues. Outside rescue companies from around the state were called in. Augusto "Augie" Acabou, 45, and Wayne "Bear" Brooks Jr., 49, were found and removed from the structure but unfortunately they lost their lives, Jackson said.
Acabou served the Newark Fire Division for 9½ years and was assigned to Engine 16, Tour 1. 
Firefighter Brooks served 16½ years. He was assigned to Ladder 4, Tour 1.
Three Newark firefighters and two Elizabeth firefighters were treated for injuries including smoke inhalation. All were expected to recover, but their names and details on their conditions were not disclosed.
Marine traffic trackers show the Italian-flagged Grande Costa d'Avorio, which was built in 2011, arrived from the Port of Baltimore several days earlier. Grimaldi Deep Sea said the fire broke out on the ship's 10th deck as its 28 crew members and local stevedores were completing the loading of more than 1,200 new and used cars, vans and trucks bound for West Africa.
The company's statement said the crew immediately activated on-board fire suppression procedures and the local firefighting service was alerted, triggering a prompt response that was crucial to containing and controlling the blaze. It also said that no electric cars nor hazardous cargo is on board, no fuel spills have been detected, and the stability of the ship was not been compromised.
The Grimaldi Group statement said the cause of the fire isn't known, but it will investigate in cooperation with authorities.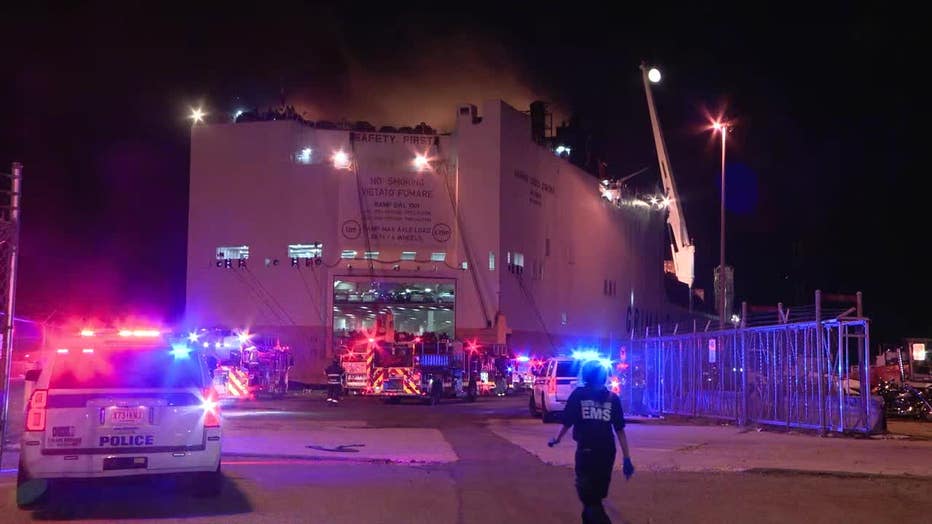 "Our hearts are heavy today as we mourn the loss of two Newark firefighters who made the ultimate sacrifice in the line of duty," Democratic Gov. Phil Murphy said in a statement.
Newark Mayor Ras Baraka called it "tragic for all firefighters who know what it means to go in a burning structure in a danger that you are going to have to experience when you do so."
Shipboard firefighting is a unique skill and Newark firefighters don't commonly face this kind of fire, Jackson said. He said they trained on ships before, but it was a vessel that had compartments and living quarters, not a ship like this.
"Although this is a difficult fire, a different type of fire, they're still willing to put themselves on the line for others," the chief said. "This is a unique service that we're in. We love what we do. We love each other and we protect each other. It's unfortunate when we have loss. This is a tragedy. This is something that I as a chief never want to face, but we have to be there, we have to be strong for the family at this point."
The National Transportation Safety Board said Thursday that it will investigate the ship fire, but the Coast Guard is taking the lead, said Jennifer Gabris, an NTSB spokeswoman. The NTSB has authority to investigate maritime accidents.
—-
This story was corrected to reflect that company says 1,200 vehicles were on board, not 5,000 as the mayor said.