See how much of the partial solar eclipse will be visible in your city
Saturday's eclipse will be partially visible for hundreds of millions of residents from Canada through South America, with the U.S. being one of the premier destinations to see the sights.
The highest obstruction values will be within a path of annularity that runs from the Pacific Northwest through the Lone Star State, but cities such as New York, Atlanta, Dallas, Phoenix and Los Angeles will all see a period where the Moon will block out part of the Sun.
Astronomers say an annular solar eclipse is not rare, and at least one can be seen from Earth every two years.
An annular solar eclipse happens when the Moon passes between the Earth and the sun while at its furthest point from the globe. During this episode, the lunar body is more than 250,000 miles from Earth.
Due to its orbit, the Moon cannot completely block out the sun, leaving what appears to be a ring around the Moon.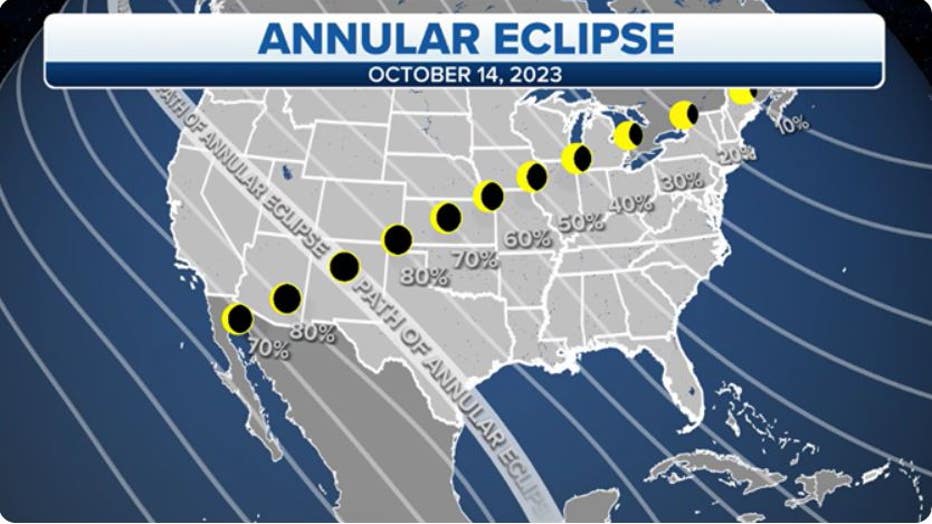 Annular solar eclipse Oct. 14, 2023 map (FOX Weather)
COLLEGE FOOTBALL GAMES FACE CHALLENGES FROM SATURDAY'S ANNULAR SOLAR ECLIPSE
Communities furthest away from the path of annularity will see the least Sun blockage, and those close to the path will see upwards of 90% obstruction. 
According to NASA, most of the U.S. will be in the 30-80% obstruction zone. This includes cities such as Atlanta, Denver, Phoenix and San Diego.
New York City is expected to see its peak obstruction around 1:22 p.m., with around 23% of the sun being covered up.
The least amount of visibility of the celestial sight will occur in Hawaii, where only around 1% of the sun will be blocked by the Moon.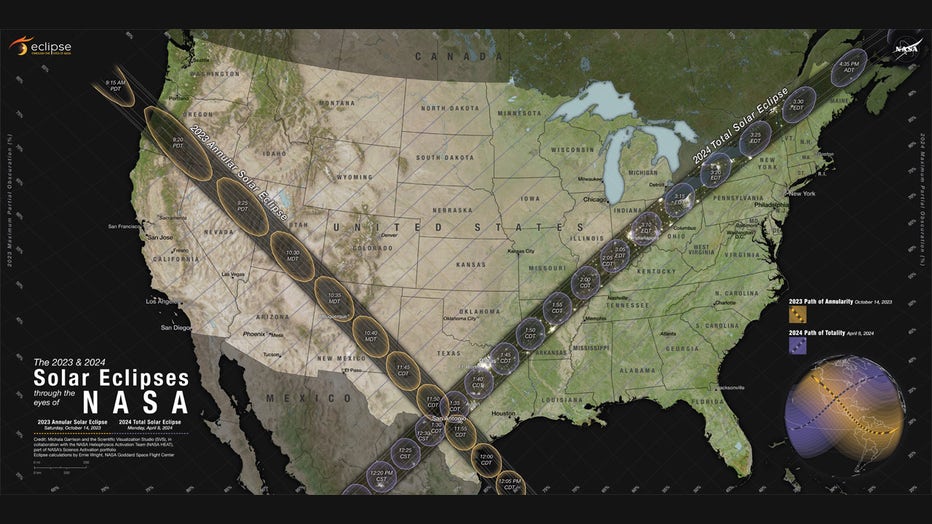 Eclipse map with major cities, states, paths, Moon shadows and partial lines. Credit: NASA's Scientific Visualization Studio
WHERE TO SEE THE 'RING OF FIRE' IN CALIFORNIA DURING THE ANNULAR SOLAR ECLIPSE
Since the Moon will not completely block the sun, NASA says looking directly at the giant star is unsafe without specialized eye protection.
Severe eye injury can even occur without specialized solar filters on camera lenses, telescopes and binoculars.
To find out when the eclipse will be partially visible in your community, visit NASA's 2023 Eclipse Explorer map.