NYC outdoor dining: New rules unveiled for pandemic-era dining sheds
NEW YORK - Outdoor dining was a part of the pandemic that many people actually liked, made possible by streetside dining sheds that popped up around New York City and allowed many restaurants to stay in business when they couldn't have diners inside.
Some sheds were simple — wooden structures with basic cutouts for light, a few tables, the occasional plastic sheeting to keep out rain and snow. Other restaurants got more into it — choosing decor to match the restaurant's interiors and adding heaters, plants and plush seating.
As New York City has moved out from under its pandemic-era regulations, how to handle the new landscape of outdoor dining structures has been a growing question. 
While many still like the sheds and restaurants want to keep them, others say there is no longer a need for them. Some have raised concerns like increased noise and congestion, loss of street space, and argued that some are dilapidated, abandoned structures that are eyesores.
City officials have now taken steps toward making outdoor dining a permanent part of the New York City streetscape, but with conditions. 
New York City Council legislation
Earlier this month, the New York City Council passed legislation that would create a system allowing businesses to set up dining sheds on city streets for April through November and to remove them in the winter months.
Sidewalk dining would still be allowed year-round, as it was pre-pandemic. Now, it's allowed in more parts of the city.
Just like the mix of feelings about the sheds themselves, there has been a wide range of reactions to the new system, though details are still being hammered out. The processes, for permitting, fees and licensing, as well as design requirements, still need to be decided. Full compliance is slated to go into effect in November 2024.
Many restaurants would have preferred to see street dining allowed permanently, but are glad to see it will still be possible for most of the year, said Andrew Rigie, executive director of the New York City Hospitality Alliance, a trade group for the city's restaurants and nightlife venues.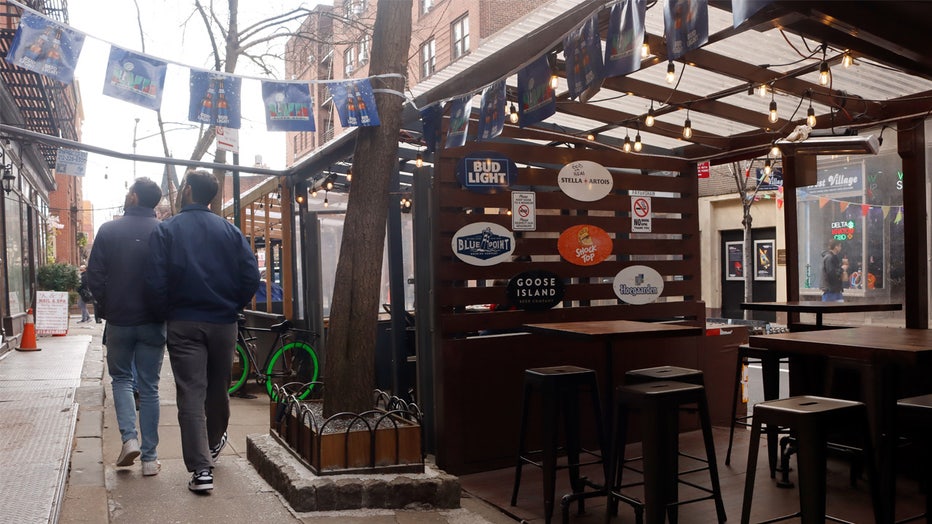 NEW YORK, NY - MARCH 5: People walk past an empty restaurant outdoor dining shed on Christopher Street in the West Village on March 5, 2023, in New York City. (Photo by Gary Hershorn/Getty Images)
"Of all the doom and gloom in the pandemic, one of the bright spots was outdoor dining," he said. "By utilizing a little area in the roadway, you're able to create a whole new experience for people that are going to dine out, people that are walking around."
'Less sidewalk space'
Leif Arntzen, a member of the Coalition United for Equitable Urban Policy, could not disagree more. He and his group are adamantly opposed to the expansion of sidewalk dining into the roadbeds. They said the city should be doing an impact study on neighborhoods before taking any moves toward making it permanent.
"For residents, it's less curb space, less sidewalk space, less roadbed space, less space to get up and down the block, less quiet, less emergency access, it's just less," he said. "It's more for one industry, less for everybody else."
DEEPTI HAJELA, with the Associated Press, helped contribute to this report. Associated Press video journalist David R. Martin also helped contribute.