NYC congestion pricing plan clears final federal hurdle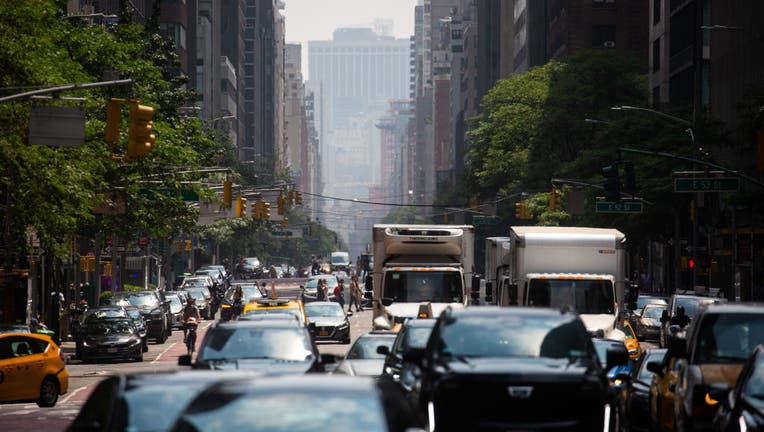 article
NEW YORK - The federal government has given the final OK for the MTA to move forward with congestion pricing.
The Federal Highway Administration determined that, after an environmental review, the plan would have no significant impacts.
Which means New York is on track to implement a congestion pricing system next year to ease traffic on streets south of 60th Street in Manhattan, one of the world's busiest commercial districts. Transportation experts believe the benefits of the congestion pricing extend far beyond just reducing traffic jams. 
"Congestion pricing will reduce traffic in our crowded downtown, improve air quality and provide critical resources to the MTA," New York Governor Kathy Hochul said in a statement.
"Hopefully we will see, as other countries that have implemented this have seen,  reductions in pedestrian injuries and car crashes. And, of course, we will see tremendous advantages and benefits to the transit system," says Felicia Park-Rogers, Director of Regional Infrastructure Projects at the Tri-State Transportation Campaign.
The news means that drivers heading south of 60th Street could start paying new tolls as soon as April 2024.
The MTA is currently weighing several proposals with charges ranging from $9 to $23. Some transportation experts tell FOX 5 NEW YORK they expect the final decision to be between $12 and $15 dollars.
Congestion pricing is expected to raise $1B in revenue for the cash-strapped MTA, along with reducing traffic and pollution, but has run into fierce resistance from lawmakers in New Jersey, who say the decision will increase air pollution in the Garden State while putting an unfair financial burden on New Jersey drivers. 
"We give about $2 billion a year to the MTA, to the mass transit in New York. They should not be getting that money if they go ahead with this complete, woefully managed and woeful project," said Representative Josh Gottheimer of New Jersey.
But advocates for the plan argue that ultimately, it will be beneficial.
"This is not just a benefit for New York City, it is for folks in the region, particularly the Tri-State area, and many folks who both live and work in New Jersey and New York who can move back and forth, who benefit from the investment in the public transportation system," said Tiffany-Ann Taylor, Vice President for Transportation at the Regional Plan Association.