NY, NJ lawmakers join forces to oppose NYC congestion pricing plan
New York Republican congresswoman Nicole Malliotakis and New Jersey Democratic congressmen Josh Gottheimer are joining forces, creating the Bipartisan Congressional Anti-Congestion Tax Caucus, which they say is designed to kill New York City's congestion pricing plan which would toll motorists who drive south of 60th Street in Manhattan. 
"We are here to say we continue the fight against congestion pricing," said Malliotakis at a press conference on Wednesday. 
RELATED: New Yorkers spend equivalent of 10 days a year stuck in traffic, study finds
Gottheimer and Malliotakis outlined three priorities for the caucus:
Environment: Studying the true impact the Congestion Tax will have on the environment, especially in the outer boroughs and suburbs.
Economic Impact: Protecting drivers and communities from the economic impact of the Congestion Tax.
Oversight: Conduct oversight of the MTA and audit the billions in federal assistance the MTA has already received.
They plan to introduce legislation to push a full and thorough environmental impact statement to understand the impact congestion pricing will have on the outer boroughs and suburbs, "we want to make sure that this program, which would be the first in the nation, is fully vetted, said the congresswoman.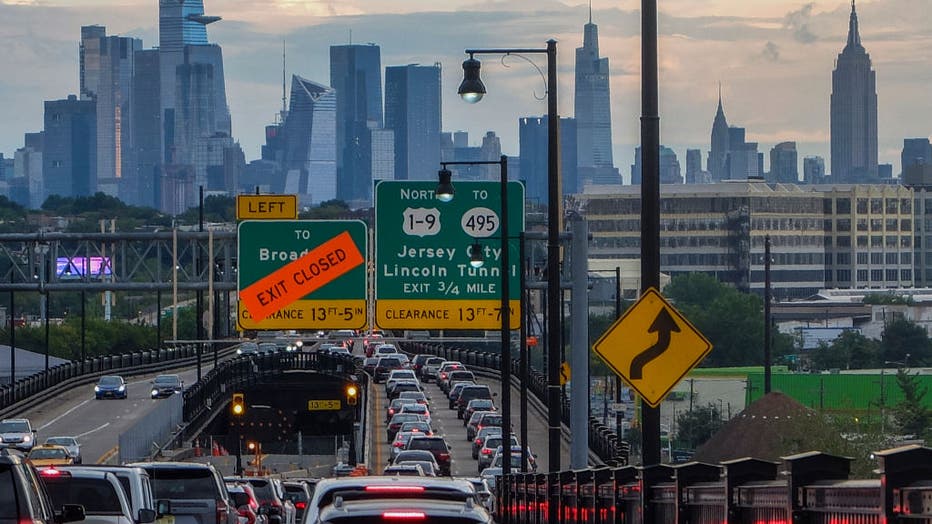 The Empire State Building and Tourist District are seen while Traffic jam is reported along the route to New York City on August 17, 2022, in Jersey City, New Jersey. New York Governor. Kathy Hochul is proposing a congestion pricing plan to raise bil
They are also calling for the office of the Inspector General and the Department of Transportation to conduct a full audit of the MTA claiming the agency is given billions of dollars in federal funds yet they are still in need of a bailout.
"It is running a $200 billion deficit even after they received 15 billion dollars in federal covid emergency relief, on top of the $1 billion they receive every year in federal support," said congressmen Josh Gottheimer.
RELATED: MTA makes case for more funding amid low ridership across subways, buses
In a statement to Fox 5 MTA Chief, External Relations John J. McCarthy said, "Yesterday it was reported that New York City has the most traffic congestion of any city across the United States, and incredibly today, we have members of Congress driving into midtown Manhattan trying to make sure those traffic problems remain. The bottom line is reducing car and truck traffic is good for the environment, good for getting fire trucks, buses and delivery vehicles through the city, and good for the 90% of people who depend on mass transit."
The Riders Alliance Policy & Communications Director, Danny Pearlstein also putting out a statement,
"The 'defund transit' caucus is a slap in the face to millions of hardworking New Yorkers and New Jerseyans who depend on our region's buses and trains each and every day. Congestion pricing is the largest source of funds for the MTA capital program and the only one to address the $20 billion wasted annually by families and firms due to traffic congestion. Without congestion pricing, the representatives' constituents will be stuck on gridlocked buses, delayed by unreliable subways, and shut out of inaccessible stations for decades to come. Rather than pursue better infrastructure, these supposed public servants today pander to a handful of their constituents and foment a harmful transportation culture war for private gain."
Congestion pricing was initially supposed to go into effect in 2021 but has been delayed by the Federal Department of Transportation.
If the Federal Highway Administration approves it, congestion pricing could begin in 2024.