New York selects 3 offshore wind projects as it transitions to renewable energy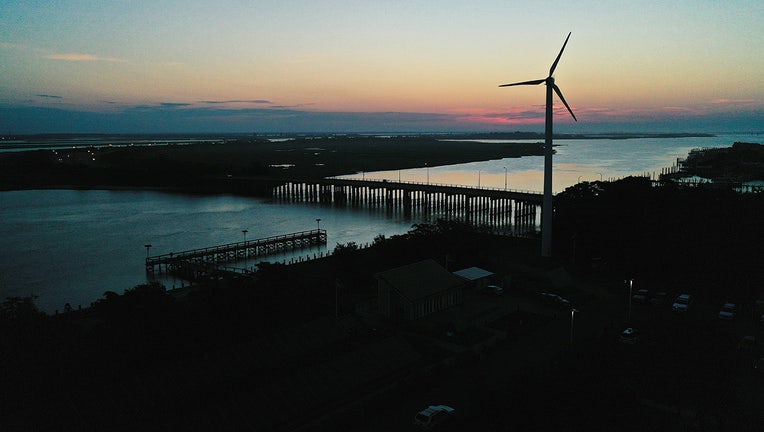 article
ALBANY, N.Y. (AP) - New York will invest in three offshore wind projects as the state tries to meet its ambitious timetable to transition to renewable energy sources, Gov. Kathy Hochul announced Tuesday.
The Democratic governor announced the conditional awards as high development costs affect other offshore wind projects for New York and around the globe. The state also announced awards to 22 land-based solar, wind and hydro projects. Combined, the projects will generate enough power for 2.6 million homes, with almost two-thirds of it coming from the three offshore wind projects.
Offshore wind is a crucial component of New York's plan to transition to a carbon-free electricity system by 2040. State law sets goals for 70% of New York's electricity to come from renewable sources by 2030, and 9,000 megawatts of offshore wind by 2035.
There is currently an offshore wind project under construction off of Long Island.
But offshore wind developers say they're struggling with higher-than-expected prices for material such as steel, as well as increased borrowing costs and supply chain issues. That has led to developers working to terminate contracts in other states. New Jersey officials this summer approved a tax break to help a wind developer.
Hochul and the Democratic governors of five other northeastern states recently wrote a letter to the Biden administration calling for more federal funds for offshore wind projects, warning that a cornerstone of the fight against climate change could be in jeopardy.
Earlier this month, New York power regulators rejected requests for additional funding for four offshore projects that are to provide the state with 4,230 megawatts of power. Those developers said they would assess the viability of their projects in light of the regulators' decision.
Now, the New York State Energy Research and Development Authority will negotiate final contracts with three offshore wind projects totaling 4,032 megawatts: Attentive Energy One, Community Offshore Wind and Excelsior Wind.
The projects are expected to be operating by 2030.
Though offshore wind development costs have gone up, state energy officials said the three projects will still benefit consumers. The average bill increase for customers will be about $2.93 per month, according to the state.
The land-based renewable awards went to 14 new solar projects, six wind re-powering projects, one new wind project, and one hydroelectric project being returned to service.