Here's what buses are free under MTA's pilot program
NEW YORK - The MTA's new, free bus program launched Sunday.
Commuters on one bus line in each borough will ride for free as part of the pilot program.
"I feel happy about it because this is a route a lot of people use, and you know, it's very accessible," one woman told FOX 5 on the M116 bus.
The lines include the B-60 in Brooklyn, Q-4 local and limited in Queens, the BX-18 and the S-46 and 96 on Staten Island.
Bus fare boxes and OMNY readers will be covered with signs.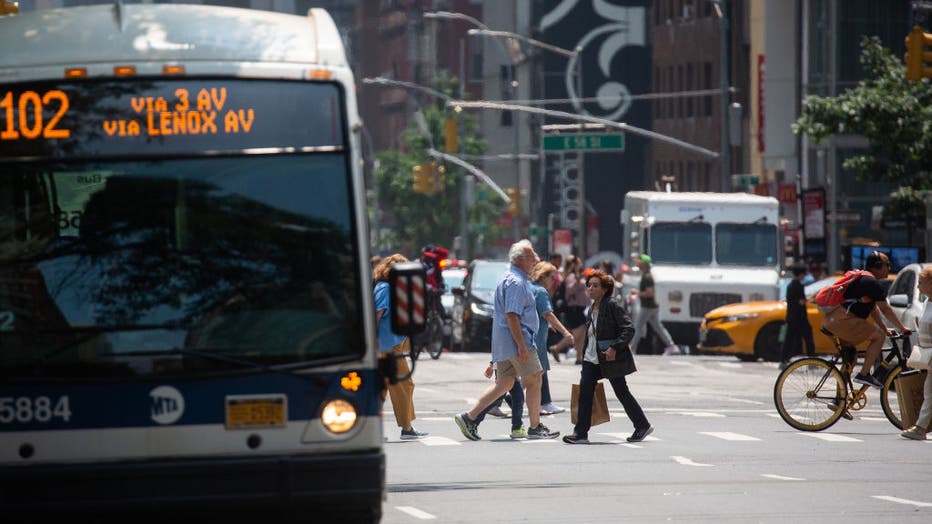 Pedestrians walk past an MTA bus in Midtown. Photographer: Michael Nagle/Bloomberg via Getty Images
However, if you need to transfer to another bus, or subway, you'll have to pay for that.
"I work seven days a week," one commuter named Rosa told FOX 5. "This is very, very good for me."
The MTA selected the specific buses based on things like overall ridership and lines that serve lower-income communities.
"I feel like it is something that is needed, being with the fare increase," one rider offered.
The program is taxpayer funded and could be extended up to a year.
"Many of us wanted this program to be bigger and hopefully after this pilot program, we'll see how successful it is, and it will grow," Senator Michael Gianaris said.
Assembly member Mamdani, who introduced the legislation, and said other cities like Boston and Los Angeles have had success with similar programs.
"This is the beginning of us changing the understanding of the MTA as public transit being a public good. Every New Yorker should have the right to go wherever they want in the five boroughs."