Hijacked MTA bus knocks down utility pole, causing power outage
NEW YORK - A man holding a pellet gun hijacked an MTA bus in Queens Thursday morning, authorities said. 
The gunman boarded a Q4 bus on 197th Street and Linden Boulevard in St. Albans at about 7:23 a.m., NYPD Deputy Chief John Clune of Patrol Borough Queens South said at a news conference. The man said he was being chased and told the bus operator to keep driving.
The man, behaving erratically, then pointed the pistol at the driver, who slammed on the brakes and opened all the doors to let all the passengers get off, Deputy Chief Jerry O'Sullivan of Detective Borough Queens South said. 
"He put the gun inside of his waistband, and they allowed everybody from the bus to exit both the rear doors and the front doors — and that included the individual with the fake firearm," O'Sullivan said.
About 20 to 25 passengers got off the bus, he added. The gunman sat directly behind the driver and leaned up against the partition.
"I definitely want to commend the driver for his actions," O'Sullivan said. "He did not move the bus until everyone was off that bus."
About 13 minutes later, the driver jumped out of the window near 232nd Street and Linden Boulevard in Cambria Heights while the bus was still moving, Clune said.
The gunman climbed over the partition and tried to take control of the bus but crashed into a utility pole about a block later and stopped, Clune said. The gunman got off the bus and tried to get away but New York City police officers from the 113th Precinct apprehended him.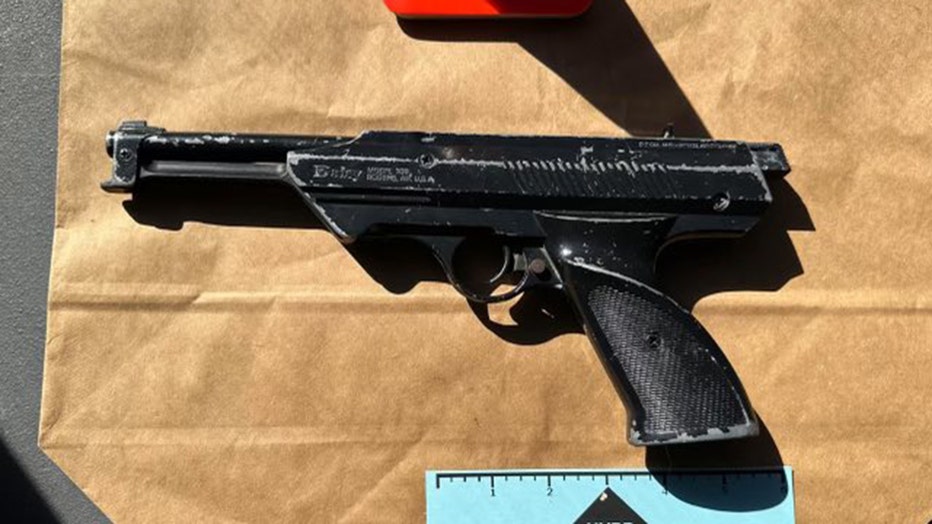 A man holding this pellet pistol hijacked an MTA bus in Queens, N.Y., on Thursday, Oct. 27, 2022. (NYPD Photo)
The collision knocked over the pole, triggering a power outage for a few dozen customers in the neighborhood, Con Edison said.
The 44-year-old suspect was carrying an "imitation pistol," Clune said. 
A photo released by the NYPD shows a pistol labeled "Daisy," a popular brand of pellet and BB guns for more than a hundred years. 
Both the driver and the suspect were treated for minor injuries at a hospital.
An MTA official at the press conference thanked the first responders and praised the driver, who is a 21-year veteran of New York City Transit.
"We're very thankful that there were no serious injuries — passengers or our bus operator," Department of Buses senior vice president Frank Annicaro said. "He is currently at the hospital, with management and his union representative, with minor injuries, and we're very thankful.
In a statement, Con Edison said about 70 customers lost service in the neighborhood and that crews were working to restore service,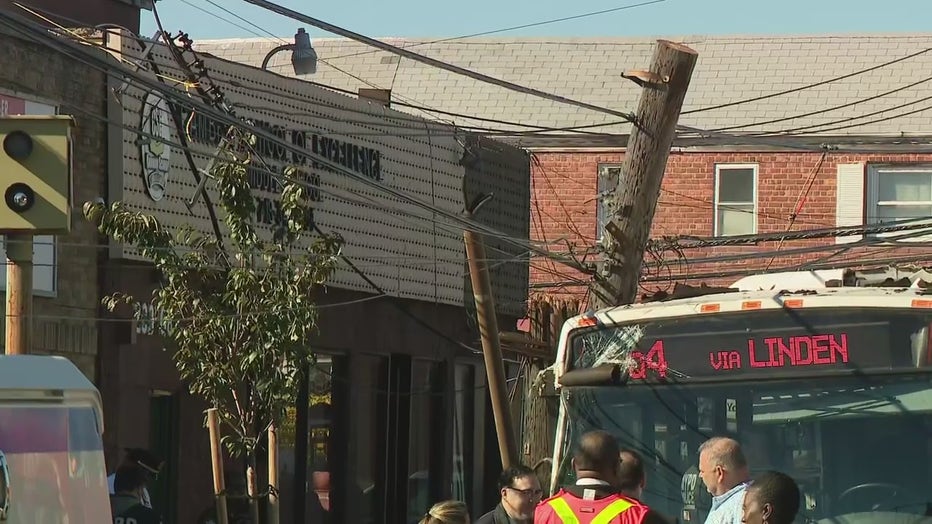 A utility pole leaning on roof of an MTA bus in Cambria Heights, Queens, N.Y., Thursday, Oct. 27, 2022. (FOX 5 NY Image)