More sharks spotted at Nassau County beaches
HEMPSTEAD, N.Y. - Lifeguards shut down the entire length of the Town of Hempstead's beachfront to swimming for several hours after spotting several sharks in the water on Wednesday afternoon.
"Due to a recent shark sighting off Atlantic Beach, the Town of Hempstead is prohibiting beachgoers from swimming/bathing in the ocean at township operated beaches," officials posted on Facebook. Later Wednesday afternoon, lifeguards allowed beachgoers to go into the water up to waist level.
After the shark was seen near Atlantic Beach, lifeguards spotted numerous blacktip reef sharks in the water near Lido Beach, Long Beach, and Jones Beach, according to Town Supervisor Donald Clavin. The town's shark patrol members are walking the shoreline, in rowboats, and on personal watercraft looking for sharks, he added. 
Atlantic blacktip sharks are not common in the New York area. Instead, they are more commonly found in the Gulf of Mexico and the Caribbean. These sharks may have come north with the recent tropical storms, Clavin said. 
RELATED: Sharks spotted near Jones Beach
"The shark sighting was approximately 20 yards off the coast, which is where people swim," Clavin added. "The sharks seem to be following a trajectory similar to last year where feeder fish bring them to the region."
"This shark went straight," lifeguard Sean Carr said. "You saw a fin swimming two to three seconds forward. You couldn't confuse it."
Atlantic blacktip sharks have gray to gray-brown torpedo-shaped bodies with black-tipped pectoral, dorsal, and tail fins, according to NOAA Fisheries. They typically grow up to 6 feet long. 
"Blacktip sharks eat bony fishes, smaller sharks, squids, stingrays, shrimp, and crabs," NOAA states. "They often follow fishing boats and are sometimes seen consuming discarded fish."
Earlier this week, a lifeguard at Jones Beach State Park suffered an apparent bite on his calf. Officials said it could have been from a shark. 
RELATED: Massive great white shark spotted off the coast of New Jersey and Long Island
On Tuesday, Jones Beach lifeguards kept the red flags up all day after spotting several sand sharks and thresher sharks about 300 yards offshore.
Thresher sharks, which can grow up to 20 feet long, feed on schooling fish, such as herring and mackerel, according to NOAA Fisheries. They are found in temperate waters around the world.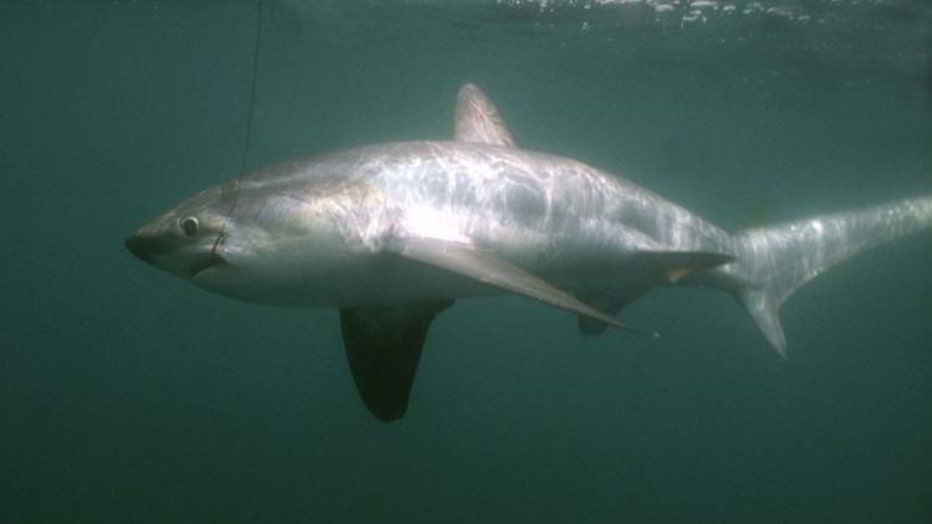 An Atlantic common thresher shark. (NOAA Fisheries File Photo)