Sharks spotted near Jones Beach; swimming prohibited
NEW YORK - A day after a lifeguard on Long Island was possibly bitten by a shark, several sharks were spotted in the water off Jones Beach on Tuesday, forcing lifeguards to prohibit swimming.
Lifeguards at Jones Beach Central Mall spotted a shark at around 11:15 a.m. Then they spotted at least six more sharks, according to George Gorman of the State Parks Office.
Sand sharks and thresher sharks were spotted about 300 yards offshore near Field 2 and the Central Mall, prompting lifeguards to keep red flags up all day.
Video from Jones Beach lifeguard drone shows hundreds of schooling fish. In the video, something called a cobia fish is seen, which can be mistaken for a shark. Cobia fish are not usually found in these waters but experts say they may be here because of the warm and clean water.
Marine experts say that schools of fish, such as bluefish, often draw sharks closer to the shore.
On Monday, a lifeguard in the water suffered a one-inch laceration on his calf after he felt something bite him. An EMT treated the lifeguard on the beach before he was sent to an area hospital where he was expected to recover.
Lifeguards reported seeing a fin in the water around 11 a.m. on Monday. Drones were launched to search for sharks but none were seen until Tuesday.
Sign up for FOX 5 email newsletters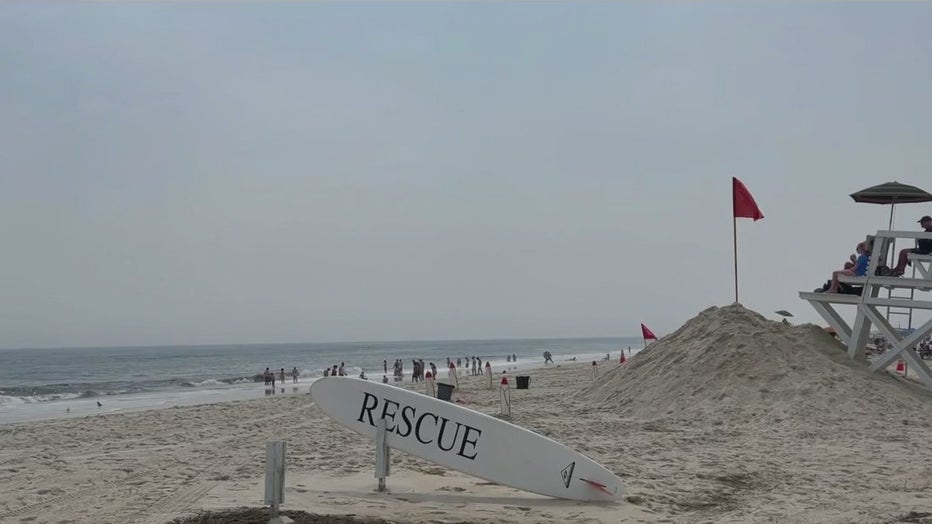 Officials were investigating a possible shark attack on a lifeguard at Jones Beach on Long Island.