The more people exercise, the lazier they are throughout the rest of the day, study suggests
The more time you spend engaging in a structured exercise routine, such as going to the gym or running, the more likely you are to cut back on other physical daily activities, according to a recent study. 
This decline in physical activities could affect people's ability to lose weight successfully even if they participate in a routine exercise program, according to the study, which was published in the journal Current Nutrition Reports.
"If people are seeking weight loss, they should be aware of their non-exercise physical activity (NEPA) — activities such as walking the dog, riding a bike to work or standing at the desk at work," study author Julie Marvel Mansfeldt, a graduate student at the University of Copenhagen's Department of Nutrition, Exercise and Sports (NEXS), told Fox News Digital.
81-YEAR-OLD FITNESS TRAINER OFFERS SMART WORKOUT TIPS FOR SENIORS: 'IT'S GREAT TO BE FIT'
"If these activities are suddenly stopped, the total daily energy expenditure is less than expected — and thus the weight loss will be less than expected," she added.
"Compensation of NEPA can thus be a barrier to weight loss."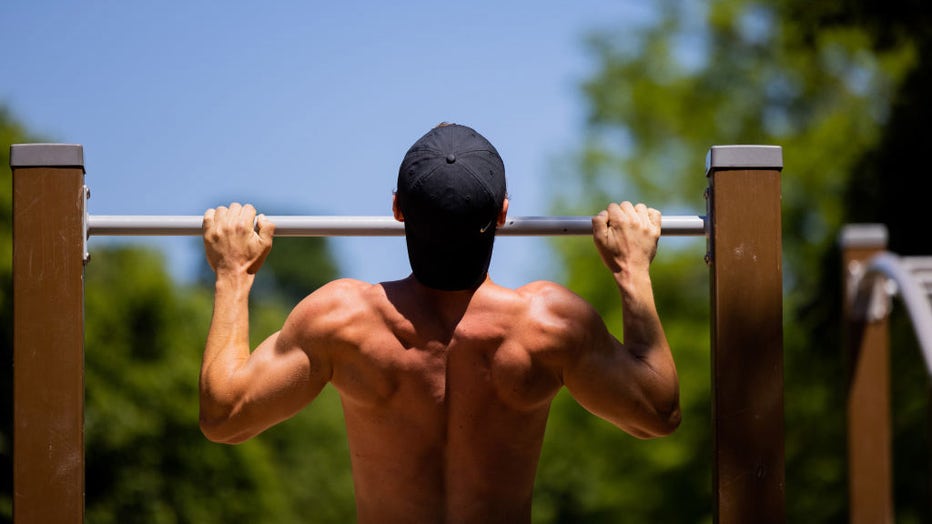 FILE - An athlete does pull-ups at an outdoor gym on June 14, 2021, in Cologne, Germany. (Photo by Rolf Vennenbernd/picture alliance via Getty Images)
Mansfeldt, under the supervision of Professor Faidon Magkos of NEXS at the University of Copenhagen, conducted a systemic review of 24 research studies that looked at people's levels of daily physical activities before and while participating in different types of structured exercise regimens. 
The team found that a person who is more engaged in a routine exercise program is more prone to "lounge around" and avoid other, non-structured physical daily activities, like taking the stairs. 
EXERCISE OF ANY AMOUNT COULD HELP INCREASE PAIN TOLERANCE, NEW STUDY FINDS
In a prior research study, this decline in daily physical activity resulted in subjects losing 22% less weight than expected from their exercise training program, according to a news release from the university.
"Sixty-seven percent of studies reported less-than-expected weight loss, which was not explained by the change in energy intake, but likely NEPA," Mansfeldt told Fox News Digital.
In theory, exercise should result in an energy deficit — which should result in weight loss, the release noted. 
"But in practice, we see that the two things are seldom linked, and that weight loss from exercise is often less than expected," Mansfeldt pointed out, suggesting that a "compensatory mechanism" must occur.
Cutting back on daily physical activity may be a type of physical compensation for the person who is engaging in more training, the study stated.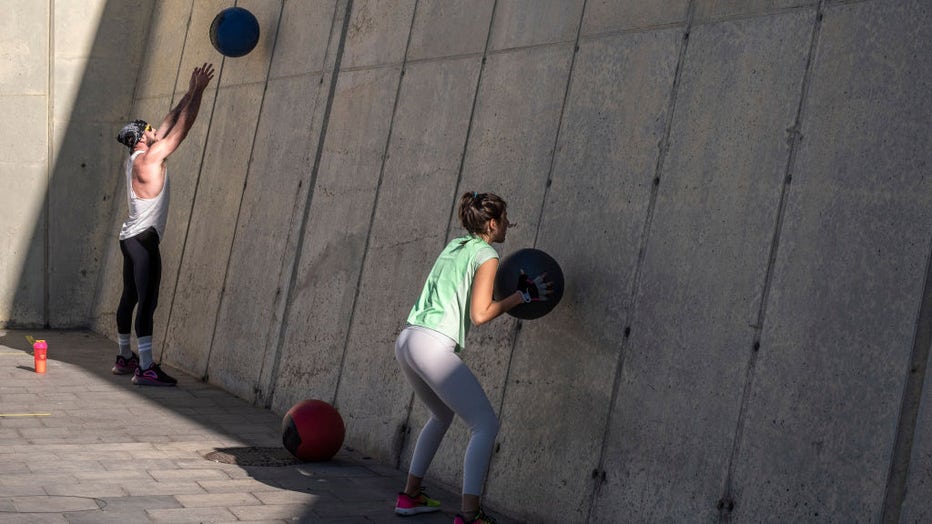 FILE - Two people are seen participating an outdoor bodybuilding class. (Photo by Paco Freire/SOPA Images/LightRocket via Getty Images)
JUST 4 MINUTES OF INTENSE DAILY ACTIVITY COULD SLASH CANCER RISK AMONG 'NON-EXERCISERS,' STUDY FINDS
After exercising, people may be more tired, leading them to lounge more and avoid other physical daily activities — or it could be a reward for working out.
The study also noted that dietary compensation might occur with increased structured exercise, where people eat more after completing a workout — which then increases their energy (calorie) intake, though this compensation was less common.
"Surprisingly and contrary to what many people think, we do not typically increase the amount of food we eat upon starting exercise training," Mansfeldt said in the news release. 
"This then suggests that we must be decreasing non-exercise physical activity, which refers to all the physical activities we do in our daily lives aside from the structured exercise."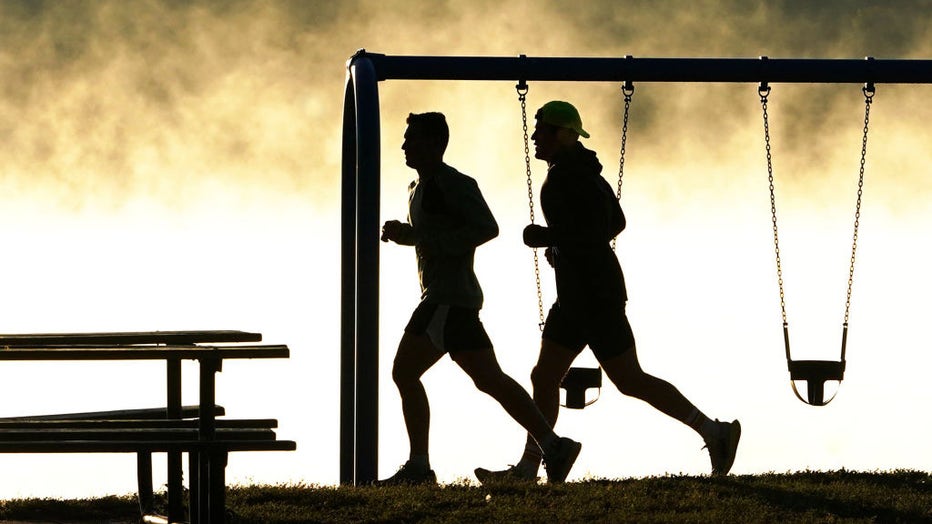 FILE - Runners make their way by playground equipment on Sept. 28, 2022, in Minneapolis, Minn. (Photo by David Joles/Star Tribune via Getty Images)
Those who enjoyed their exercise regimen were less likely to partake in these compensatory motions, the study noted, and also achieved greater weight loss than those who had a negative view of their program, according to the study.
5 HEALTHY HABITS MAY BE THE SECRET TO LIVING LONGER, FLORIDA NEUROSURGEON REVEALS
"Depending on the feelings associated with the physical activity, people change their energy intake," Mansfeldt told Fox News Digital. 
"For example, if they did not enjoy running, they increased their energy intake afterward, which is an example of dietary compensation — and this is potentially also true for non-exercise physical activities."
Reduced non-exercise physical activity was common in both men and women across all weight ranges, the study found.
Exercise specialists not involved with the study commented to Fox News Digital on the findings.
"Structured exercise may have its benefits, as it organizes our time and develops a routine; however, if this is our only outlet, we may not be doing enough," Edward Farrell, a certified sports and conditioning specialist at Physical Solutions Physical Therapy in Bethpage, New York, told Fox News Digital. 
It is important to remain active even during downtime, Farrell said.  
THESE 5 STEPS CAN HELP YOU BUILD A BETTER BODY: 'IT'S NOT ROCKET SCIENCE'
"If we fall out of maintaining an active lifestyle throughout the day, our metabolism can peak and then slow down, not providing for most productive energy expenditure," he said. 
"Our bodies will respond best with structured exercise that is targeted and goal-specific, along with casual activities to complement our routines throughout the day, such as walks and bike rides."
It's also important to be consistent and enjoy what you do to help achieve weight loss and fitness goals, said Farrell.
Several strength and conditioning coaches told Fox News Digital that they do believe compensatory mechanisms occur when a person begins an exercise routine.
"It is only human nature. But instead of skipping walks or bike rides, that compensatory mistake is normally in the kitchen," Vincent Martino, a strength and conditioning coach at The Schwarz Institute, a sports performance and physical therapy center on Long Island, New York, told Fox News Digital.
CLICK HERE TO SIGN UP FOR OUR HEALTH NEWSLETTER
"People will reward themselves with what they think are harmless snacks, but those snacks can add up."
Martino also emphasized other important factors that affect weight loss and overall fitness.
"Sleep, stress, mental health, exercise routine, nutrition — they all work together, not like independent contractors in your body."
Elizabeth Byrnes, a certified personal trainer at EHFitnessnyc in Austin, Texas and New York City, told Fox News Digital that "our culture operates on reward systems and short-term solutions, and this study definitely proves that."
She added, "I see people also compensating for more exercise with more food. We are also chronically stressed and overstimulated, so the idea of adding to activity or depriving ourselves of indulgences feels bad."
CLICK HERE TO GET THE FOX NEWS APP 
There are ways to help boost non-exercise physical activity throughout the day, Byrnes shared.
"I have seen a shift in many of my clients — a trend toward under-desk treadmills or walking pads and digital activity trackers encouraging people to hit movement and exercise goals, as well as encouraging mindfulness and meditation."