Mayor Adams unveils largest city budget ever at $106.7 billion
New York City Mayor Eric Adams recognizes that "not everyone will be happy" about his proposed fiscal year 2024 budget, but he says he's OK with that. 
It's a proposal that he said will support the city's working families.  It would create sustainability and resiliency programs, more resources for mental health, and "build out the college-to-career pipeline." 
But the mayor touted his proposed balanced budget while saying the city is facing looming "storm clouds"—a migrant crisis that he said is showing no signs of letting up. 
There are currently 35,000 asylum seekers in the city's various shelters and  that number will double by summer 2024, costing the city $4.3 billion dollars, according to Adams.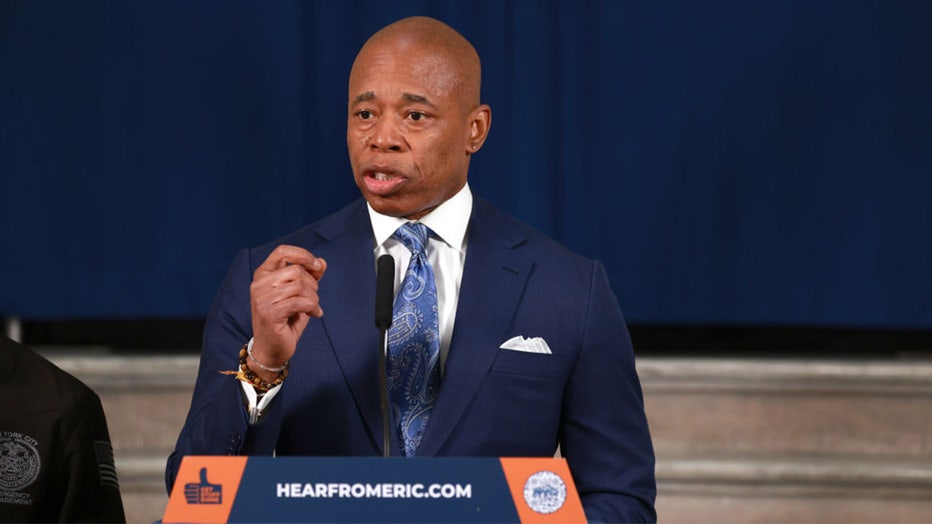 New York City Mayor Eric Adams speak during a press conference at City Hall Rotunda urged the Biden administration to immediately enhance paths to work authorization for asylum seekers currently in the U.S. and those who continue to arrive every day.  (Luiz C. Ribeiro for NY Daily News via Getty Images)
He hopes the state's still-to-be-approved budget will include $1 billion in migrant help, but with no final budget nearly one month after it was due, there is still no guarantee. However, Adams is "optimistic." 
When asked if the state's budget delay has shaken his confidence in Gov. Kathy Hochul, Adams said he is "not a fare weather friend" of the governor's. 
Even with the $1 billion in state assistance, the city, he said, would still be on the hook for 60% of the total migrant costs. 
And because of that, cuts needed to be made, and that included asking nearly all city agencies for multiple rounds of cuts in recent months — known as Programs to Eliminate the Gaps, or PEGs. The most recent round of cuts called for city agencies to come up with a plan eliminating 4% of their operating costs. 
One of the agencies that has pushed back the hardest is the city's public libraries, which had said they may need to cut service on Saturdays and Sundays. The mayor on Wednesday confirmed that he has backed off on the latest PEG request from the libraries, but prior cuts remain, meaning the city's libraries will still be operating with more than $30 million less. 
In a statement, the heads of the city's various library branches called Wednesday's news an "important step towards restoring library funding."  And according to testimony given by the three library heads in March, service cuts are still on the table even if the latest PEG was taken off the table. 
The mayor was also asked about the city's recently approved labor contracts, including with the Police Benevolent Association, the union for the city's police force. Adams was asked about the PBA members getting more money while the NYPD — according to the comptroller's office — is responsible for the largest share of the city's overtime costs. 
"Through February 2023," Comptroller Brad Lander's office wrote in a report,  "the NYPD has spent $472 million on uniformed overtime, already exceeding its $374 million budget for FY 2023 by $98 million." 
Adams suggested that simply posing the question could be construed as anti-police rhetoric. 
"If this is anti-police, shame on us," he said.