Latest developments in the coronavirus pandemic for March 25, 2020
NEW YORK - LIVE BLOG - FOX 5 NY is updating this blog with the latest developments on the coronavirus outbreak so you can get the information in one spot.
11:51 PM: The Senate has passed an unparalleled $2.2 trillion economic rescue package steering aid to businesses, workers and health care systems engulfed by the coronavirus pandemic. The 883-page measure is the largest economic relief bill in U.S. history.
10:54 PM: The judge who sentenced the rapper Tekashi 6ix9ine to prison said Wednesday he would have ordered home confinement instead if he had known about the coronavirus in December.
10:47 PM: South Korea has reported 104 new cases of the coronavirus and five more deaths, bringing its totals to 9,241 infections and 131 deaths.
South Korea's Centers for Disease Controls and Prevention said Thursday that 30 of the new cases were linked to recent arrivals.
10:33 PM: Trinidad & Tobago is reporting its first death from the coronavirus.
Health Minister Terrence Deyalsingh said late Wednesday that the patient was an elderly man with a pre-existing medical condition.
10:23 PM: A U.S. Marine has become the first person stationed at the Pentagon to test positive for coronavirus.
The Marine has been in isolation at home since March 13, when a member of his immediate family began to show symptoms. The Pentagon said his workspace has been cleaned and a contact investigation is underway.
10:16 PM: Trinidad & Tobago is reporting its first death from the coronavirus.
Health Minister Terrence Deyalsingh said late Wednesday that the patient was an elderly man with a pre-existing medical condition.
9:13 PM: De Blasio is also reminding New Yorkers again to observe social distancing rules, adding that "if people don't follow the rules, we'll take hoops down."
9:11 PM: Mayor Bill de Blasio says free childcare is being expanded starting Friday to cover more workers in more fields, including pharmacy, grocery and the Health Department due to the coronavirus pandemic.
8:26 PM: As of Wednesday, there are 20,011 cases of coronavirus in New York City. 55 percent of cases are people under the age of 50, and 57 percent of cases are men. People aged 18 to 44 make up the largest number of cases, accounting for 44 percent. Queens has been the hardest hit borough, with over 6,000 cases, followed by Brooklyn, Manhattan, the Bronx and Staten Island.
280 people have died in New York City as a result of coronavirus.
7:01 PM: President Trump implores Congress to move on the critical aid legislation without further delay; predicts U.S. economy will rebound like "a rocket ship."
7:00 PM: Connecticut reports an "unprecedented" number of unemployment claims.
6:49 PM: Mayor de Blasio says every morning he will post a "message from the mayor" on his official social channels; you can submit questions to him using the hashtag #askmymayor.
6:47 PM: Mayor de Blasio says that "for all intents and purposes, evictions are not happening"; says he will look at whether some kind of rent moratorium would even be possible.
6:42 PM: Health Commissioner Oxiris Barbot: Safe to say that tens of thousands of New Yorkers have COVID-19 or have been exposed to COVID-19 and that is why so important for everyone to stay home; this is "our best at slowing that spread."
6:40 PM: Mayor de Blasio says a lot of New Yorkers probably have or have had a coronavirus infection and don't know it because of mild or no symptoms and/or won't be tested.
6:38 PM: Mayor de Blasio says no plans to close parks but may close playgrounds if people don't follow social-distancing rules.
6:35 PM: Mayor de Blasio what we're doing right now is to try to prevent people from dying who don't have to die. 
6:28 PM: Mayor de Blasio: Everyone is being affected by this crisis; we have to anticipate that many of us will get infected but vast majority of the cases will not be that serious.
6:17 PM: Mayor de Blasio: Plans are being finalized for the streets that will be closed to traffic to give pedestrians more room; announcement coming tonight.
6:09 PM: Mayor de Blasio thanks all parks workers, especially Parks Enforcement Patrol, the NYPD, and 6 other agencies that have worked to keep the parks open and make sure that visitors follow the social-distancing rules.
6:07 PM: Mayor de Blasio: NYPD/Parks Dept. will remove basketball hoops from 80 courts around the city where people repeatedly ignored the rules of social distancing.
6:03 PM: Mayor de Blasio: Regional enrichment centers offering childcare to transit workers, first responders, and health-care workers will open on Friday to children of essential workers at groceries, pharmacies, Staten Island Ferry, NYC Ferry, DEP, Probation Dept.
5:58 PM: Mayor de Blasio: Senate Majority Leader Mitch McConnell stood in the way of New York getting the real money that the city and state need to cope with this pandemic; the bill allocates $1 billion for New York, which has one-third of the cases in the U.S.; "Someone do the math down there in Washington."
5:55 PM: Mayor de Blasio: FEMA has gotten more aggressive at getting supplies but we need the military to get much more deeply involved and we need the Defense Production Act to be fully used.
5:50 PM: New York City Mayor Bill de Blasio: April will be worse than March; and May could be worse than April; I don't know where this idea that the country can "open up" by Easter is coming from.
5:36 PM: Sir Elton John will host the iHeart Living Room Concert for America on March 29; the benefit event will feature remote performances from Alicia Keys, Backstreet Boys, Billie Eilish, Billie Joe Armstrong, Mariah Carey, Tim McGraw, and others.
5:30 PM: Virginia Gov. Ralph Northam asks Liberty University President Jerry Falwell Jr. to reconsider bringing back students to the Lynchburg campus after their spring break.
5:05 PM: New York City is asking businesses that can source or make products to help in the COVID-19 response to sign up here.
4:54 PM: The government of Mexico says it will continue to allow cruise ships to dock "for humanitarian reasons" but passengers will be "individually fumigated" and then to airports for return flights home.
4:51 PM: The Connecticut State Police is hosting blood drives at the Connecticut Police Academy in Meriden.
4:46 PM: When asked why gun stores are still open, Gov. Lamont says primary focus is public health so if gun stores are places where people are gathering closely, that could change.
4:41 PM: Dr. Carter: Slowing the spread and social distancing should reduce the number of infections; the eastern part of the state hasn't been hit hard yet and we hope it continues that way.
4:40 PM: Dr. Carter: "We should be totally surprised by what's happening. Nothing like this has happened in a hundred years."
4:36 PM: The novel coronavirus has infected more than 450,000 people and killed more than 20,000 around the world, according to a Johns Hopkins University tally.
4:30 PM: Gov. Lamont hospitals are prioritized for receiving PPE; governor's aide: the state's essential employees who are still required to be on site/in the field will get a share of PPE, too. 
4:24 PM: Dr. Carter: The state's public health lab can run 130-150 tests per day and get results in about a day; Yale-New Haven lab can also turn around tests quickly; private labs take longer. 
4:20 PM: Dr. Carter: We've never dealt with a pandemic like this before; we hope social distancing will make a difference; "This is uncharted territory for all of us."
4:18 PM: Dr. Matthew Carter, Conn. state epidemiologist, says hospitals need many more ventilators; some medical offices that aren't using ventilators have made them available to hospitals.
4:17 PM: Gov. Lamont: Since yesterday, another 257 Connecticut residents tested positive; total: 875.
4:15 PM: Connecticut's small businesses and sole proprietors soon will be able to apply for forgiveable loans.
4:11 PM: Gov. Lamont says it is important to remember that Connecticut is part of the New York City metro area, which is hit really hard, so aid shouldn't necessarily just be divvided up by state.
4:10 PM: U.S. stocks end the day higher but the gains faded on word that the federal virus aid bill could be delayed.
4:08 PM: Gov. Lamont: Many residents are calling the state about their dire financial situation; hopefully, the federal stimulus package will help.
4:05 PM: Gov. Lamont: Metro-North ridership is down 95%; not that many cars are on the road; people seem to be taking social distancing seriously.
4:02 PM: Connecticut Gov. Ned Lamont: Local companies are helping; Litchfield Distillery is making hand sanitizer and will give it away.
3:55 PM: The organizer of Wimbledon will hold an emergency meeting to decide whether to postpone or even cancel the grand slam tennis tournament, which is slated to start June 29; the All England Club's main board is expected to decide next week.
3:50 PM: Authorities in Chicago partner with five hotels to reserve at least 1,000 hotel rooms for coronavirus patients.
5:46 PM: A company called Scanwell Health asks FDA for emergency permission to develop and distribute an at-home test for COVID-19, Time.com reports.
5:36 PM: Celebrity chef Floyd Cordoz, who garnered praise in NYC's restaurant scene at Tabla and North End Grill, died from complications of COVID-19, his company says.
3:32 PM: With Broadway shut down until further notice, the Tony Awards, originally set for June 7, have been postponded.
3:03 PM: New Jersey health officials say that the state's coronavirus growth rate in the northern part of the state is similar to New York's, and are expecting a peak in 14-21 days.
2:38 PM: Over 14,000 coronavirus tests have been performed in New Jersey, with a little over 4,000 testing positive.
2:34 PM: Of the 18 new deaths reported in New Jersey, 11 were male, 7 female, with an age range of 52 to 93 years old. 53% of the cases reported underlying conditions. Five of the cases were related to long-term care facilities. There have been no coronavirus-related deaths in individuals under 30 in New Jersey.
2:29 PM: Murphy: "We will all pull through this together."
2:26 PM: Murphy says that any businesses in violation of the non-essential business order should be reported at covid19.nj.gov/violation.
2:23 PM: Murphy says pharmaceutical company Merck is contributing 300,000 masks to the coronavirus fight in New Jersey.
2:15 PM: Murphy says that he has signed an executive order saying that all childcare centers that wish to continue operating will have to certify that they solely serve the children of essential workers, otherwise they must close by April 1. Those that remain open will have to abide by new health and safety guidelines.
2:14 PM: Murphy: "We will not be left scrambling, we will be ready to act decisively to protect the health of our residents."
2:11 PM: Murphy says Essex County is opening a drive-thru testing facility on Thursday. For more information, visit EssexCovid.org.
2:09 PM: Governor Phil Murphy announces the discovery of 736 new positive coronavirus tests in New Jersey, bringing the statewide total to 4,402. He also announced that there have been 18 more coronavirus related deaths, bringing the statewide total to 62.
1:43 PM: The U.S. coronavirus outbreak has spread to at least six Amazon warehouses, infecting workers racing to deliver massive volumes of packages for consumers leery of leaving their homes to shop.
1:38 PM: From the NYC Office of Emergency Management: Help those in need during COVID-19. Visit nyc.gov/helpnownyc for ways you can safely help your fellow New Yorkers.
1:35 PM: Remington Arms CEO Ken D'Arcy wrote a letter to New York Gov. Andrew Cuomo and President Donald Trump offering "approximately one million square feet of unused and available manufacturing space" at the company's plant in Ilion, N.Y.
1:28 PM: Latimer: As we test more thoroughly, New Rochelle and Yonkers now both have over 200 cases. I will argue that the containment zone involving New Rochelle was effective.
1:23 PM: Latimer: We are not going to shut down parks in Westchester County. At this point, as long as people keep social distancing, it's acceptable this way.
1:12 PM: Latimer: Health services workers who would like to volunteer should email: LAJC@WestchesterGov.com to volunteer your health services.
1:09 PM: Latimer: If you have questions about coronavirus, contact COVID19FAQ@WestchesterGov.com. Call your doctor if you are not feeling well. The NYS hotline for testing requests 888-364-3065.
1:06PM: Latimer: If you can donate pesonal protection equipment, reach out to county officials at: ICanHelp@WestchesterGov.com
1:03 PM: Latimer: There are 4,691 cases in Westchester County. The highest case numbers are in hotspot New Rochelle with 234 cases, Yonkers 201, Greenburgh 124, Mount Vernon 89 and White Plains 74.
1:01 PM: Westchester County Executive George Latimer updates public on coronavirus response. Watch LIVE: fox5ny.com/live
12:21 PM: In most of Nassau County, partners can remain in the labor and delivery room but that rule may change, according to health officials.
12:16 PM: There are two epidemics: of coronavirus and of fear. Nassau County has established a hotline for pregnant women and their concerns/worries/ fears over coronavirus. The patient HOTLINE number is 833-4ur-care or 833-487-2273.  Doctors, nurses, etc. will provide answers to general questions. The virus does not appear to get to the fetus.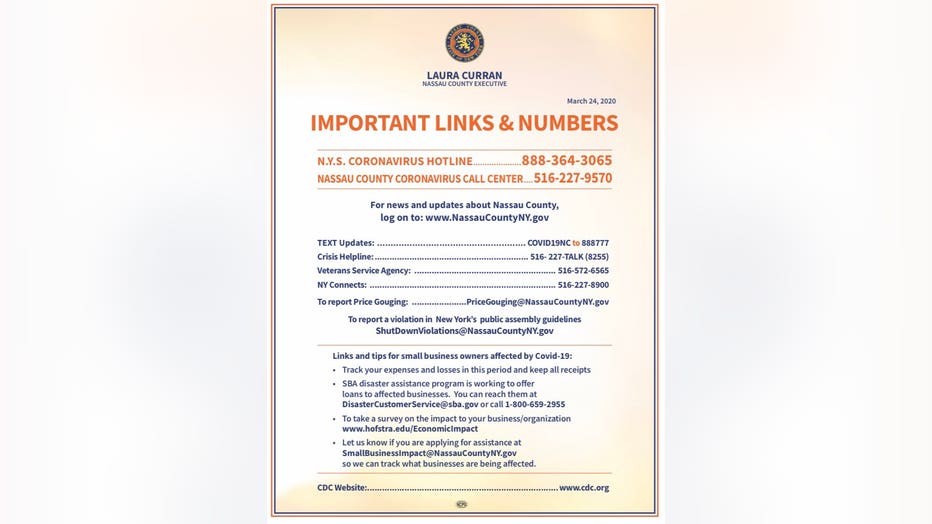 12:15 PM: Watch LIVE NOW: Update from Nassau County officials on coronavirus response: fox5ny.com/live
12:10 PM: Cuomo: If we don't get more funding from the Feds I don't know how we balance a budget. The House bill would have given us $17B. The Senate bill gives us $3B.
12:05 PM: Cuomo: Everyone agrees that we do everything we can to save a life.  You have to get the economy running. I believe there is a more refined strategy. I don't think you open up the whole society to business as usual. Start that economy by bringing in the younger people and those that are less at risk.
12:01 PM: Cuomo: We have multiple stockpiles in multiple locations: in the city, Long Island, etc.
11:58 AM: Cuomo: The biggest number is going to be people who did not know they had it. 
11:56 AM: Cuomo: The federal government does not have a stockpile of ventilators, they have to aquire them. 
11:55 AM: Cuomo: The ventilators (from FEMA) are coming into the stockpile and we will deploy them on a need basis.
11:53 AM: Cuomo: That concept of closeness and family is our greatest strength and that is what is going to overcome at the end of the day. 
11:48 AM: Cuomo: Why does New York have 15 times the number of cases worldwide? Because we welcome people from around the globe. Because we live close to one another. That's why the virus communicated the way it did. Our closeness makes us vulnerable- that spatial closeness makes us vulnerable. But our closeness is who we are. It's what makes us special. It is what makes us so connected to one another. That closeness is that New York humanity that, I think, exists no where else.
11:45 AM: Cuomo: 30,811 positive cases in New York State with 5,000 new cases reported. There are 17,000 cases in New York City. There are 3,000 cases in Nassau County. There are 888 ICU cases or 3 percent of the sick throughout the state.
11:44 AM: Cuomo: Any hospital in the state can peform testing.
11:43 AM: Cuomo: $3.8B going to New York from the federal stimulus bill, but we're looking at a revenue short fall of $5 billion, $10 billion, $15 billion.
11:41 AM: Cuomo: We asked the country for help and we will return the favor, with dividends.
11:40 AM: Cuomo: I said to the White House team that as soon as we get out of critical deployment, we will send the equipment to the next location.
11:38 AM: Cuomo: I told the White House team that we should address the critical need in one hot spot with intensity with equipment and personel then shift to the next hot spot. Have a more rolling response.
11:37 AM: Cuomo: We are looking at an apex of 21 days.
11:36 AM: Cuomo: We have purchased all the ventilators we could purchase.
11:34 AM: Cuomo: 6K mental health professionals offered to volunteer to provide services. Call the hotline 844-863-9314 if you need mental health counseling. The service is free.
11:33 AM: Cuomo: 40K people have responded to calls for joining a backup health care workforce.
11:32 AM: Cuomo: The need for ventilators is the biggest challenge. We need 39K ventilators. We purchased 7K ventilators and the federal government sent 4K.
11:30 AM: Cuomo: we have 53K beds and need 140K beds. We can take 29K beds from all downstate university dormitories.
11: 27 AM: Cuomo: density reduction plan appears to be working based on predictions. Hospitalizations are doubling every 4.7 days as of Tuesday but they were 3.4 days on Monday.
11:25 AM: Cuomo: We asked NYC for a plan to deal with desnity. The new plan in NYC is to pilot test closing streets to cars and opening streets to pedestrians. NO close contact sports in playgrounds. No basketball. We are asking people to do that in a voluntary basis. If they do not do that, we will close the parks.
11:20 AM: Cuomo: 140K cases coming into hospitals with 53K beds available. 40K ICU cases but only 3K beds.
11:20 AM: Cuomo: 15 percent of people who test positive require hospitalization.
11:19 AM: Gov. Andrew Cuomo has an update on the coronavirus response in New York. Watch LIVE: fox5ny.com/live
10:59 AM: Essex County officials said Wednesday that a drive-through testing center would be opening Thursday in Newark's Weequahic Park. A drive-through facility for Passaic County residents opened Wednesday at William Paterson University.
10:05 AM: Former US House Speaker Newt Gingrich and U.S. Ambassador to the Vatican Calista Gingrich remain in self-isolation inside their home in Rome, Italy.
10:00 AM: Baby boy in Florida tests positive for coronavirus. Officials are unsure how the boy contracted the illness. A two-year-old girl also tested positive for the virus. Officials also said it is unknown if it is travel-related and they didn't say whether the baby was in contact with someone who tested positive.
8:47 AM: Stock futures pare gains after deal reached on coronavirus stimulus.
8:40 AM: Dr. Mehmet Oz has raised concerns of a potential coronavirus pandemic relapse if the country goes back to work too soon. He asked President Trump how his administration plans to handle that possibility. 
7:37 AM: A snapshot of the number of cases in NY, NJ, CT: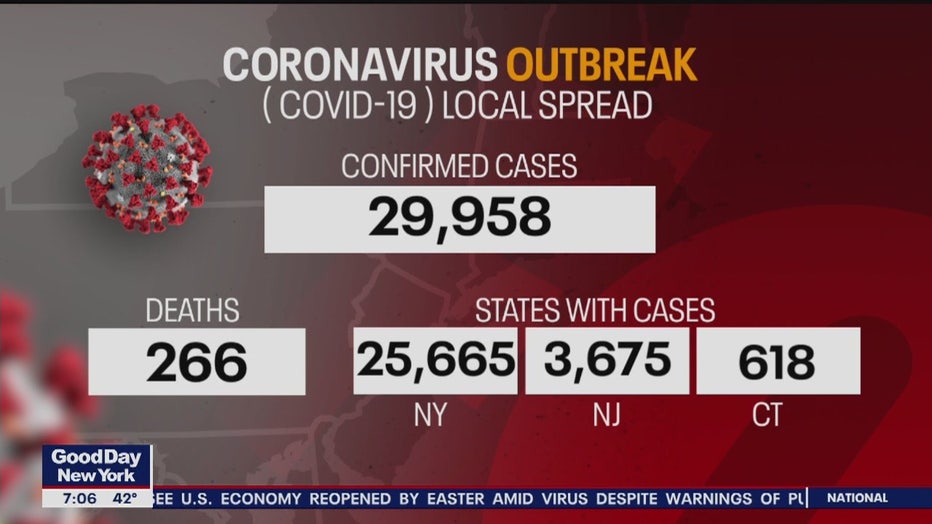 7:09 AM: Passaic County will open up its COVID-19 drive-thru testing site today. The site is located at William Paterson University. The testing site will operate daily from 9 AM to 12 PM, or until test kits run out. The screening site is open to Passaic County residents only. Screenings will not be performed on patients without a prescription.
7:00 AM: Watch 'Good Day New York' at this LINK: fox5ny.com/live
6:56 AM: MTA mass transit service changes are in effect.
Visit https://new.mta.info/precautions-against-coronavirus for all the updates.
6:42 AM: UK palace says heir to the throne Prince Charles tests positive for coronavirus, has mild symptoms.
6:40 AM: White House, Senate reach late-night deal on massive $2 trillion coronavirus stimulus package.