'Kind of scary': NYC subway riders torn over NYPD's new robot patrol
NEW YORK - Subway riders shared mixed feelings about a police robot that started patrolling the Big Apple's busiest transit station in October.
"I think it's OK — whatever they can do to make us safer," Onassis told Fox News. "I mean look at the robot. It's like something from 'Doctor Who.' I think it's cute."
However, Muna said: "I prefer for cops that are actual humans to be in the area."
"Technology can always malfunction," she added. "To rely on a piece of technology to keep a human safe if you come in contact with another human who doesn't have good intentions, it's kind of scary."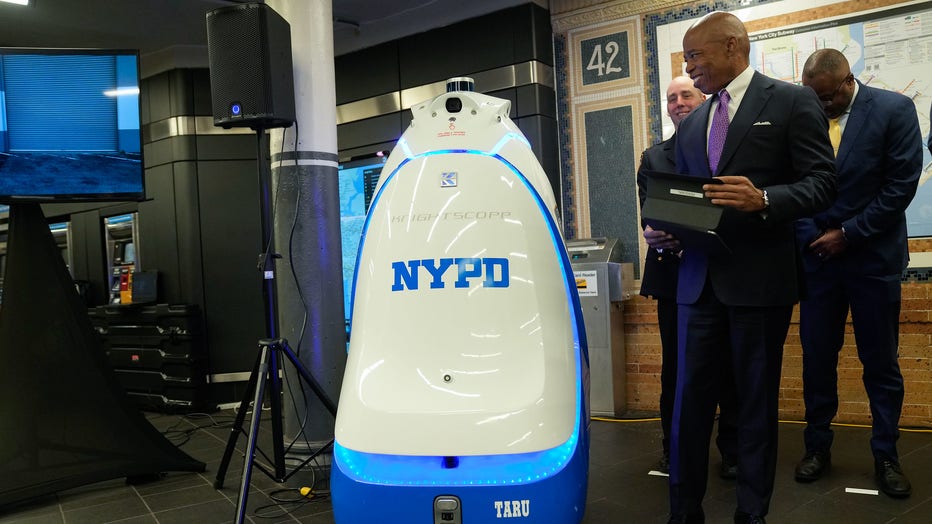 Mayor Eric Adams makes a public safety-related announcement introducing the NYPD robot called K5 at the Times Square subway station on Friday, September, 22, 2023. Michael Appleton/Mayoral Photography Office
The New York City Police Department started leasing Knightscope's "fully autonomous" K5 Security Robot to patrol the Times Square Subway Station as part of a two-month pilot program to see how effective the law-enforcement technology is at curbing crime.
Officers accompany the 420-pound 5-foot, 3-inch tall robot during its shift from 12 a.m. to 6 a.m. The K5 costs $9 an hour to lease, records video and has a button that connects to a live person that can be used around the clock.
"It's exciting," Aviva said. "The more we can use technology in our everyday lives the better. The more cameras the better."
"It definitely makes me feel a bit safer knowing there is another set of eyes around," she added. "Also it looks fairly robust so that helps, too. … People might be deterred if they see the robot."
Karl said "more technology is better" when it comes to keeping the city safe.
"There are so many demands on people to find more employees that anything to help the NYPD is a plus," he added.
But some say they want more manpower and less robot-power keeping them safe.
"I think that they should implement more cops that are humans citywide," Muna said "This is a camera. It helps to have a camera taking footage of things that are happening, but I'd feel more safe if there was an actual human."
K5s are starting to be used in hospitals, malls, airports, warehouses and casinos in addition to supporting law enforcement, according to Knightscope. Besides the security robot, Mayor Eric Adams has also said he will use Digidog, a robotic police dog that is deployed in emergency situations.
"It's going that way anyway, regardless," Brahn told Fox News. "There's cameras everywhere and they're monitoring you, so it's just another add-on to the crime prevention."
"In health care, there's more robotics now. It's an explosion of it," he continued. "It's inevitable that [artificial intelligence] is becoming more interactive and really to aid us rather to be afraid."
However, Mitch said "I don't think robotics has advanced far enough yet" for the K5 to be effective.  
"It's a help. The city's using it to reduce their budget — they're in budget trouble — but the reality is more human beings for now would be better," he said. "Someday, artificial intelligence and robotics will keep us all safe but were not there yet."