Kansas lawmakers impose extensive anti-trans bathroom law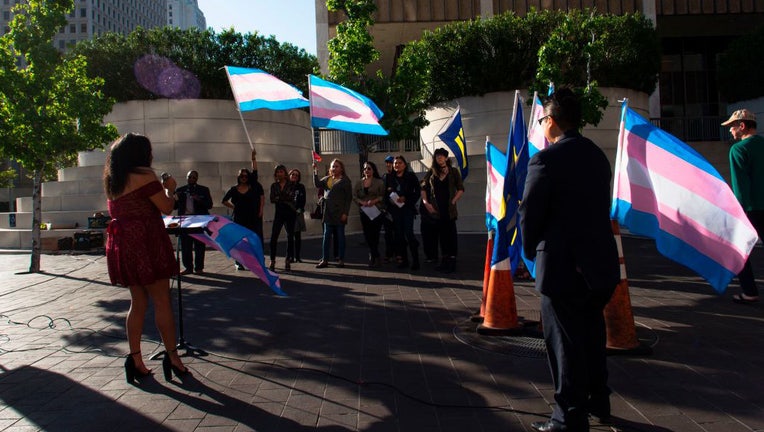 article
TOPEKA, Kan. - Republican legislators in Kansas enacted what may be the most sweeping transgender bathroom law in the U.S. on Thursday, overriding the Democratic governor's veto of the measure without having a clear idea of how their new law will be enforced.
The vote in the House was 84-40, giving supporters exactly the two-thirds majority they needed to override Gov. Laura Kelly's action. The vote in the Senate on Wednesday was 28-12, and the new law will take effect July 1.
At least eight other states have enacted laws preventing transgender people from using the restrooms associated with their gender identities, but most of them apply to schools. The Kansas law applies also to locker rooms, prisons, domestic violence shelters and rape crisis centers.
RELATED: Kansas passes transgender bathroom bill; Arkansas approves own version of legislation
"When I go out in public, like I'm at a restaurant or up on campus or whatever, and I need to go to the bathroom, there's definitely going to be a voice in my head that says, '"Am I going to get harassed for that?'" said Jenna Bellemere, a 20-year-old transgender University of Kansas student. "It just makes it so much more complicated and risky and unnecessarily difficult."
Republican legislators argued that they're responding to people's concerns about transgender women sharing bathrooms, locker rooms and other spaces with cisgender women and girls. They repeatedly promised that the bill would prevent that.
Kansas House Speaker Dan Hawkins, a Wichita Republican, told GOP colleagues after the vote that the override was "truly the icing on the cake" among conservative policy victories this year.
"I'm just giddy," he said.
The Kansas law is different than most other states' laws in that it legally defines male and female based on the sex assigned at birth and declares that "distinctions between the sexes" in bathrooms and other spaces serves "the important governmental objectives" of protecting "health, safety and privacy." 
RELATED: Iowa governor signs gender-affirming care ban, bathroom law
Earlier this week, North Dakota enacted a law that prohibits transgender children and adults from having access to bathrooms, locker rooms or showers in dormitories of state-run colleges and correctional facilities.
Kansas' law doesn't create a new crime, impose criminal penalties or fines for violations or even say specifically that a person has a right to sue over a transgender person using a facility aligned with their gender identity. Many supporters acknowledged before it passed that they hadn't considered how it will be administered.
The bill is written broadly enough to apply to any separate spaces for men and women and, Kelly's office said, could prevent transgender women from participating in state programs for women, including for female hunters and farmers. 
As written, it also prevents transgender people from changing the gender markers on their driver's licenses — though it wasn't clear whether that change would occur without a lawsuit.
RELATED: Kansas approves bill to end gender-affirming care for transgender youth
Critics of the new law believe it is an attempt to legally erase transgender people while also refusing to recognize gender fluid, gender non-conforming and non-binary people. They argued that the bill's vagueness will prompt harassment of transgender people.
"The lack of clarity is by design because it allows them to disclaim the worst possible interpretation while also allowing for the worst possible outcome to happen," said Micah Kubic, the executive director of the American Civil Liberties Union of Kansas, which opposed the law.
When she vetoed the bill, Kelly suggested it was discriminatory and said it would hurt the state's ability to attract businesses.
The new law is part of a larger push by Republicans across the U.S. to roll back LGBTQ+ rights, particularly transgender rights. At least 21 states, including Kansas, restrict or ban female transgender athletes' participation in female sports. At least 14 states — but not Kansas — have restricted or banned gender-affirming care for minors.
The new Kansas bathroom law borrows language — and a title — from three national groups' anti-trans "Women's Bill of Rights."
One of those groups, Independent Women's Voice, said the new law will "prevent judges, unelected bureaucrats, and administrators in Kansas from unilaterally redefining the word 'woman' to mean anyone who 'identifies as a woman.'"
Under the new law in Kansas, legally "sex" means "biological" sex, "either male or female, at birth," though it allows accommodations for intersex people if their conditions are considered disabilities under U.S. law. 
Intersex people can have ambiguous external genitalia at birth or conditions involving external genitals that don't match a person's sex chromosomes.
The new law declares that females have a reproductive system at birth "developed to produce ova," while males have one "developed to fertilize the ova."
Supporters said they expect that most school districts, cities and counties already are in line with the new law in how they handle sex-separated spaces. They also don't expect local officials to actively police who uses which restrooms.
Kansas Senate President Ty Masterson, a Wichita-area Republican, said he expects police to intervene if there's "any kind of harassing behavior" but transgender people still will use facilities associated with their gender identities "if they're discreet about it."
He compared the new law to existing "decency laws," but in Sedgwick County, home to Wichita, District Attorney Marc Bennett, an elected Republican, said that in general, if a law doesn't list "explicit elements" for a "defined" crime, the elected prosecutor "would not have enforcement authority.
Both supporters and critics suggest the new law will prompt court cases if someone has a complaint about how local officials or even businesses handle the use of facilities by transgender people.
Brittany Jones, policy director for the conservative Kansas Family Voice, which backed the law, said the law will come into play as officials and courts deal with conflicts.
"It would be as the cases arise," Jones said.
Yet critics believe that the new law will prompt harassment not only of transgender people but nonbinary, gender-fluid and gender-nonconforming people.
"Tomboys, people who just aren't really that into femininity as a woman, they can't freely express themselves without being worried that they're going to be called out and removed from the spaces that they rightfully belong in," said Adam Kellogg, a 19-year-old transgender University of Kansas student.
Former state Rep. Stephanie Byers, the first elected transgender Kansas lawmaker who now lives in Texas, predicted that legal chaos is coming to her former home state.
While the attack on transgender people is not physical, Byers said, "They're taking us out in every possible way."