IOC delays selection of 2030 Winter Olympics host due to climate change concerns
The troubling reality of climate change has forced the International Olympic Committee to postpone the selection for a host city for the 2030 Winter Olympics games. 
The committee said last week it no longer has any plans to target a potential host city for 2030 and instead will give its Future Host Commission for the Olympic Winter Games more time to address created by the ongoing impacts of climate change. 
The Olympic commission says it needs more time "to study all these factors and opportunities to make the best possible decisions about future hosting."
"The new, flexible approach to electing Olympic hosts was designed so the IOC could respond swiftly and effectively to ever-changing global circumstances, for the benefit of the athletes, all Olympic Games participants and the whole sports movement," said IOC chairman Octavian Morariu.
Salt Lake City, Utah; Sapporo, Japan; and Vancouver, British Columbia all must wait a little longer to see if they will win the bid to host the 2030 games. 
Global warming is altering, and endangering, many sports, perhaps permanently, and not just at the elite level. It affects folks who just want to ski or snowboard for fun and those who make a living from places offering such activities.
And, well, everyone on the planet, of course, because this affects far more than sports, of course.
Just one example: In December, Colorado set a record that stood since the 1880s for most consecutive days without snow. After warm temperatures and just an inch of snowfall by Dec. 30, wind-fueled wildfires destroyed hundreds of homes in the state.
The last eight years rank as the eight hottest on record for Earth, according to two U.S. science agencies, NASA and the National Oceanic and Atmospheric Administration.
"The glaciers are receding. The winter is starting later and ending sooner," said John Kucera, the 2009 world champion in downhill who now is a coach for Canada's Alpine team. "For a sport like ours, we might pay for it sooner than some others. We are dependent on the climate and the weather and that dictates what we're able to do."
The fallout is widespread.
It's harder to find glaciers suitable for training, so athletes need to search for new locales — or even head indoors. It's harder to hold World Cup events, because too much wind or too much snow or too little snow leads to postponements or cancellations.
It's harder to find real snow anywhere, so competition increasingly comes on machine-made snow, which has its own deleterious effects on the environment. While the high speeds, steep inclines and sharp angles make danger a constant presence in Alpine skiing, no matter what sort of stuff is underfoot, injury-causing crashes are increasingly common in Nordic skiing and biathlon because the snow created by people produces harder, slicker tracks.
In order to stage the last Winter Games in China, organizers embarked on a massive public works campaign, constructing new venues and piping millions of gallons of water up into the arid surrounding mountains to create fake snow for ski competitions.
Dry Beijing barely gets any winter precipitation, making this year's Winter Games the first to have relied almost entirely on artificial snow. Organizers are touting the event's green credentials, but experts do worry about the environmental impact of such a massive snowmaking operation given the huge amounts of water and electricity it takes.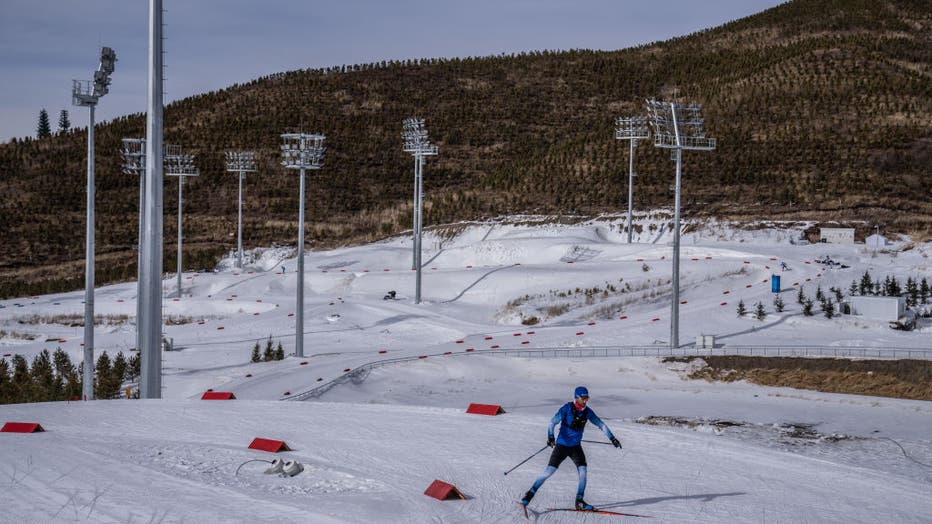 ZHANGJIAKOU, CHINA - FEBRUARY 07: An athlete from Team France passes snowless hills as he takes part in a training session Zhangjiakou National Biathlon Centre on February 7, 2022 in Zhangjiakou, China. The competitions held during the Beijing 2022 W
HOW IT WORKS
Natural snow is formed high up in the clouds when water vapor molecules cling to tiny particles like pollen or dust. In scientific lingo, these specks are dubbed nucleators. They create a snow nucleus that then attracts more water molecules to form snowflakes.
Snowmaking equipment tries to duplicate this process, artificially, by spraying atomized water into the air along with mechanically created nucleators — tiny ice crystals — that act as seeds for the manufactured snowflakes. This process has been around for decades: simulated snow was first used at the 1980 Olympics in Lake Placid, New York.
SNOW GUNS
TechnoAlpin won the bid to supply the Beijing games with snowmaking equipment, a contract worth $22 million.
The Italian company has blanketed the slopes with 272 snowmaking fan guns and another 82 stick "lances" to produce "technical snow" for the Winter Olympics skiing and snowboarding venues. They're all hooked up to a system of high pressure pumps and pipes that carry water chilled by cooling towers up the slopes.
TechnoAlpin's fan guns resemble small jet engines or oversized hair dryers, with nozzles spraying either atomized water or ice crystals mounted around the edge of a turbine. The guns, which can be aimed remotely using Bluetooth, blast the mixture dozens of meters into the air to cover broad downhill slopes.
"And while it's falling to the ground, snow is created," said Michael Mayr, TechnoAlpin's China sales manager.
Snow lances, meanwhile, are up to 10 meters tall and don't have fans, instead using gravity to carry the snowmaking mixture to the ground, making it a bit more like natural snowfall.
WATER WORRIES
Beijing and Zhanghiakou are both not far from the Gobi Desert and are "highly water stressed," China Water Risk, a Hong Kong-based consultancy, said in a 2019 report.
The International Olympic Committee even noted the issue in its own 2015 evaluation of Beijing's bid, saying the two districts "have minimal annual snowfall" and that the Winter Games would have to rely completely on fake snow.
The "Beijing – Zhangjiakou area is becoming increasingly arid" because of climate change and other factors, the IOC said, adding that Beijing's bid "underestimated the amount of water" needed for snowmaking.
China has reportedly estimated that snowmaking at the Winter Games is expected to use 49 million gallons of water — the equivalent of 74 Olympic swimming pools — but some experts think that number vastly underestimates the amount needed.
SUSTAINABILITY
The IOC now says snowmaking in Beijing was developed "to high technical and environmental standards."
"The regions where the snow sport events will be held are constantly very cold," the IOC said in a statement. "This allows a very efficient snow production and does not require the constant reproduction of snow," like ski resorts elsewhere with fluctuating temperatures that cause snowmelt.
Snowmaking can raise other environmental concerns, including over the chemicals sometimes used to help water freeze at higher temperatures, and the electricity needed to power the systems, which could mean a bigger carbon footprint. The IOC says all venues and facilities are powered by wind and solar energy and that no chemicals are used because of the region's cold temperatures.
"Of course we are using a lot of energy of making snow," Bernhard Russi, chair of the International Ski Federation's alpine committee, said at a press briefing Saturday. But he added that the challenge is how to store the snow over the summer for the next season — something already being done in Europe, allowing resorts to save up to half of it.
WHAT THE ATHLETES SAY
Athletes have voiced their concerns about competing on fake snow, saying it brings new risks.
Skiers and experts say manmade snow has more moisture, which means it ices up faster. Estonian Olympic biathlete Johanna Taliharm told The Associated Press last month that artificial snow is "faster and more dangerous" because of the icing.
Russi, the 1972 downhill gold medalist in Japan, acknowledged that "of course ski racers and we organizers, we prefer to have natural snow," but added that using machines to make snow allows them to get it to the right "hardness" for each discipline.
The IOC said artificial snow is used regularly at World Cup ski competitions and denied that it makes courses more dangerous: "To the contrary, it creates a more consistent surface from the top to bottom, or start to finish, of a course. "
As the Winter Games begin, Russi said "the snow we find right now on the courses is absolutely perfect, you cannot have it better."
The Associated Press contributed to this story.