Mayor Adams calls for tougher laws as illegal cannabis stores reach 1,500
NEW YORK - Mayor Eric Adams is calling for tougher laws to crack down on the illegal marijuana shops that have popped up all around New York City.
Mayor Adams believes the state just has very lax laws, and he wants Albany to take it seriously. 
"This cannabis stuff is a real problem, and we must make sure that we can't have people have a mockery of our system," Adams said.
One issue Adams raised is how cannabis products are being targeted and advertised to children.
RELATED: Number of ER visits for elderly people using marijuana skyrocket
"We're about up to 14, 1,500 illegal cannabis shops, and it's not only that they're selling illegal cannabis, but they're targeting young people, they're open near schools," Adams said. "These children are waking up in the morning, going into the store, getting gummy bears that's laced with marijuana, and then they are going to school and learn?"
Adams continued to say that "we are losing our grip."
RELATED: Violence spikes at NYC smoke shops
"We need to be targeting those landlords that knowingly are renting the space," Adams said. "So we are going to be putting a package together just to deal with cannabis, so this does not get out of hand."
FOX 5 News rode along with teams, spearheaded by the New York City Sheriff's Office, which have raided more than 100 locations across the city.
On that day, two teams, joined by multiple agencies, hit eight locations on Staten Island.
Get breaking news alerts in the free FOX5NY News app!  |  Sign up for FOX 5 email newsletters
FOX 5 News witnessed, firsthand, arrests being made and countless bags of contraband being confiscated. Sheriff's Office officials issued both civil and criminal summonses.
Officers searched and found secret compartments that were hiding illegal cannabis and tobacco products.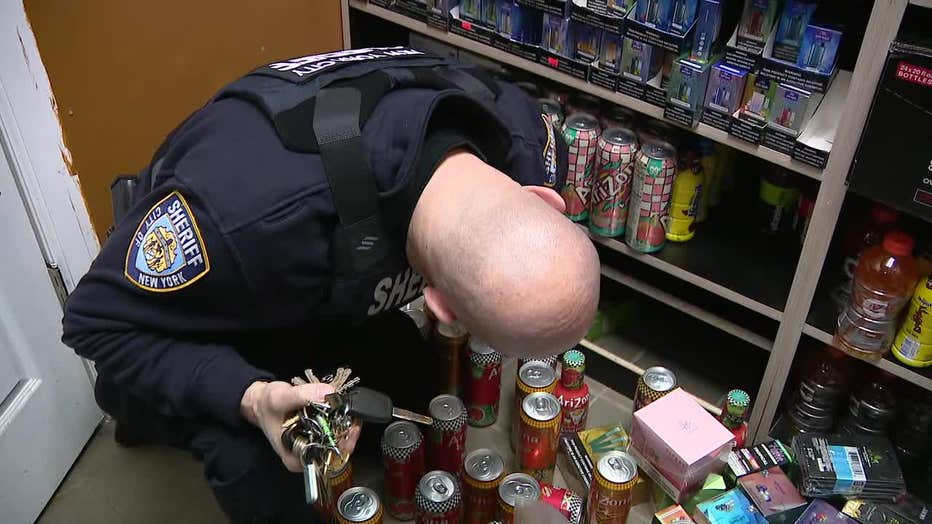 Officers searched and found secret compartments that were hiding illegal cannabis.
Officers showed some tricks being used, including a water bottle where the bottom detaches to hide drugs inside.
They say customers can buy illegal products in the store and walk out onto the street with just a seemingly clear water bottle in their hand.
New York City Sheriff Anthony Miranda was overseeing these raids himself as officers collected bags of marijuana flowers and edibles.
"Part of the cannabis business was to be able to generate money to help social programs," said Miranda. "The illegal cannabis business is undermining the whole benefits of what this was designed to do."
Miranda notes that the illegal shops are stealing from the social equity component of the now-legalized cannabis industry. Licensed operations contribute tax dollars that go into communities unfairly impacted by the criminalization era - illegal operations do not.
And all the locations FOX 5 News saw during the enforcement operation were selling cannabis and come in packaging that might be attractive to children.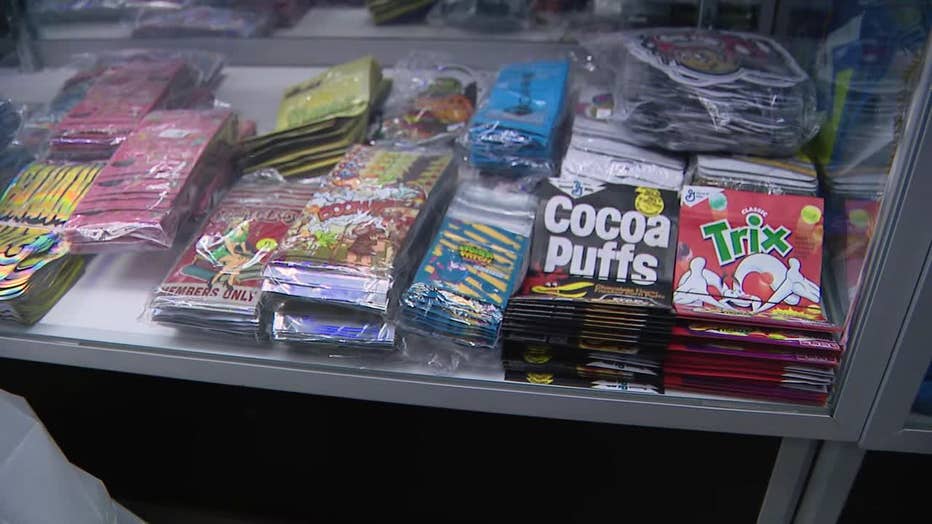 Dozens of products were packaged identically to candy and other products children consume.
One brand of edible cannabis candies was labeled 'Cocoa Puffs' and looked nearly identical to the serial popular with children. Another was labeled 'Trix' whose slogan is 'Trix are for kids.' They were just two of dozens of products seen on this day that were packaged identically to candy and other products children consume.