Rockland County threatens legal action to block NYC plan to house migrants
HUDSON VALLEY, N.Y. - Hudson Valley officials are pushing back against Mayor Eric Adams' plan to bus hundreds of asylum seekers to Rockland County. 
This comes after the city's shelter system for migrants reached full capacity.
The leaders said New York City is a sanctuary city, but Rockland County never signed up for that. They are claiming they were blindsided by the news that 300 adult male migrants would be sent here.
The news conference included Congressman Mike Lawler, Rockland County Executive Ed Day, State Sen. Bill Weber, Assemblyman John McGowan, Orangetown Supervisor Teresa Kenny, and other elected officials.
The mayor's plan is to put migrants in two hotels, for four months, paid for by New York City.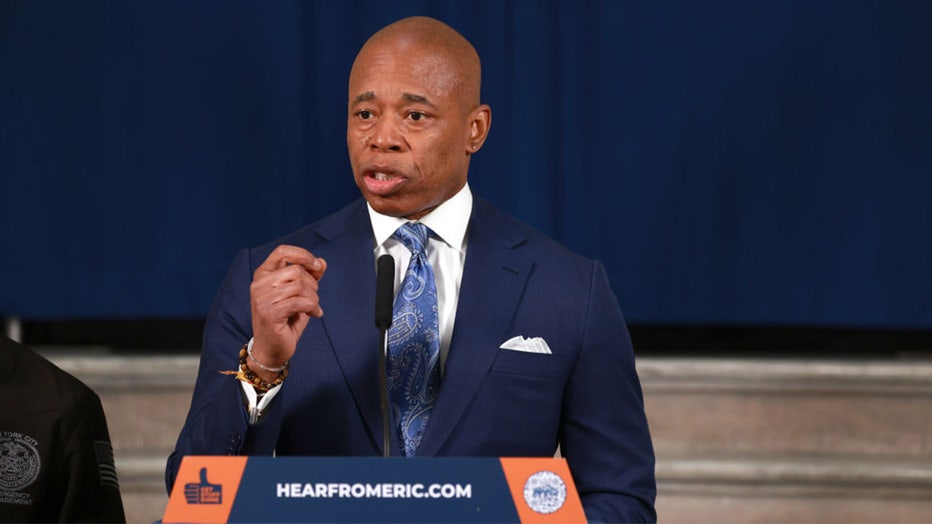 New York City Mayor Eric Adams speaks during a press conference at City Hall Rotunda urging the Biden administration to immediately enhance paths to work authorization for asylum seekers currently in the U.S. and those who continue to arrive every da (Luiz C. Ribeiro for NY Daily News via Getty Images)
However, Rockland County officials argue these migrants have not been vetted, and the community doesn't have space to house them.
RELATED: Rockland County state of emergency upon arrival of NYC asylum-seekers, lawmakers weigh in
It's why Rockland County issued a state of emergency for the next 30 days and has threatened to fine any hotels that don't get county approval to house migrants – $2,000 per day per migrant or a $68,000 daily fine. And they're also looking at their legal options to stop this plan from being implemented. 
Orange County officials are threatening to do the same:
"I was asked this morning and an interview about the regional approach they need to assist New York City," said Congressman Mike Lawler. 
"If it's a regional approach, there needs to be communication and coordination. There has not been in communication and coordination and mayor. Adams said it was morally bankrupt when governors from southern states sent migrants up to New York City without coordination and communication. His actions here today are morally bankrupt," said Lawler.
FOX 5 reached out to the mayor's office for a response, and we are still waiting to hear back.
More than 60,000 migrants came into the city this year, and the cost to house them is estimated to more than $3 billion by the end of fiscal year 2024.
Rockland County would only be getting more than 300 migrants, and they do not know when they're coming. 
But keep in mind, once title 42 ends on Thursday, the border crossings are expected to surge to 10,000 migrants crossing every day and sanctuary cities like New York are bracing for an overwhelming amount of asylum seekers, and Rockland County is concerned.