Hot weather, powerful thunderstorms in New York area
NEW YORK - A blast of hot air and thunderstorms hit the metropolitan New York area on Tuesday. After a scorching and humid day, powerful storms moved across the region, downing trees, and power lines. And Wednesday could have more of the same.
The National Weather Service issued a Heat Advisory for New York City, Long Island, and parts of the Hudson Valley, northern New Jersey, and southeastern Connecticut in effect through Wednesday at 8 p.m. Many counties were also under a Severe Thunderstorm Watch and/or Warning. 
Reports came in from parts of New Jersey and New York that trees and other debris had fallen onto houses, buildings, streets, and railroad tracks. 
A tree fell onto two homes on 27th Street in Astoria, Queens. A woman who lives in one of the homes said she heard a loud crack and then glass breaking. The tree had crashed into her roommate's bedroom.
The MTA suspended service on the M train line, which runs above ground for much of its length, because of debris on the tracks. New Jersey Transit suspended service on the Pascack Valley, Bergen County, and Gladstone Branch due to downed trees and overhead wire issues.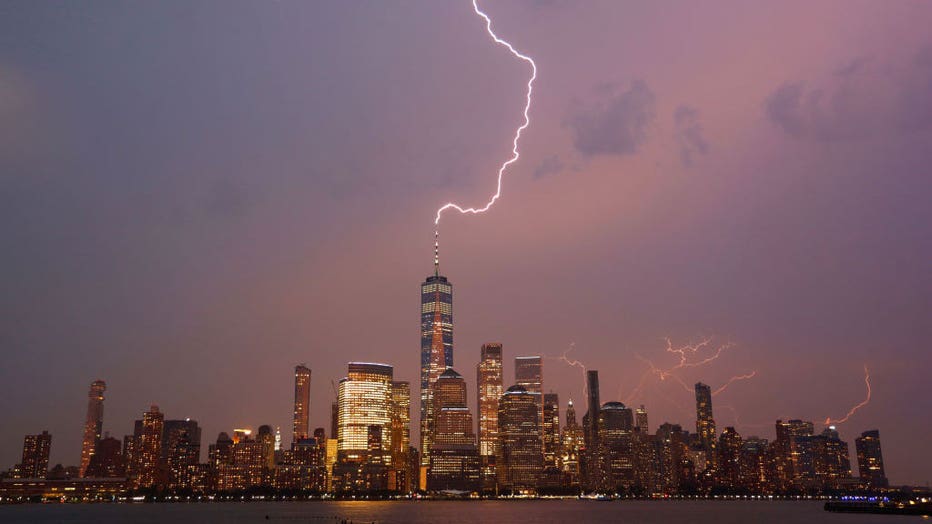 Lightning strikes One World Trade Center during a thunderstorm over lower Manhattan as the sun sets in New York City on July 6, 2021 as seen from Jersey City, New Jersey. (Photo by Gary Hershorn/Getty Images)
The National Weather Service had predicted 60-mph wind gusts and quarter-inch-sized hail.
The New Jersey Department of Environmental Protection has issued an Air Quality Alert for Bergen, Essex, Passaic, Union, and Hudson Counties from 11 a.m. until 11 p.m. due to elevated levels of the air pollutant ozone. 
"Ozone is forecast to reach the unhealthy for sensitive groups category for locations along the I-95 corridor and portions of central New Jersey," the DEP said in a statement. "Sensitive individuals including the very young, the elderly, and persons with respiratory diseases such as asthma, should avoid strenuous activities during the afternoon and early evening hours."
SEE ALL COUNTIES UNDER THE HEAT ADVISORY
FOX 5 chief meteorologist Nick Gregory said the high temperature in the region will be in the 90s but the humidity will make it feel like 100 to 105 degrees.
Forecasters are expecting heat index values up to 100. NWS expects the highest temperatures and heat indices between 1 p.m. and 5 p.m. each day.
New York City officials have opened cooling centers throughout the five boroughs and are urging residents to take precautions. You can find a cooling center by calling 311 (or 212-639-9675 for Video Relay Service or 212-504-4115 for TTY) or by visiting the Cooling Center Finder.
"These conditions are dangerous to health. People without air conditioning, older adults, and people with chronic health conditions are most at risk," Notify NYC said in an alert. "Avoid strenuous activity. Active children, adults, and people with lung disease such as asthma should reduce prolonged or heavy exertion outdoors."
In an email to customers, Con Edison said its crews are "preparing to respond to any service problems." 
"We want you to stay safe and be ready, too. Help your air conditioning work efficiently: Turn it off when you're not at your place and use a timer to start cooling a half-hour before arriving," the Con Edison email said. "Make sure your cell phones and other electronic devices are fully charged."
New York City residents can find resources at nyc.gov/beattheheat.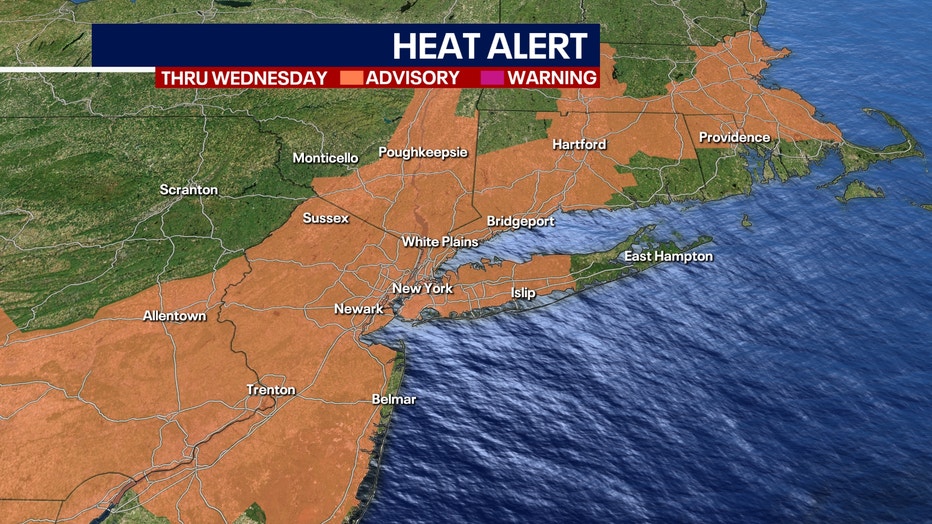 What Is a Heat Advisory?
The National Weather Service issues a Heat Advisory "when the combination of heat and humidity is expected to make it feel like it is 95 to 99 degrees for two or more consecutive days, or 100 to 104 degrees for any length of time," according to its website.
Weather Resources
Apps and Tools
Fox 5 Weather Team on Twitter