Halloween candy costs surge: Where prices have increased most, ways to save
NEW YORK - Inflation surging over the past few years means Americans have continued to pay more for goods and services. This includes higher prices for things like gasoline and groceries, and with Halloween coming up, it's likely that the trick-or-treat candy will cost you more, too. 
Data compiled by the grocery analytics firm Datasembly shows that candy and gum prices have risen faster than grocery prices over the past several months. 
Year-over-year, the highest price increases for candy have been in metro areas in the Northeast, according to Datasembly. In Albany, New York, candy and gum prices have increased 14.1% since the same time last year. 
This is followed by Washington, D.C. (13.5%), Baltimore (13.4%), Philadelphia (13%), New York City (12.5%), Syracuse (12.2%), Boston (12.4%), Harford/New Haven, Conn. (11.8%), San Antonio (11.6%), and Los Angeles (11.6%).
RELATED: Map: Here's the minimum annual income required to be middle class in each state
Why are candy prices rising?
The reason it could cost you more to fill up those trick-or-treaters' bags this year is because of higher priced ingredients and higher shipping costs, among other issues, according to experts. 
John Deutsch, who owns a candy and ice cream store in Scarsdale, New York, said prices on candy inside his store are up at least 10% compared to this time last year.
"Sour Patch Kids, M&M's, individual M&M flavors or color M&M's," Deutsch, the owner of Scoop Shop, told FOX 5 New York. "The prices have gone crazy. I buy them and bring them in and have to raise my prices."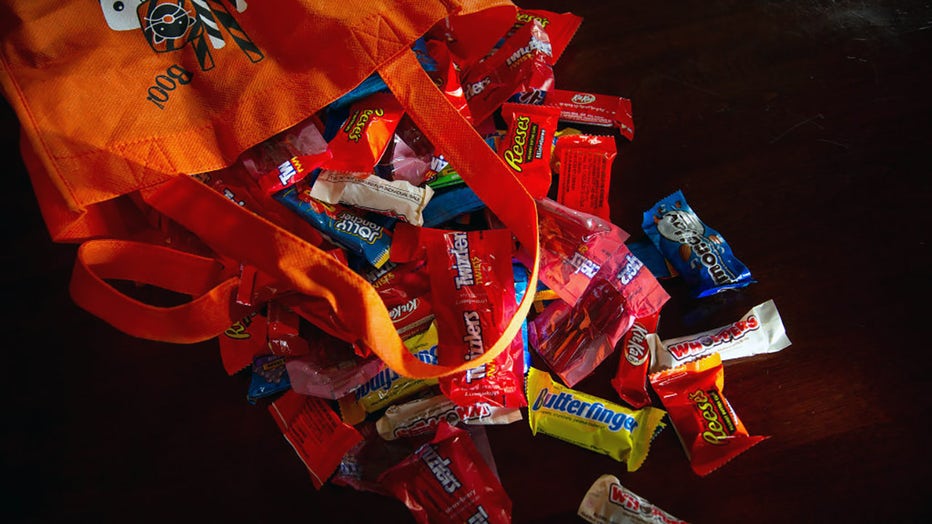 Halloween candy is pictured in a file image. (Photo by Derek Davis/Portland Press Herald via Getty Images)
Not helping the issue is a reported sugar shortage due to a number of factors, according to a report by the Wall Street Journal – including an agricultural policy that requires 85% of sugar purchases to come from domestic partners instead of international sources like the Dominican Republic, Brazil, and the Philippines.
Meanwhile, India experienced its driest August in a century this year, and Thailand is facing a drought that has also continued to spark fears about the world's sugar supplies. The two are the largest exporters of sugar after Brazil.
Ways to save on Halloween trick-or-treat candy
A recent survey of U.S. shoppers found that inflation will impact many Americans' candy spending this year. 
Some 41% of shoppers said they planned to adjust their Halloween candy spending, and among those, half expected to spend the same amount but buy less candy, according to the retail insight firm Advantage Solutions, which conducted the survey last month. 
Only one in six said they planned to pay more to account for higher prices.
"The effect of surging prices and persistent inflation on Halloween shopper spending is undeniable," Andy Keenan, executive vice president of retail services for Advantage Solutions, said in a statement. "While most Americans still plan to celebrate Halloween this year by dressing up and trick-or-treating, a significant number of shoppers indicate that rising prices will curb the amount of money they spend on candy, costumes and decorations."
One great way to save on Halloween candy this year is to buy it in bulk. 
"If you go to Walmart or Costco, you buy those big bags for around 3 pounds of candy," Chris Tang, a professor at the Anderson School of Management at UCLA, told FOX 5 New York. "They cost around $22. So, in their case, that would be equivalent to around less than $.40 per ounce."
Other ideas include using coupons, buying cheaper, hard candies, like suckers and gumballs over chocolate bars, and keeping an eye out for deals in the days leading up to Halloween. Candy is also typically discounted on Nov. 1, though not all candy stays fresh for 12 months — so be sure to pay attention to expiration dates. 
RELATED: Ring could give you $1 million for video of aliens this Halloween
This story was reported from Cincinnati.