House reportedly asked to investigate George Santos' marriage
NEW YORK - Letters submitted to the House Ethics Committee are reportedly questioning whether Congressman George Santos' 7-year marriage to a Brazilian woman was just a scheme to aid her immigration bid, according to the New York Times.
The report said LGTBQ activist and former prosector, Malcolm Lazin, requested an investigation into whether Santos violated federal immigration laws.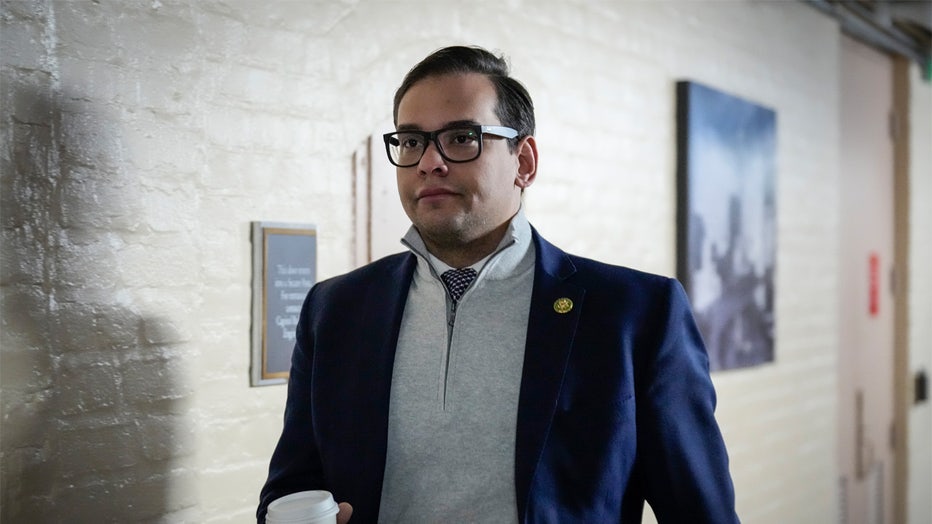 Rep. George Santos (R-NY) walks to a closed-door GOP caucus meeting at the U.S. Capitol in Washington, DC. (Photo by Drew Angerer/Getty Images)
While Lazin doesn't claim to have clear evidence, he cited new reports that suggest the couple lived separate lives, with Santos dating during the marriage.
Santos' lawyer is not commenting at this moment.
It comes after a crowd chanted Wednesday outside his Douglaston, Queens district office.
Santos' director of operations met over a dozen constituents at the door.
"We want to talk to our congressman," said NY03 constituent Jody Kass Finkel.  
Get breaking news alerts in the free FOX5NY News app!  |  Sign up for FOX 5 email newsletters
They handed over a petition asking for the congressman's expulsion and want Speaker McCarthy to shepard the resolution through the House.
There were barricades and police outside the building. but no Santos sightings.
FOX 5 News spotted him getting into a car outside his district office Monday morning. He left with his operations director before FOX 5 News could speak to him.
Toby Nemeoff met with the staff Wednesday. She called her sit-down unproductive.
"We need a representative with character," Nemoff said. "Not who is a character. How can he represent us when he's in hiding?"
On Twitter, Santos said he's not in hiding and isn't backing down. FOX 5 News' repeated requests to speak to the representative have been denied.
Santos is at the center of investigations for his campaign finances and also his role in alleged GoFundMe schemes.
One reported scam involved a veteran's dying service dog. Santos allegedly stole $3,000 that had been raised for its care.
Over the past month, people in the community have raised more than $27,000 in a new fundraiser.
On Wednesday, the money was donated to Paws of War. The nonprofit helps train and place service dogs with veterans.