Who paid George Santos' $500K bond? Records show who kept congressman out of jail
NEW YORK - The names of the people who guaranteed Rep. George Santos' $500,000 bond have been unsealed.
According to court records unsealed Thursday, Santos has two relatives to thank for keeping the New York Republican out of jail. 
The documents revealed that Santos' father, Gercino dos Santos, and an aunt, Elma Preven, were the two people who co-signed the $500,000 bond, which enabled his pretrial release as he awaits trial on federal charges of fraud, money laundering and theft of public funds.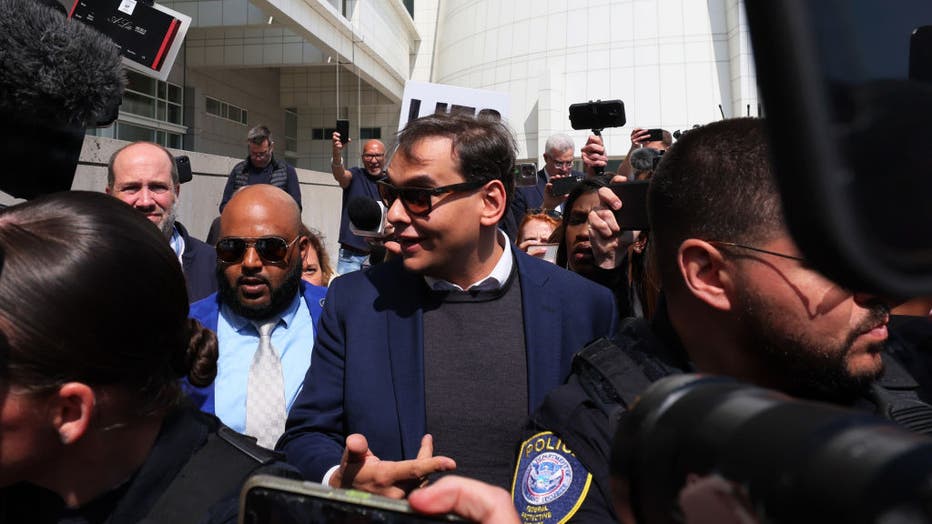 The Republican congressman, who represents communities on Long Island and in Queens, has lied about his professional accomplishments, his education and his family's history, statements which surfaced after he was elected last year. He has admitted to
U.S. Magistrate Judge Anne Shields' ruling to release the names came after Santos' lawyer, Joseph Murray, said the congressman would rather go to jail than subject his guarantors to the "great harm" that could come from public disclosure. Under the bond agreement, the co-signers did not have to pay any money upfront, but would be held financially liable if Santos did not return to court.
Identities of signatories are normally made public, but Murray pointed to the "media frenzy and hateful attacks" faced by Santos as a reason to make an exception. Santos told reporters after his initial court appearance they would "never get" information about the source of his bail funds, claiming the media would "harass them and make their life miserable."
But after news organizations pushed for the filings to be made public, a federal judge denied Santos' request to keep the information secret. Santos appealed the decision, with his lawyer arguing that the co-signers should be given the opportunity to withdraw their support before the names are released. The appeal was denied on Tuesday.
Santos, 34, represents parts of Queens and Long Island. He pleaded not guilty May 10 to charges he duped donors, stole from his campaign, lied to Congress about being a millionaire and cheated to collect unemployment benefits he didn't deserve.
He has defied calls to resign, while refusing to answer questions about the source of his wealth, including a $700,000 payment he made to his campaign. According to federal prosecutors, Santos vastly overstated his income and assets, falsely certifying that he earned a $750,000 salary from a consulting company known as the Devolder Organization LLC.
Santos could face up to 20 years in prison if convicted. He is due back in court on June 30th.
The Associated Press contributed to this report.