Lawyer says Rep. George Santos would go to jail to keep identities of bond cosigners secret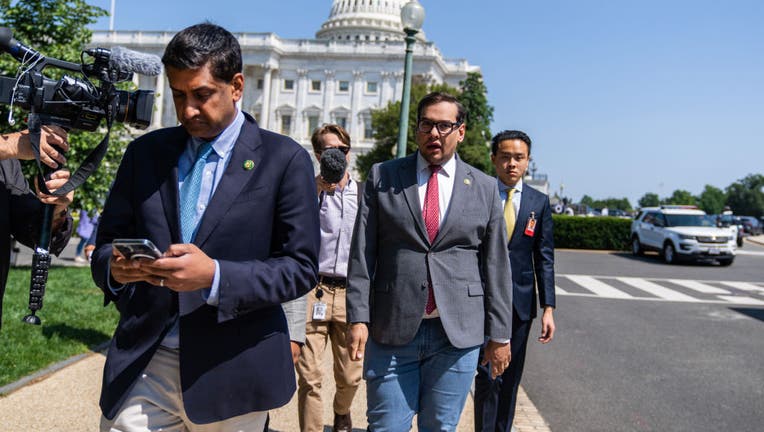 article
NEW YORK - Rep. George Santos' lawyer said Monday the indicted New York Republican would risk going to jail to protect the identities of the people who cosigned the $500,000 bond enabling his pretrial release.
The lawyer, Joseph Murray, urged a judge to deny a request by news outlets to unseal the names of Santos' bond suretors, suggesting they could "suffer great distress," including possible job losses and physical harm, if they're identified publicly.
"My client would rather surrender to pretrial detainment than subject these suretors to what will inevitably come," Murray wrote in a letter to U.S. Magistrate Judge Anne Shields.
Murray asked that she give them time to withdraw as cosignors if she decides to unseal the suretors' names, which Shields kept off the public court docket at the lawyer's request.
Murray said he, Santos and Santos' staff have been receiving threatening and harassing calls and messages, including death threats. The lawyer said he received a call Friday from someone shouting, "Who paid Santos' bond?" and said he worries Santos' critics "are just waiting to pounce" on the people backing his release.
"We truly fear for their health, safety and well being," Murray wrote.
Santos pleaded not guilty on May 10 to a 13-count indictment charging that he duped donors, stole from his campaign, lied to Congress about being a millionaire and cheated to collect unemployment benefits he didn't deserve. He is due back in court on June 30.
The 34-year-old, who represents parts of Queens and Long Island, has defied calls to resign and has said he won't drop his bid for a second term.
Prosecutors have not taken a position on the unsealing request.
In a letter last week, a lawyer for news outlets urged the judge to the release the names of Santos' bond suretors, citing a "compelling public interest in maintaining the greatest transparency possible in these proceedings."
The New York Times first wrote to Shields on May 23 asking to unseal the names. Other news outlets, including The Associated Press, joined the fight a few days later.
Separately, the House Ethics Committee wrote to Santos on May 16 asking him to identify the people who cosigned his bond.
Murray said Santos originally lined up three financially responsible cosignors as suretors, but one backed out and the other two didn't show up to his arraignment. That forced them to make "other confidential arrangements" to ensure Santos' release, Murray said.