'Let It Be,' parents, stepparents of Gabby Petito get matching tattoos in her honor
NEW YORK - The parents and stepparents of Gabby Petito held a news conference Tuesday on Long Island where they announced the establishment of a foundation in her name and showed off matching tattoos in her honor.
Speaking from their attorney's office in Bohemia, Joe and Tara Petito, Gabby's father and stepmother, along with Jim and Nicole Schmidt, Gabby's stepfather, and mother, revealed the words 'Let It Be' inked on their forearms just like the one Gabby had on her arm.
Nicole Schmidt fought back tears as she said,  "She's with us.  She's with us." 
"We can't let her be taken in vain," said Joe Petito. "We need positive stuff."
"We all had them done last night. We all did it together. Like I've said, we've all co-parented Gabby together and that's not going to stop now. We're in this together," said Joe Petito from a Long Island attorney's office.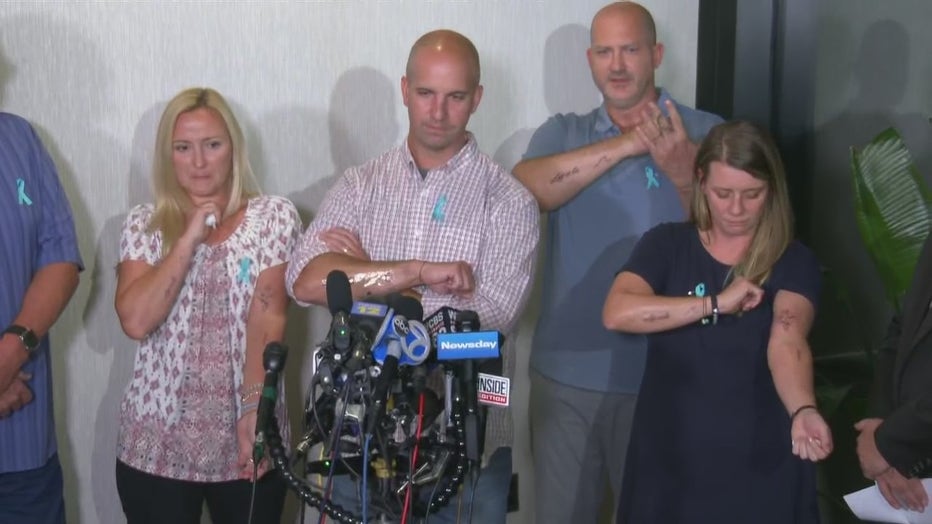 Further details regarding the foundation were expected to come.
"We hoping through our tragedy with losing Gabby, in the future, we can help other people in a similar situation," said Jim Schmidt. 
Get breaking news alerts in the free FOX5NY News app!  |  Sign up for FOX 5 email newsletters
This as the search continued in Florida for her fiance, Brian Laundrie, a person of interest in her homicide. Her body was discovered in Wyoming where it remains as the investigation continued.
The family refused to answer repeated questions about the investigation into Petito's death.
"We ask that you continue to respect their privacy and give them the space and time to go through this difficult process, ' said attorney Richard Stafford.
"She is always with us every day. She is giving us signs" said Jim Schmidt.
"I hope people are inspired by her, it means a lot to me," said Nicole Schmidt. "She's touched so many lives already."
In a statement, the attorney representing the Laundrie family called speculation that Brian's parents assisted him in leaving the home or avoiding arrest "just wrong." He added that the Laundries are concerned and hope the FBI can locate him.
Stafford made a public plea for Brian Laundrie to turn himself in.
"The Laundries didn't help us find Gabby, they're sure not going to help us find Brian. Brian, we're asking you turn yourself in," said Stafford.