FTC issuing nearly $1,000 in average refunds to victims of tech support scam
Victims who fell for a specific tech support scam may soon receive a check in the mail, according to the U.S. Federal Trade Commission. 
The FTC announced this month that it's providing full refunds to victims who lost money in the scheme by NTS IT Care, which tricked consumers into buying "expensive and unnecessary tech support services and often claimed to be affiliated with Microsoft, Apple, and other tech companies."
RELATED: Paper check fraud is on the rise: What to know
The average refund amount is $937, which is being distributed to nearly 300 consumers as part of a settlement, the FTC said. Most consumers will receive their payment by check and will have 90 days to cash it.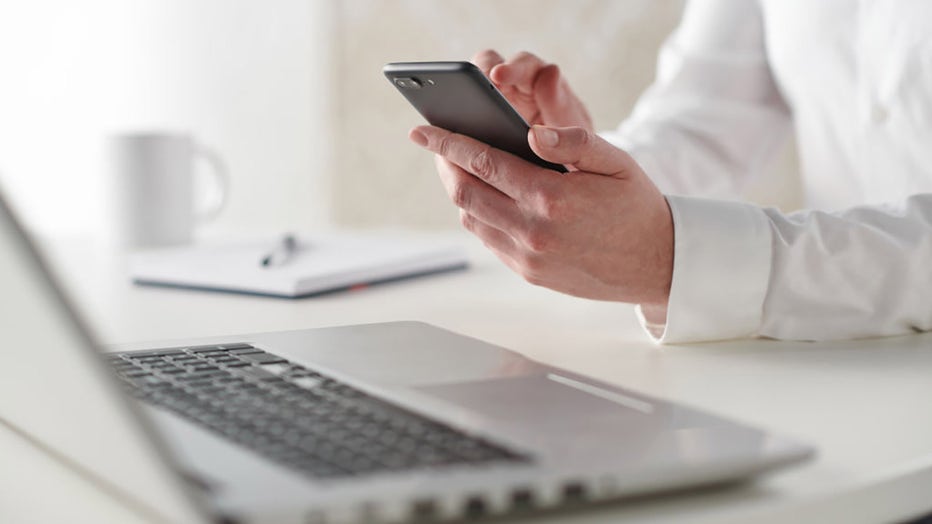 FILE - Close up detail of a person working at a desk with a smartphone and laptop computer. (Photo by Neil Godwin/Future via Getty Images)
The scammers often targeted older Americans and those unfamiliar with computer security, according to the FTC. 
The refunds stem from a 2020 settlement the consumer agency reached with NTS IT Care, Inc., and its CEO, Jagmeet Singh Virk. The FTC's case against Virk and NTS had been under seal until earlier this year, pending the outcome of a criminal case involving Virk and NTS brought by the Department of Justice.
"As a recent report to Congress makes clear, the FTC is committed to taking action to protect older consumers from scams like these that have a disproportionate impact on them," Samuel Levine, director of the FTC's Bureau of Consumer Protection, said in a statement. "And, what's more, the FTC will keep working with DOJ to ensure criminal prosecutions follow criminal conduct."
In its complaint, the FTC said that NTS lured consumers through "alarming and deceptive pop-up warnings" that appeared when people browsed the Internet and often disabled their browsers. 
The pop-ups looked like a security alert from the computer's operating system and falsely claimed that a consumer's computer had been compromised by malicious software, such as a virus or spyware, according to the FTC. 
The pop-up further stated that the computer had been "blocked," and that the consumer's personal information was being stolen. The pop-ups sometimes falsely claimed to be from Microsoft, Apple, or another legitimate tech company, and advised users to immediately call a toll-free number for help.
When consumers called the number, the company's sales representatives "ran bogus diagnostic scans" to convince people that their computers needed immediate repair, the FTC said. The company also used "high-pressure and deceptive sales tactics" to push people to buy multi-year technical support service packages that cost as much as $499, according to the agency. 
The FTC said both NTS and Virk made millions of dollars from the scheme.
Money obtained as part of the settlement will provide payments totaling more than $255,000 to 272 consumers who provided victim statements in the case against Virk and NTS, the FTC said. 
Consumers who have questions about the refunds should contact the refund administrator by phone at 866-441-9746 or by email at NTSITCare@refundadministrator.com.
RELATED: Survey finds many Americans don't see delivery fraud as 'ethically wrong'
This story was reported from Cincinnati.