Peak, near-peak conditions for fall foliage expected throughout NYC area this weekend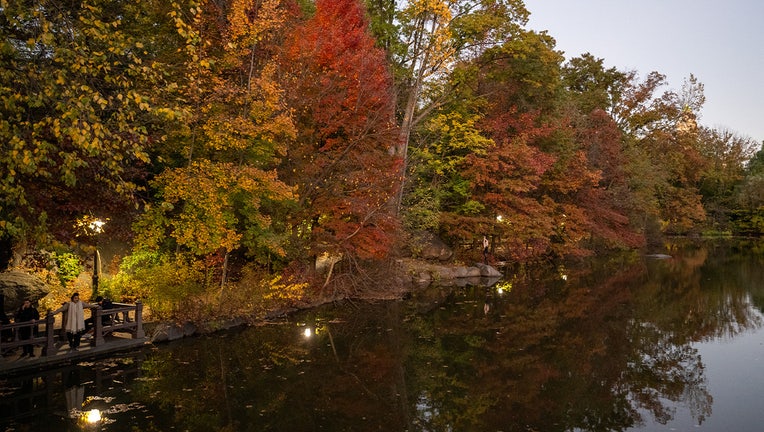 article
NEW YORK - Don't you just love fall and when the leaves change color? 
Well, now is the perfect time to soak in the beauty of the NYC area!
As October comes to an end, the vibrant autumn foliage display in New York State is making its way from the northern areas to the south. 
This weekend, I Love NY said they anticipate stunning peak, near-peak foliage throughout the NYC area this weekend.
Why do we call it "fall foliage"?
The term "foliage" is just the fancy-schmancy way of saying the leaves of a plant or tree. 
Fall foliage refers to the process of the leaves changing colors on trees. 
What causes the leaves to change color?
The NWS of New York says the leaves change color as the seasons shift and the amount of sunlight that we get. 
The weather also plays an important role in deciding the extent of color change and the vibrancy of the leaves each year. 
See the map below for I Love NY's leaf peak forecast through the end of October: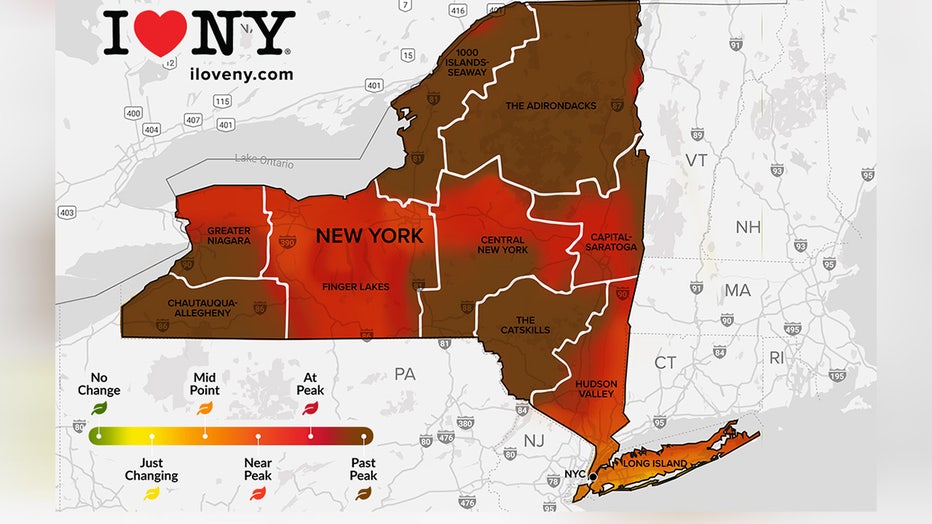 Hudson Valley
I Love NY spotters say that color change throughout Hudson Valley is uneven, with some areas showing minimal transition and other spots displaying a full range of beautiful fall colors. 
Now is the perfect time to see the fall foliage with bright yellow, gold, and orange leaves in Columbia and Ulster counties.
Who knows, may you can see red leaves as spotters predicted a peak foliage with 80% transition and significant droppage.
Peak foliage will also take place in Dutchess County. A beautiful fall sight to see is Wappingers fall if you are looking for a place to explore.
Some parts of Hudson Valley anticipate near-peak to peak foliage such as Beacon and Fishkill. Spotters say there will be a 60% change and bright green leaves mixed with yellow, orange and tints of red, with the mountains. 
Peak foliage is also expected in Cornwall as yellow leaves are slowly becoming red. Orange County spotters anticipate foliage with 70% color change and bright shades of yellow, red and orange, with some trees that still mostly green.
Expect peak golden leaves with splashes of red, orange, and purple foliage adorning the western side of the Hudson River from the Bear Mountain Bridge to the Beacon Newburgh Bridge.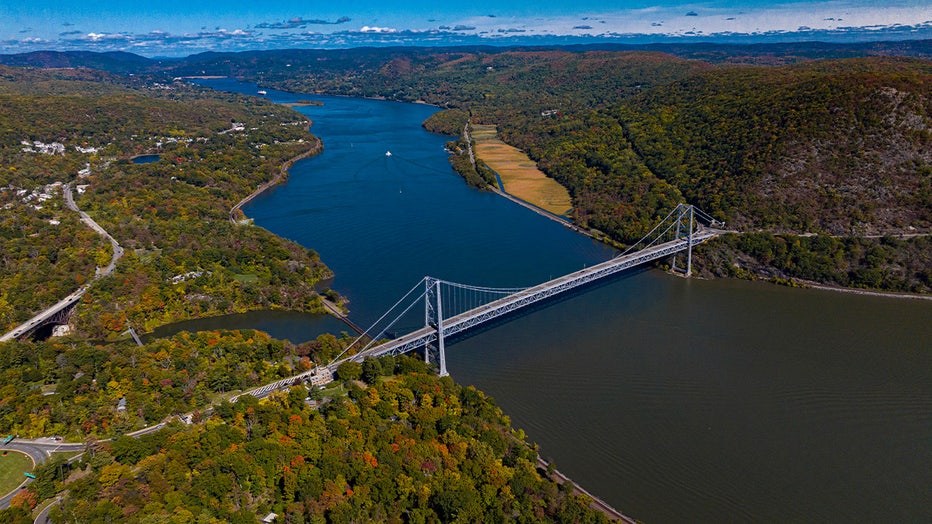 Aerial view of Bear Mountain Bridge (US 6 and 202) crossing Hudson River in Hudson River Valley, New York State. (Photo by: Visions of America/Joseph Sohm/Universal Images Group via Getty Images)
Rockland County is also expected to see near-peak foliage, particularly at Bear State Mountain Park. Spotters added in Putnam County, they anticipate that Garrison will be showing near-peak foliage, despite many trees still clutching their green leaves.
White Plains, Putnam County will also have a near-peak foliage.
If you are looking for a place to explore in the Hudson Valley, there are especially bright colors at Storm King Art Center in New Windsor. 
I Love NY says visitors will see color change in hiking trails and major roads including, 301, 403, Route 9, Route 9D, 9W and the Taconic State Parkway.
New York City
Take a stroll through Central Park for this year's fall foliage!
Many people consider this period to be Central Park's pinnacle of beauty, as the leaves transform into a captivating display of oranges, yellows, golds, maroons, and various shades of red, a spectacle crafted by the artistry of nature.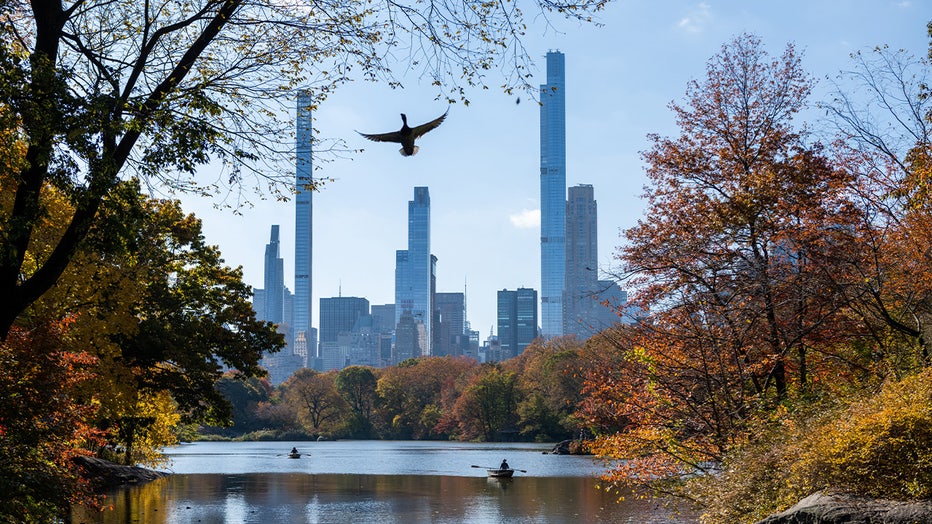 A bird flies above people in row boats on The Lake in Central Park during the fall foliage with a view of the Manhattan skyline in the background on November 10, 2021 in New York City. People are taking advantage of unseasonably warm weather across t
Spotters in New York City have been seeing predominantly yellow leaves throughout the city. 
I Love NY spotters on the Upper East Side also anticipate a 45% transformation, featuring vibrant gold and purple leaves alongside touches of red. 
(Photo by Lokman Vural Elibol/Anadolu Agency via Getty Images)
Long Island
If you're driving along Long Island's major roadways, most of the trees have started changing color.
Some trees are expected to be at midpoint by the weekend, with some areas near peak. 
Drivers will notice the color changes while driving on the Northern State Parkway, Southern State Parkway, Meadowbrook Parkway, Wantagh Parkway and Bethpage Parkway. 
Spotters found that peak colors are currently appearing on both the Wantagh and Meadowbrook Parkways between the Southern State Parkway and Merrick Road exits. 
The Long Island Expressway and the Seaford-Oyster Bay Expressway are also showing fall colors, with parts at midpoint or near-peak anticipated. 
Spotters reported that in Nassau County the trees have started changing color quickly across western Long Island. 
In Suffolk County, spotters predict there will be a near-peak foliage this weekend.