Doctors: Damar Hamlin in good spirits, undergoing more tests to find what caused cardiac arrest
BUFFALO, N.Y. (AP) - An upbeat Damar Hamlin said Tuesday he is "not home quite just yet," as the Bills safety spent his second day in a Buffalo hospital undergoing a series of tests to determine why he went into cardiac arrest on the field last week and when he can be discharged.
"Special thank-you to Buffalo General it's been nothing but love since arrival!" Hamlin added in his Twitter post, while asking his followers to keep him in their prayers.
Buffalo General Medical Center issued a news release saying Hamlin was in good spirits and was joined by his parents, Mario and Nina Hamlin, as well as his younger brother, Damir.
The hospital said its team of doctors was "tasked with identifying any possible causes of the event, potentially treat any pathology that may be found, as well as plan for his recovery, discharge and rehabilitation."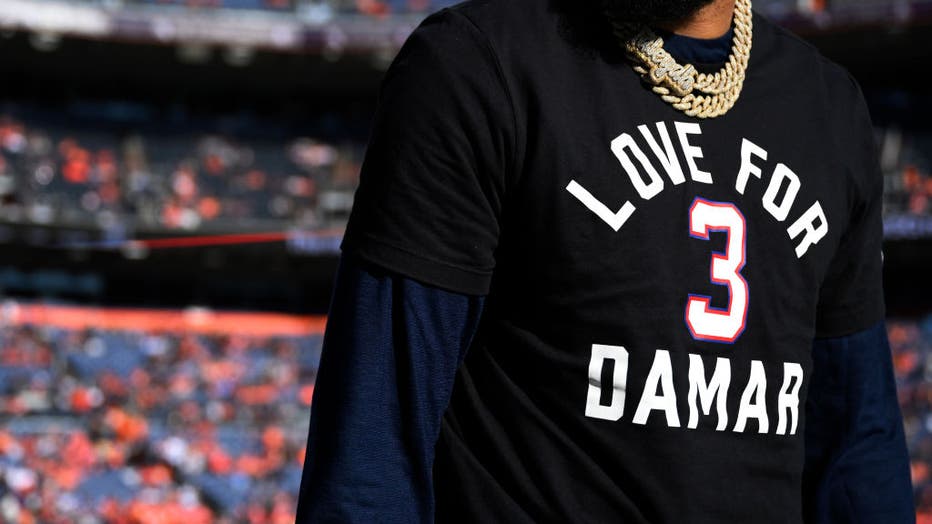 DENVER, COLORADO - JANUARY 8: Denver Broncos wide receiver Tim Patrick (81) wears a t-shit in support of Buffalo Bills player Damar Hamlin at Empower Field on January 8, 2023 in Denver, Colorado. Denver Broncos, at 4 and 12, take on Los Angeles Charg
Hamlin went into cardiac arrest and needed to be resuscitated after being struck in the chest by Bengals receiver Tee Higgins while making what appeared to be a routine tackle during the first quarter of Buffalo's since-canceled game at Cincinnati on Jan. 2. The 24-year-old from McKees Rocks, Pennsylvania, a Pittsburgh exurb, spent a week at the University of Cincinnati Medical Center, where he experienced what doctors are calling "a remarkable recovery."
Able to breathe on his own as well as walk and talk, Hamlin was transferred to Buffalo on Monday for the next step of his treatment and recovery, while also being closer to home and his teammates. He is listed in stable condition.
Bills coach Sean McDermott and general manager Brandon Beane were among the first to visit Hamlin upon his return to Buffalo.
The Bills (13-3) return to practice on Wednesday to prepare to host their division rival Miami Dolphins (9-8) in a wild-card playoff game on Sunday.