Christmas storm, chaos in western NY leaves 34 dead
NEW YORK - At least 34 people were dead in western New York after a winter storm unleashed its full fury on Buffalo, with hurricane-force winds and snow causing whiteout conditions, and paralyzing emergency response efforts.
A travel ban remained in effect on Monday in the western part of the state. The National Guard was deployed to the area.
At a Monday afternoon news conference, Gov. Kathy Hochul said that state crews had carried out more than 550 rescues since the storm started. The governor has asked the Biden administration to declare the storm a disaster so that federal resources can be made available.
The mayor of Buffalo warned residents to stay off the streets on Monday. Mayor Byron Brown said that many streets are still impassible and he didn't want more people to become stranded. 
Erie County Executive Mark Poloncarz described the blizzard as "the worst storm probably in our lifetime" and said the death toll could rise. Some people were stranded in their cars for more than two days, he said.
"It's just a horrible situation that we can see sort of the light at the end of the tunnel. But this is not the end yet," he said Monday. 
The National Weather Service said Monday that up to 9 more inches of snow could fall in some areas through Tuesday.
At least 50 storm-related deaths were reported in recent days all over the country.
The Buffalo airport will remain shut down until 11 a.m. on Wednesday.
"We're in a war. We're at war with Mother Nature," the governor said at a Sunday morning news briefing. "And she's been hitting us with everything she has."
Hochul said the storm would go down as the worst in Buffalo's history. She feared the death toll would rise.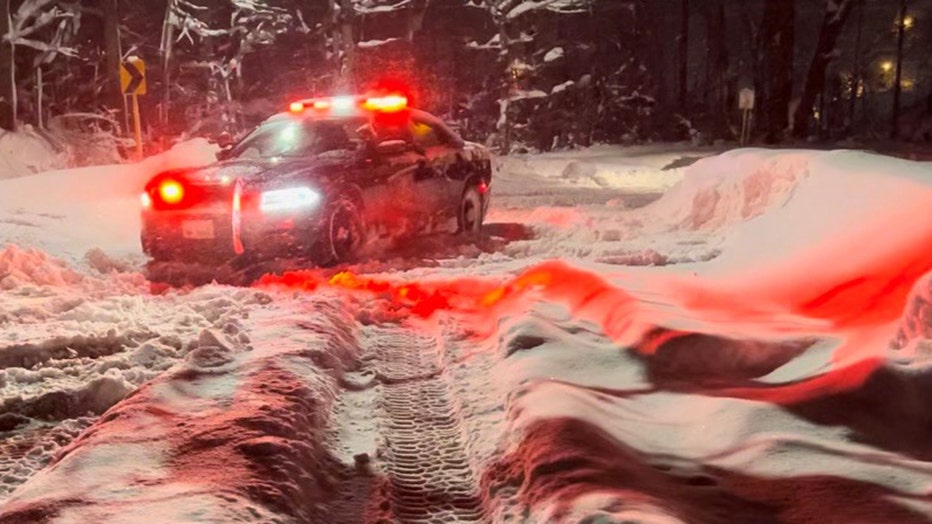 A New York State Police vehicle in the snow in Buffalo, N.Y. (NYSP)
RELATED: Warming up your car in cold weather can damage your engine. Here's what to do instead.
Hochul said that there were people that still need to be rescued.
Two people died in their suburban Cheektowaga, New York, homes Friday when emergency crews could not reach them in time to treat their medical conditions, and another died in Buffalo. Four more deaths were confirmed overnight, bringing the Erie County total to seven.
"Some were found in cars, some were found on the street in snowbanks," said Poloncarz. "We know there are people who have been stuck in cars for more than 2 days."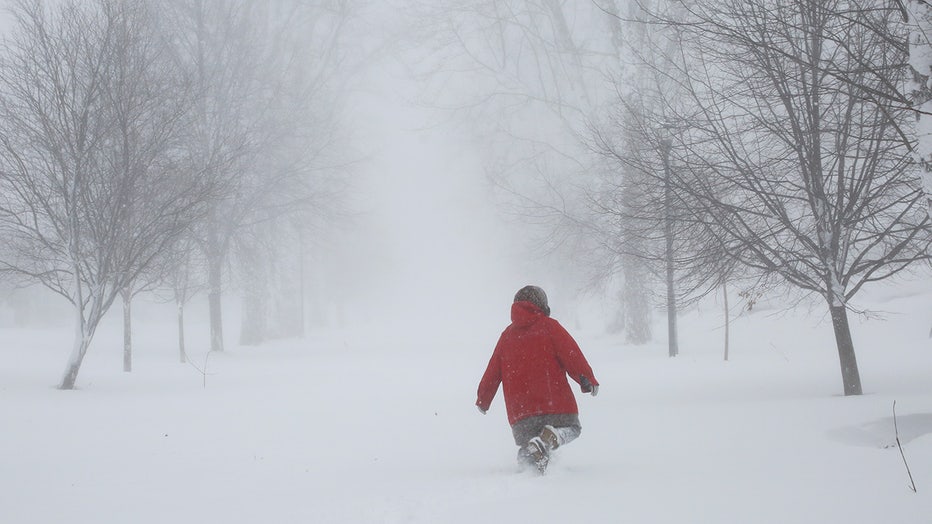 A person walks on the street as a winter storm rolls through Western New York Saturday, Dec. 24, 2022, in Amherst N.Y. (AP Photo/Jeffrey T. Barnes)
The mayor of Buffalo said that there had been looting in the city.  The city's police chief said that some looters had been arrested.
"People who are out looting when people are losing their lives in this harsh winter storm is just absolutely reprehensible," Mayor Brown said.  "I don't know how these people can even live with themselves, how they can look at themselves in the mirror.  They are the lowest of the low."
He said it was clear that they are not people in need of food for survival but were looting items they simply wanted.
The governor said that any business engaging in price gouging would be prosecuted.
The Associated Press wire services helped contribute to this report.