J&J COVID-19 vaccine pause to remain in place while officials seek more evidence on rare clots
WASHINGTON - The pause on Johnson & Johnson's COVID-19 vaccine will remain in place for now after U.S. health advisers said they need more evidence to decide if a handful of rare but severe blood clots cases were linked to the shot — and if so, how big the potential risk really is amid the effort to vaccinate the population and stem the pandemic.
The U.S. Centers for Disease Control and Prevention's Advisory Committee on Immunization Practices (ACIP) reviewed data on six cases of blood clots out of more than 7 million inoculations in the United States. 
Though exceedingly rare, the government on Tuesday recommended a "pause" in using the single-dose J&J vaccine "out of an abundance of caution" while officials review the clotting cases. The announcement came just a week after European regulators declared that such clots are a rare but possible risk with the AstraZeneca vaccine, a shot made in a similar way but not yet approved for use in the U.S.
At Wednesday's emergency meeting, the CDC advisers wrestled with the fact that the U.S. has enough vaccine alternatives to do without the J&J vaccine for a time, but other countries anxiously awaiting the one-and-done shot may not.
One committee member, Dr. Grace Lee, was among those who advocated tabling a vote. She echoed concerns about getting more data to better understand the size of the risk and whether it was greater for any particular group of people.
"I continue to feel like we're in a race against time and the variants, but we need to (move forward) in the safest possible way," said Lee, of Stanford University.
The clots under investigation are highly unusual. They occurred in strange places, in veins that drain blood from the brain, and in people with abnormally low levels of clot-forming platelets. The six cases raised an alarm bell because that number is at least three times more than experts would have expected to see even of more typical brain-drainage clots, said CDC's Dr. Tom Shimabukuro.
"What we have here is a picture of clots forming in large vessels where we have low platelets," Shimabukuro explained. "This usually doesn't happen," but it's similar to European reports with the AstraZeneca vaccine.
RELATED: J&J COVID-19 vaccine pause: What to know if you received shot, have future appointment and more
All the cases following a J&J vaccination were in women between the ages of 18 and 48, who developed a rare blood-clotting disorder known as cerebral venous sinus thrombosis (CVST) in combination with low levels of blood platelets — known as thrombocytopenia. All experienced symptoms roughly six to 13 days after getting the shot. Officials said one of the patients had died and another was in critical condition.
The vast majority of those who have received the J&J shot have experienced no or mild side effects, and experts say COVID-19 overall poses a much bigger risk of death and hospitalization than the potential clot threat.
"Right now, we believe these events to be extremely rare, but we are also not yet certain we have heard about all possible cases as this syndrome may not be easily recognized," CDC Director Rochelle Walensky said ahead of the meeting.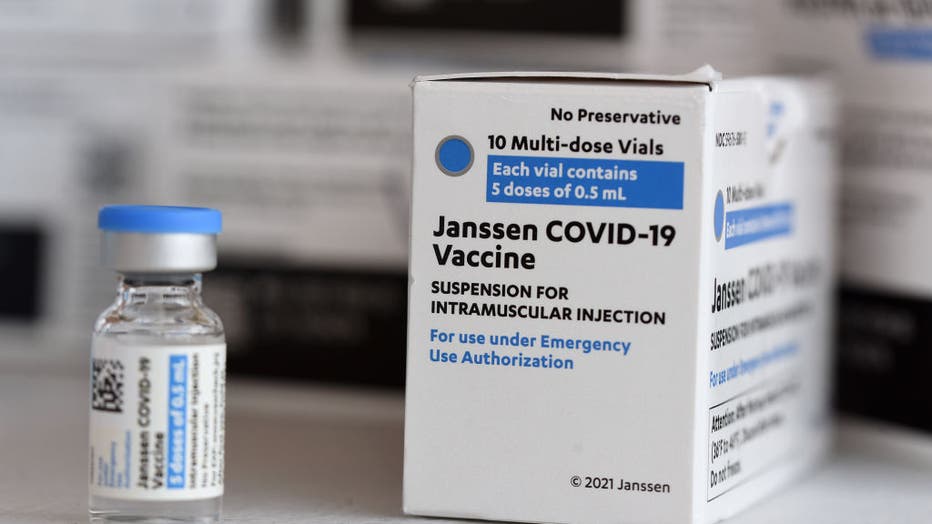 FILE - A Johnson & Johnson COVID-19 vial and box is seen at a vaccination site in a file image. (Photo by Paul Hennessy/SOPA Images/LightRocket via Getty Images)
U.S. regulators said the pause is less because of the number of reported clots and more to make sure doctors know how to recognize and treat the unusual condition. The clot was observed along with reduced platelet counts, making the usual treatment for blood clots, the blood thinner heparin, potentially "dangerous."
The U.S. set up intensive systems to track the safety of COVID-19 vaccines, knowing that side effects too rare to have occurred in studies of thousands of people could pop up once millions rolled up their sleeves. Shimabukuro said spotting such a rare potential risk amid the nation's huge vaccine rollout "is an example of a success story for vaccine safety."
In a statement Tuesday, J&J said it would pause its ongoing vaccine trial as a result of the reports. 
"The safety and well-being of the people who use our products is our number one priority," the drugmaker said in part. "We are aware of an extremely rare disorder involving people with blood clots in combination with low platelets in a small number of individuals who have received our COVID-19 vaccine."
"In addition, we have been reviewing these cases with European health authorities. We have made the decision to proactively delay the rollout of our vaccine in Europe and pause vaccinations in all Janssen COVID-19 vaccine clinical trials while we update guidance for investigators and participants," the statement continued. 
Janssen is J&J's vaccine division.
Dr. Anthony Fauci, the nation's top infectious disease expert, said the pause of J&J's vaccine "really doesn't mean anything" about the effectiveness of the shot for the people who have already received it. Fauci also noted the more than 120 million Americans who have gotten at least one dose of a COVID-19 vaccine — the vast majority receiving either Pfizer's or Moderna's shots — are healthy and called the J&J blood clot news a "really rare event."
"There have been no red flag signals from those. So you're talking about tens and tens and tens of millions of people who have received vaccines with no adverse effect," Fauci said during a White House press briefing. "If you look at what we know so far, there have been six out of the 6.8 million doses, which is less than one in a million."
CDC's Dr. Anne Schuchat said authorities have not seen similar reports of clots after use of the Pfizer or Moderna vaccines, and that people should continue to get vaccinated with those shots. Both companies are on track to have delivered 300 million doses each by mid-to-late July.
The setback for J&J comes as the worldwide death toll from COVID-19 approaches 3 million, including more than 560,000 who perished in the U.S., which continues to report tens of thousands of new infections every day and an average of almost 1,000 deaths.
The Associated Press contributed to this report. It was reported from Cincinnati.