Bronx building explosion kills one, injures eight
NEW YORK - About 200 FDNY and emergency personnel were on the scene of a deadly Bronx building explosion, fire, and building collapse in the Longwood section of the Bronx on Tuesday. The two-alarm fire broke out at around 10:53 a.m. at Fox Street and Intervale Avenue after a gas explosion.
Acting Chief of Department John Hodgens said the FDNY arrived on the scene in about four minutes. 
"Our units quickly entered the buildings which were not collapsed to conduct searches for any occupants who may have not made it out. There were two people inside the building when it exploded, our fire and EMS members found them laying outside the building," Hodgens said. "Our units were able to quickly transport these patients to the hospital. Unfortunately, one of these victims has passed away."
At least eight people were hurt, according to Mayor Eric Adams, revising an earlier count from the FDNY that said nine people were injured. Two people were hospitalized with serious injuries, Adams said. Five of the injured were members of the NYPD.
Buildings nearby were evacuated as a precaution. The residents were taken to a church.
Con Edison shut off gas service to the area while crews investigate the cause of the explosion, Hodgens said. He said the explosion leveled one townhouse and virtually destroyed two adjacent homes, which will have to be demolished. Other homes were damaged but should be salvageable, Hodgens said.
"We had a report of somebody who did smell gas in advance of it. There was an explosion," Hodgens said. "And right now we're just investigating."
Get breaking news alerts in the free FOX5NY News app!  |  Sign up for FOX 5 email newsletters
The NYPD released dramatic video from an officer's body-worn camera showing how cops bravely responded to the blast and fire. 
"When @NYPD41Pct officers arrived at the massive explosion at a Bronx home, they saw flames spreading to the adjoining home rocked by the explosion," the NYPD tweeted. "Knowing there was a person inside, they ran in. They found a woman trapped in the debris. Our prayers are with those affected."
The video shows the officer's point of view as he runs down the sidewalk and into a severely damaged house adjacent to the house that exploded. The officer joins other cops from the 41st Precinct who are searching the home. 
Someone can be heard on the video crying for help. Then officers pull a couch off a woman and free her from debris.
"One person actually said, 'There's somebody still inside,'" Officer Anthony Diaz said at a press conference. "And we went inside immediately and we could hear the resident screaming, 'Help, help, help!'"
Two sisters — 77 and 68 years old — lived in the townhouse that blew up. The elder sister, identified as Martha Dagbasta, was killed, the NYPD said. The younger sister was taken to Jacobi Hospital where she was listed in serious but stable condition, police said. An 82-year-old woman was listed in serious but stable condition at Jacobi Hospital.
"Five police officers were taken to area hospitals in stable condition," police said. "The investigation is ongoing."
One person who was initially unaccounted for was located on vacation in Puerto Rico, officials said.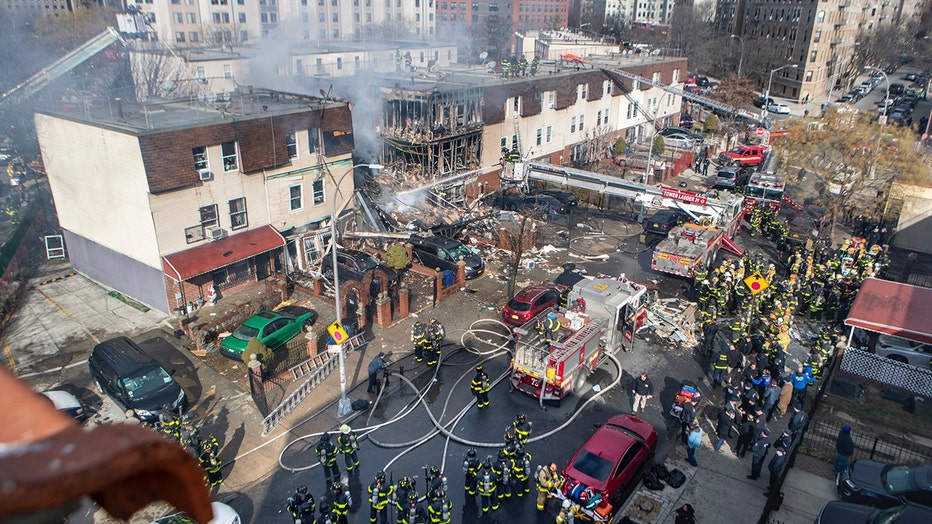 Firefighters could be seen dousing the flames and smoke filled the air for several hours after the explosion. 
"We are continuing to investigate and will be on scene sifting through the rubble for any evidence," Hodgens said.
A fire in the Longwood section of the Bronx caused a partial building collapse on Jan. 18, 2022. (FOX 5 NY)