Discover the Bronx Zoo's newest stars: Adorable snow leopard cubs!
NEW YORK CITY - Get ready to meet the stars of the show at the Bronx Zoo – a dynamic duo of adorable snow leopard cubs! 
These little fluffballs are here to steal your hearts and give you a glimpse of the enigmatic world of the snow leopards, often referred to as "the mountains' mischievous ghosts." 
What to know about the Snow leopard: 
The snow leopard lives in some of the harshest conditions on Earth; in high elevations in the mountains of central Asia, including Afghanistan, Bhutan, China, India, Kazakhstan, Kyrgyzstan, Mongolia, Nepal, Pakistan, Russia, Tajikistan and Uzbekistan. 
Its white-gray coat is almost invisible as it blends in with the terrain of rocky, high mountains. 
Snow leopards have large and long padded feet, and thick wooly tails that help with balance and with keeping warm.
The Bronx Zoo says the cubs can be found in the Himalayan mountains. 
Meet the new leopards!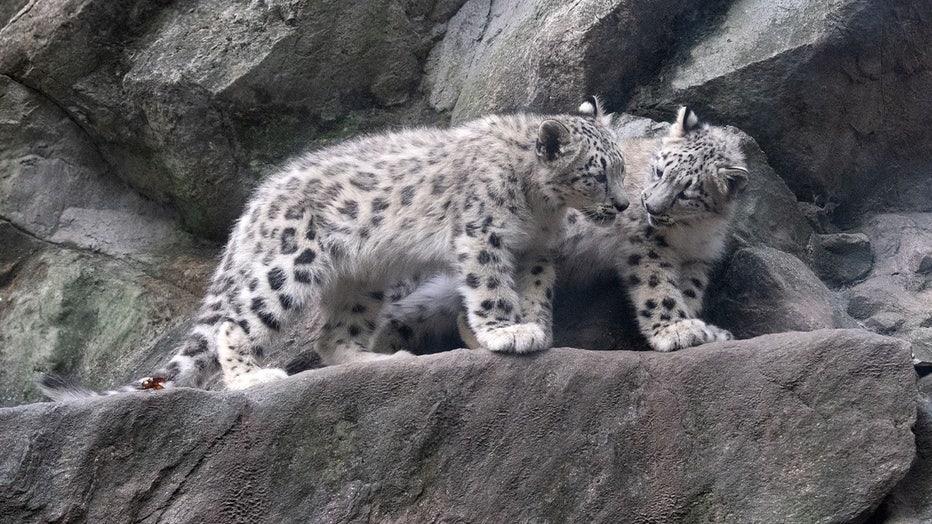 The new snow leopard cubs are yet to be named. The zookeepers are generating naming ideas that best match the cubs' personalities.
One is a male and the other is a female.
They were born this summer to mother, Dariga, and father, Naltar.
Naltar is the offspring of Leo who came to the zoo in 2006 after being rescued as an orphaned cub in Pakistan.
Currently, the Bronx Zoo has 10 snow leopards.