Bronx pizzeria busted with over 100 pounds of drugs valued at $4M
THE BRONX - Three people are under arrest after a pizzeria in the Bronx was busted with over 100 pounds of suspected drugs, including fentanyl and heroin – valuing at $4 million – authorities announced.
The seizure happened last week at Mexzzarella Pizza in the Soundview section.
"We're talking about over a hundred pounds of various types of drugs, mostly cocaine, but also fentanyl, and we're seeing fentanyl mixed in all drugs," says Frank Tarentino, DEA Special Agent in Charge of the NY Division.
According to authorities, Gaudencio Rosendo Perez, 47, Zulema Cardenas Espinoza, 53, and Alexander Samboy, 45, were all arrested and charged with operating as a major trafficker, and criminal possession of a controlled substance in the first and third degrees.
"This organization actually had large quantities of drugs under the counter top of where they were selling food," said DEA Special Agent in Charge, Frank Tarentino.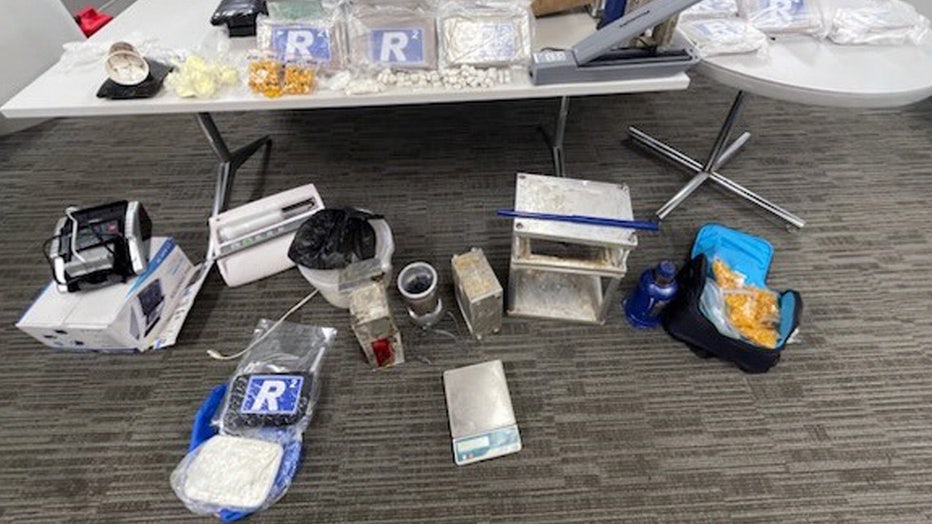 FOX 5 NY's Lisa Evers talked with parents as they were picking up their children. Many were stunned and concerned that their kids had been so close to dangerous drugs.
A father said, "Terrible, next to the school, you can't really say anything, it's like a trend, put it near schools stash spots."
A mother spoke with Evers after picking up her 3-year-old som from the daycare center just steps away from the pizza shop.
"These places it's just like, they don't have any sympathy for the children that's around. That's horrible," she said.
While it looked like a neighborhood Mom-and-Pop business, investigations revealed it was allegedly much more, says Tarentino.
"We're talking about large quantities, wholesale distribution weight of cocaine, fentanyl, heroin that is packaged and secretly concealed in apartments, in businesses, for further distribution throughout the Northeast. New York Ctiy is the hub, and the Bronx is ground Zero," Tarentino said.
Following an investigation and Thursday search of the pizzeria, the following items were recovered:
42 kilograms of suspected cocaine
One kilogram of heroin/fentanyl
1,000 glassine envelopes containing suspected oxycodone and fentanyl
Large rocks of cocaine
A kilo press
Around $40,000 from the basement
One hundred vials of suspected crack cocaine and a yellow powdery substance were also recovered on the ground floor. 
"We will keep using our collective resources to aggressively pursue these criminals to the fullest extent of the law," said NYPD Commissioner Edward Caban.
The vials were stored near the pizza counter for convenient sales, or to provide samples to the customers. The results of DEA laboratory analysis on the narcotics seized are pending.
The pizzeria is located across the street from a public school, PS 69.