Breakthroughs in prosthetic devices for amputees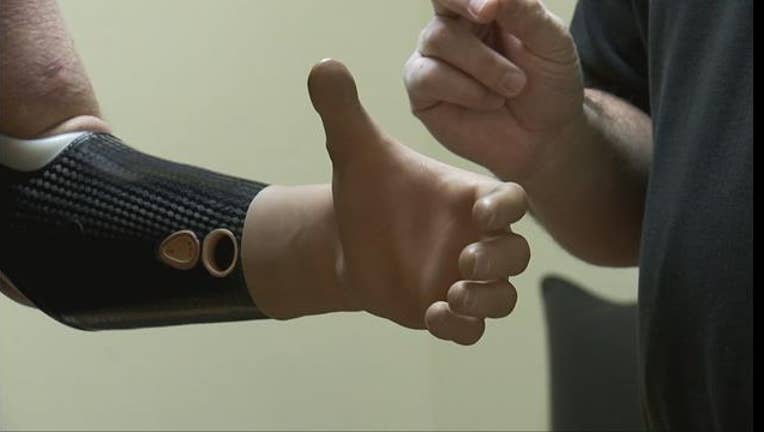 article
James Scesa is now able to use a wake board for the first time since losing his leg in a dirt bike accident.
"It's critical in the first 12 months or so to get yourself back into what you were doing previously, Scesa says.
Thanks to technology, James and other amputees are now doing things they didn't think were possible.
Brian Hopkins is an above-knee and below-elbow amputee due to an accident a few years ago.
He was fitted for a revolutionary prosthetic device called a Michelangelo Hand at Prosthetics in Motion, in Midtown Manhattan.
"I think we've probably advanced more in the past five years than we have in the past 40," Hopkins says.
The Michelangelo Hand is myoelectric which means it's controlled by the electronic signals generated naturally by the brain's muscles.
"I basically have two myoelectric nodes that sit in the socket and they're able to pick up signals in what's left of my arm," Hopkins says. "Those signals enable me to either open my hand or close my hand."
With three position modes and seven grip types, the prosthetic mimics human movements.
"The human hand works at 400 milliseconds per second but can go up to 3,000. This works at 325 milliseconds so it is very fast."
Hopkins was the 57th person in the country to receive the device. The first 30 recipients were beta testers. For his everyday life, it's a game changer.
"Something as simple as putting toothpaste on my toothbrush, opening up plastic bags, and opening up bottles," Hopkins says.
---
Hear more from Brian Hopkins describing how the hand has changed his life.
---
The prosthetic limbs are now even outfitted with Bluetooth technology.
They are programmed to fit each patient's needs.
Chris Kort works for Prosthetics in Motion.
"The better the software and technology becomes, it's better for the user," Kort says. "My job as a prosthetist is to design a comfortable fitting socket, and then incorporate the technology into the prosthesis."
The Kessler Institute for Rehabilitation uses the advanced prosthetics.
"We call up the patient's data that's been saved into the file," prosthetist Jeff Hill says. "We literally send all that data into the knee when it's been replaced."
He says that computers give instant real-time mimicry of the signals that would normally go from the brain to the muscles.

And the future is allowing the user to control their own adjustments.  A Connecticut man is one of the first to try a new prosthetic device that he can adjust via an app on his smartphone.
Cosmetic advancements are also changing lives.
Maryann Mulawka lost her leg in a car accident.
"They say that when you lose a limb it's very similar to losing a family member. You go through a difficult grieving process," Mulawka says.
But, with her cosmetic prosthesis, she can now wear open-toe sandals.
"I got very teary eyed. This was the first time I was seeing something that looks very similar to the foot that I lost," Mulawka says.
---
Hear more about Mary-Ann Mulawka talking about being able to wear sandals again.
---
David Kruysman's left leg was amputated when he was a child but it never stopped him.
Now, wearing a high-tech prosthetic blade, he completed an Ironman triathlon.
And, two years ago, he became a lieutenant in the FDNY. It's a job he always dreamed of obtaining.
He is the department's only active-duty amputee.
"It was a big battle to get on the job," Kruysman says. "It's been a great ride so far. I'm very happy and honored to be there."

The high tech prosthetic devices can be expensive.  The Michelangelo Hand costs roughly $90,000.