Bald eagle swipes lunch to go as Connecticut nature photographer snaps picture: 'America's bird likes pizza'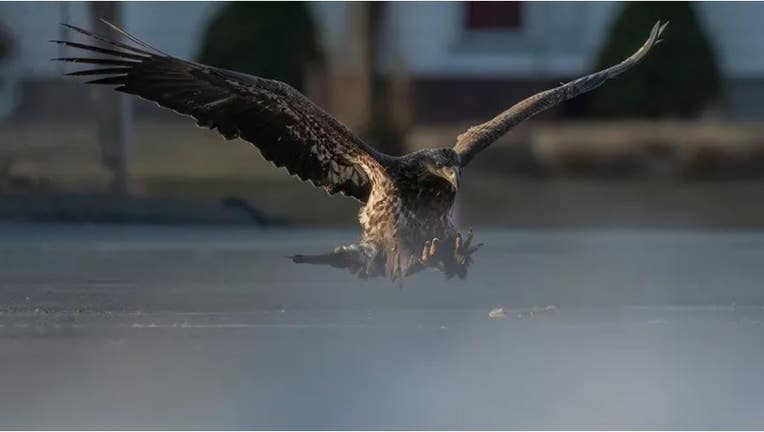 article
A nature-focused photographer recently captured an image of a bald eagle grabbing lunch to-go as he took flight in Connecticut skies.
Doug Gemmell, a resident of South Windsor, went out to Wethersfield Cove inlet on March 8 to snap some photos of eagles on his Nikon D500 camera.
The retired banker has been photographing birds, insects and nature for the last seven years.
Much of his work is dedicated to photographing eagles and Gemmell said he tries to catch the birds "fishing."
TWITTER USERS REACT TO TSA SCREENING BALD EAGLE AT NORTH CAROLINA AIRPORT: 'HE IS GORGEOUS!'
"I want to get some action shots and well, that was some action shot," Gemmell told Fox News Digital of the March 8 photo he took. 
"It's not quite the fish [picture], but it was an interesting photo to say the least." 
Gemmell said he was posed on a path between the waterway and the Department of Motor Vehicles building.
When he saw the eagle, Gemmell said, the bird began putting its legs down.
FLORIDA PHOTOGRAPHER SNAPS IMAGE OF HERON FLYING OFF WITH BABY ALLIGATOR: 'RIGHT PLACE AT RIGHT TIME'
"That's a sign they are going to grab something," Gemmell said. "I didn't know it was a pizza until I got home."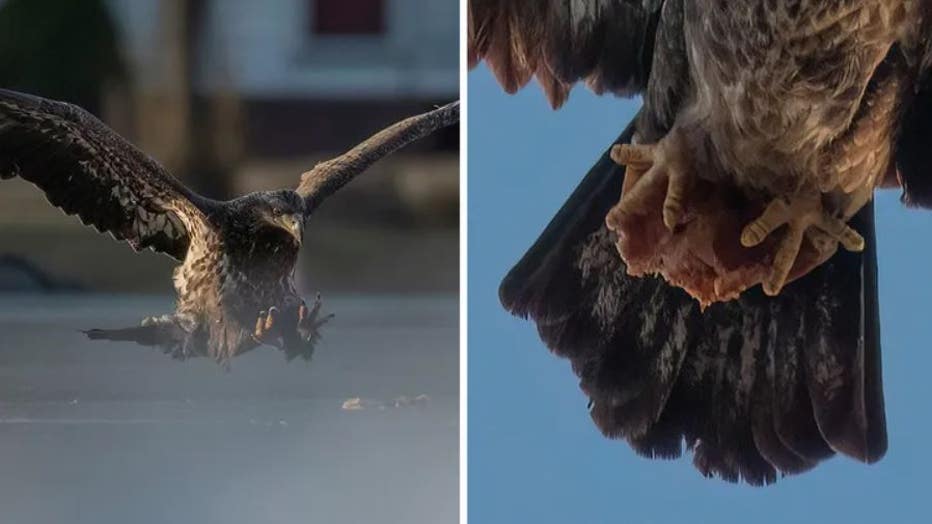 Doug Gemmell, a photographer and resident of South Windsor, Connecticut, snapped a photo on March 8 of a juvenile bald eagle flying off with half a slice of pepperoni pizza near Wethersfield Cove. (Doug Gemmell Nature Photography)
Gemmell said the juvenile bald eagle, which he estimated to be a year-and-a-half old, swooped down and grabbed a slice of pepperoni pizza before being chased by crows that appeared to want the same piece of the pie.
THE BALD EAGLE: A BRIEF HISTORY OF THE GREAT CONSERVATION SUCCESS STORY OF AMERICA'S BIRD
Gemmell was able to grab a shot of the surprising moment.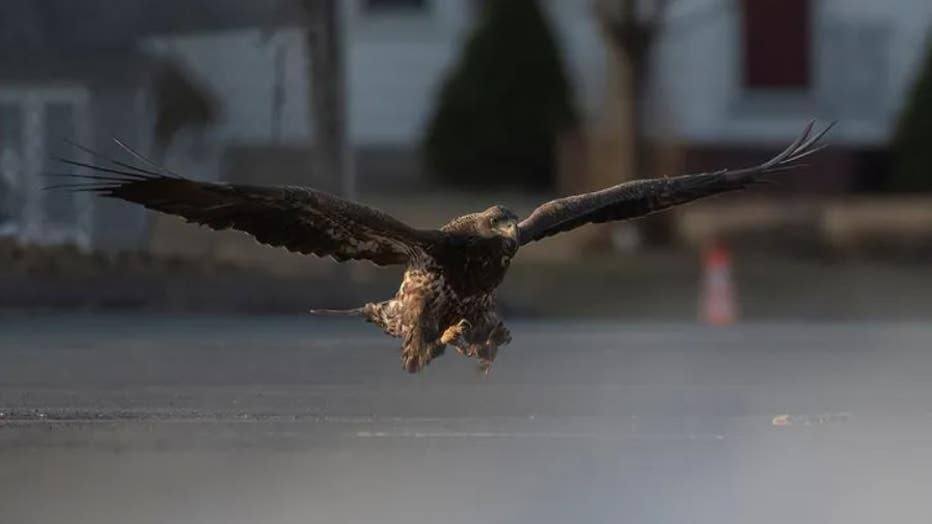 Gemmell told Fox News Digital he didn't realize it was pizza the eagle had grabbed until Gemmell returned home to examine the photograph. (Doug Gemmell Nature Photography)
"It's pretty unique. I don't know if there's any other pictures of eagles snatching a pizza," Gemmell commented. 
ALASKAN BALD EAGLES WIN NATIONAL GEOGRAPHIC'S FIRST 'PICTURES OF THE YEAR' PHOTO CONTEST WITH STUNNING IMAGE
"It lends itself to a lot of talk, 'What's his favorite pizza?' 'Does he like anchovies?' It's sort of a funny thing, and I'm glad it's getting some attention."
Gemmell's eagle-with-a-pizza photo has been featured on news sites — and most recently, Gemmell appeared on a local radio show to speak about the moment.
CLICK HERE TO SIGN UP FOR OUR LIFESTYLE NEWSLETTER
"The real joy of this whole thing is seeing something I've never seen before," Gemmell said.
"It's America's bird, and it likes pizza," he added.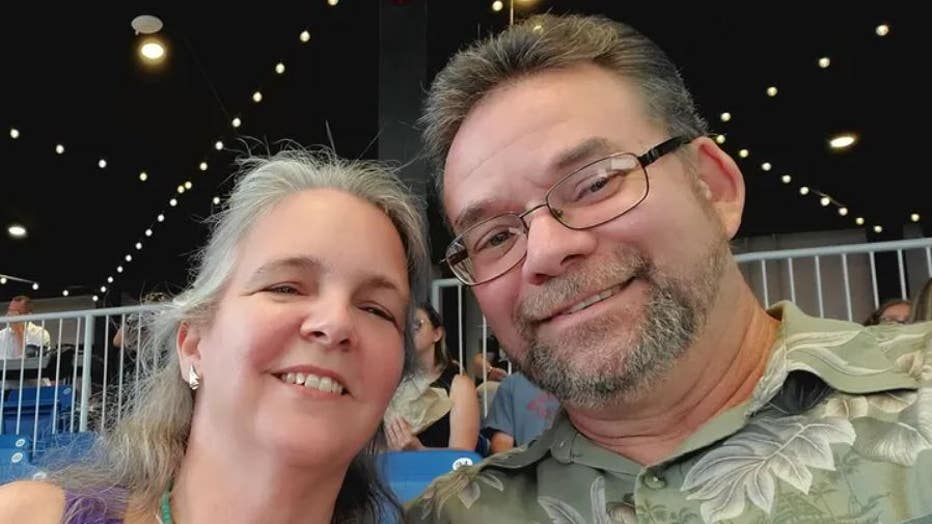 Doug Gemmell (at right) enjoys kayaking trips with his wife, Elizabeth "Beth" Gemmell. Gemmell said he's able to take photographs he otherwise wouldn't be able to capture while on shore. (Doug Gemmell)
"They're just a beautiful, graceful bird to watch."
CLICK HERE TO GET THE FOX NEWS APP
Gemmell said he and his wife, Elizabeth, enjoy kayaking together and that's when he usually captures some of his best work.